Live by Faith
The Bible tells us that, for the time being, we have to function in the Christian life without the benefit of "seeing" the important and eternal things that we live for and live by (2Cor.4:18; 5:7; 1Pet.1:8; et al.). Our hope in God – his forgiveness, his blessing and his presence, just to name a few – are realities we claim without the aid of our physical senses. While God has provided historical, objective proof for our faith through predictive prophecies and the resurrection of Christ, today must be lived without the tangible confirmation of their benefits. But Scripture continually urges us to not lose heart or grow weary. One day our "faith will be sight," we will "see him face to face" and the truth we live by will be as tangible as the morning newspaper in the New Jerusalem. So for now, "fix your eyes not on what is seen, but on what is unseen. For what is seen is temporary, but what is unseen is eternal" (2Cor.4:18). "Walk by faith, not by sight" (5:7) and keep praying the prayer Christ taught his disciples to pray: "Your kingdom come!" (Mt.6:10). It will be here before you know it.
Pastor Mike
FEBRUARY OFFER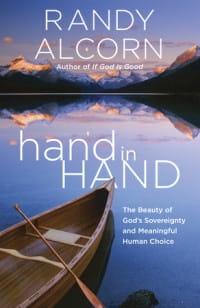 Tragically, biblical truth is sometimes used in unbiblical ways. In fact, it's all too easy to make this costly error without knowing it. We might uphold some aspect of God's Word with resolute focus, while using that same affirmation to deny some other clear teaching of Scripture. A classic example of this occurs with the doctrine of God's sovereignty. God's complete dominion over our lives is a thoroughly biblical and foundational truth. But if my zeal for this doctrine causes my enthusiasm for evangelism to wane, then I'm using this biblical truth in an unbiblical way.
As a token of our appreciation for your gift, I'd like to send you an excellent book by renowned author Randy Alcorn called hand in HAND: The Beauty of God's Sovereignty and Meaningful Choice. Randy does a wonderful job examining God's sovereignty and human choice in light of all Scripture. This book will help you compare the different views on the issue, understand God more deeply, appreciate the freedom God's given us, and learn how to communicate this doctrine with clarity and compassion.
Click Here to visit Focal Point Ministries' website