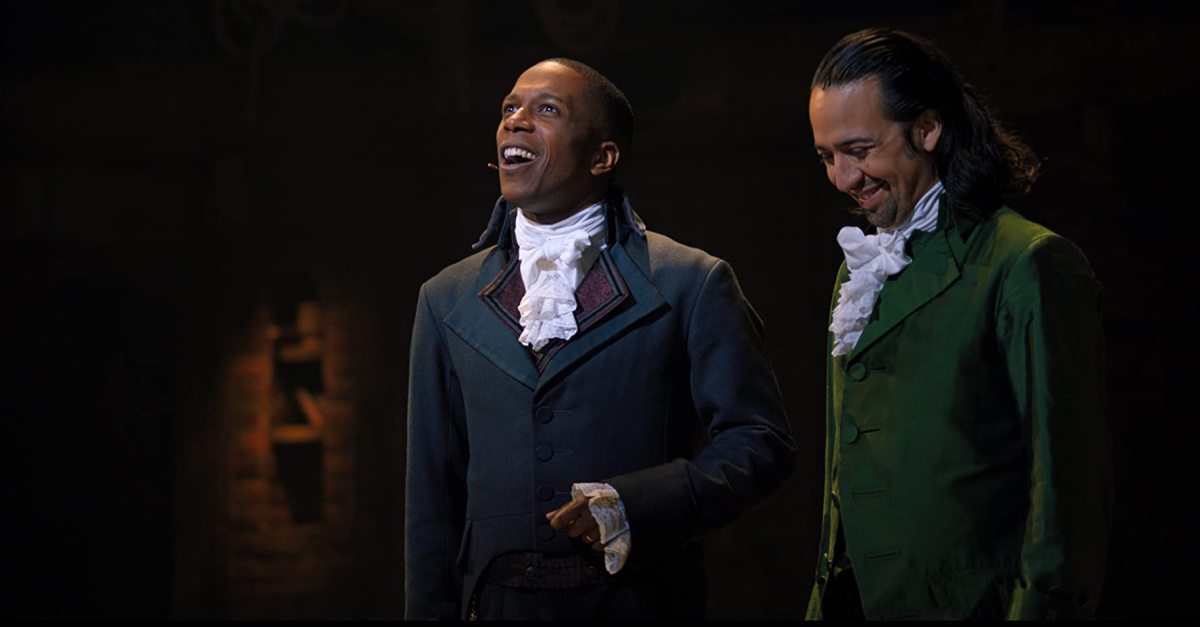 Hamilton received a record-breaking 16 Tony Award nominations, won 11, and captivated the entertainment world with its unique blend of American colonial history and hip hop.
And now, Hamilton (PG-13) is on Disney Plus, giving those of us who don't live near a major city – and those of us who don't want to shell out hundreds of dollars on tickets – a chance to watch.
It tells the story of Alexander Hamilton, the Founding Father who was never elected president but who nevertheless accomplished so much that his image was placed on the $10 bill.
Lin-Manuel Miranda, who wrote the musical and also stars in the lead role, calls Hamilton "the story of America then, told by America now." He was inspired to turn Hamilton's story into a musical after reading Ron Chernow's 2004 book Hamilton.
It was filmed in 2016 in New York City.
Here are four things parents should know:
Photo courtesy: ©Disney
1. It's an Inspiring Underdog Story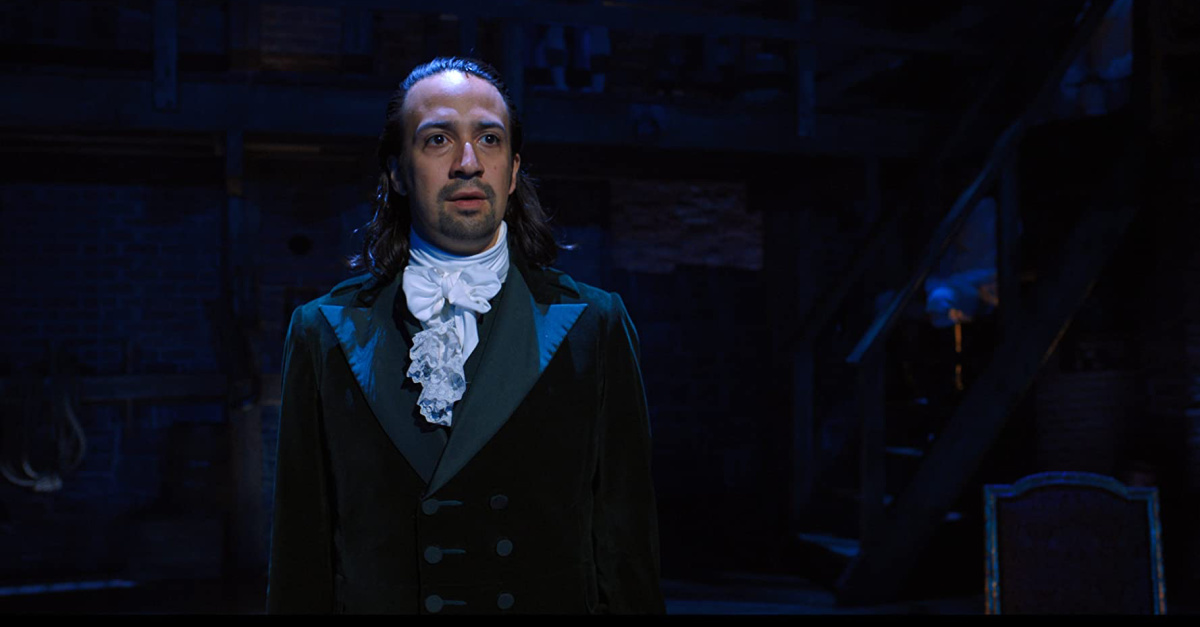 Americans love stories of overachievers, and Hamilton gives us one, with a hero who was born in the British West Indies to a couple who weren't wedded. His mother, Rachel Fawcett Lavine, gave birth to Hamilton when she was still married to another man. His father, James Hamilton, was a trader who abandoned Rachel and Alexander when the latter was still a child.
His birth was shrouded in so much controversy, in fact, that we don't know the precise year he was born. (It's believed he was born in either 1755 or 1757.) His mother died before he was 14 years old.
This underdog story forms the backdrop to the musical's opening number where the cast sings, "How does a b----rd, orphan, son of a whore and a Scotsman; dropped in the middle of a forgotten spot in the Caribbean; by providence impoverished, in squalor; grow up to be a hero and a scholar?"
He was, the musical tells us, the "10-dollar Founding Father without a father."
Hamilton was not blessed with wealth, yet he overcame his family situation thanks to hard work, a sharp mind and a self-starting attitude. He graduated from King's College (now Columbia) and then joined the movement for independence. He was barely 20 when he became a key aide to George Washington in the Revolutionary War. When the war ended, he co-authored the Federalist Papers with James Madison and John Jay that backed approval of the new Constitution. He also was Washington's first Secretary of the Treasury.
Photo courtesy: ©Disney
2. It's Toe-Tapping, Head-Bobbing Fun
Too often, students graduate from high school and then college without a love for history because they fail to see what history truly is: a series of great stories. Hamilton is proof that history is not only gripping but also entertaining.
The musical is a perfect (and often hilarious) combination of rap, R&B, pop and traditional show tunes.
You watch Hamilton and Thomas Jefferson (played by Daveed Diggs who is known for his role in several other well-known projects, including Wonder.) engaging in a series of cabinet meeting "rap battles" over major issues – such as the proposed establishment of a national bank – with President Washington (Christopher Jackson) serving as the judge of the debates.
You see the Founding Fathers, including James Madison (Okieriete Onaodowan), rap and sing about a major compromise that brought together opposing factions.
You watch British King George III (Jonathan Groff) sing a radio-worthy breakup song with America when he learns of their move to independence. ("I'll send a fully armed battalion to remind you of my love.")
Miranda chose to have black actors play several white characters, such as Jefferson, Madison and Burr (Leslie Odom Jr.).
"Our cast looks like America looks now, and that's certainly intentional," Miranda told The New York Times in 2015. "It's a way of pulling you into the story and allowing you to leave whatever cultural baggage you have about the founding fathers at the door."
It's a unique strategy – and it works.
Photo courtesy: ©Disney
3. It's a Fantastic Way to Learn History (and Life Lessons)
Hamilton largely follows the historical record, with a few small caveats. Hamilton did oppose slavery, although some historians say his position wasn't as strong as depicted in the musical. He did have an affection for his sister-in-law, Angelica (Renée Elise Goldsberry), although historians aren't sure it went as far as seen on screen. He also did have a very public affair with another woman, Maria Reynolds (Jasmine Cephas Jones), that the musical depicts.
Hamilton also rightly spotlights his wife, Eliza (Phillipa Soo), who opened an orphanage and helped raise funds for the Washington Monument.
The musical is filled with life lessons, too, including ones about thankfulness ("the fact that you're alive is a miracle," his wife tells him), hard work (Aaron Burr sings to Hamilton: "why do you write like you're running out of time?") and fatherhood (Burr and Hamilton each want to be a better dad than they had growing up: "my father wasn't around," they sing). Its rags-to-riches plot should inspire anyone who had humble beginnings.
But Hamilton's drive to succeed came at a price to his family, his career and his country. His anger and ego – he wouldn't let anyone besmirch him – cost him his life in the infamous 1804 duel with Burr. What would Alexander have accomplished if he had kept his ego in check and if he hadn't been killed by Burr? (The latter, by the way, was Jonathan Edwards' grandson.)
The film also includes powerful lessons about the consequences of sin, even if his adulterous ways are briefly played for laughs. His affair with Maria Reynolds led to public humiliation and blackmail, and may have cost him a shot at the presidency. (It also grieved his wife.) Likewise, Burr – Jefferson's vice president – paid dearly for his killing of Hamilton. It ruined his public career.
Photo courtesy: ©Disney
4. It May Not Be for Children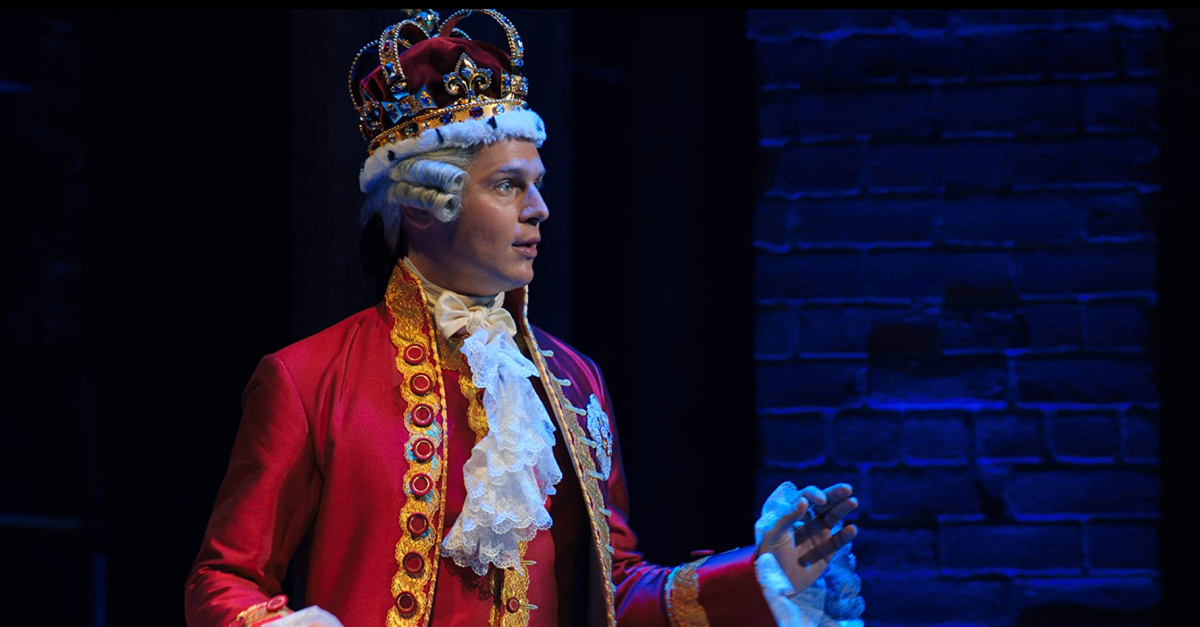 Disney Plus removed the f-bombs from the PG-13 Hamilton, but it's still filled with coarse language, sexually suggestive scenes and mature themes. (See details on language below.)
We learn that Alexander Hamilton loved the ladies. We hear lyrics about "intercourse" and "legs spread." When Alexander meets Reynolds, she seduces him to come to her home. ("Lord, show me how to say no to this. … Her body's saying, 'H-ll yes," he raps.) Their clothes stay on, but the message is clear when she sits in his lap. ("It became a pastime," Hamilton says.)
This doesn't ruin the Hamilton experience for older audiences. Still, it would be nice if Disney released a cleaner version for schools to use. That's because Hamilton is an entertaining and educational musical experience everyone should get to enjoy.
Hamilton is rated PG-13 for language and some suggestive material. Language: whore (3), b----rd, used in the historical sense (6), d--n (10), s--t (6), p-ss (3), h-ll (4), misuse of "God" (8), GD (3), JC (1), misuse of "Jesus" (2), a-- (2). Also: "who the eff."
Entertainment rating: 4 out of 5 stars
Family-friendly rating: 2.5 out of 5 stars
Photo courtesy: ©Disney