The stories of two women named Salome are shared in the pages of the Bible. One cared for Jesus and stood by him during his crucifixion. The other requested the head of John the Baptist, leading to his death. Why are the stories of these two women told in the Bible? Let's take a deeper look into scripture and the roles Salome played in history.
Who Is Salome in the Bible?
The first Salome we meet is the daughter of Herodias. Herodias stands out as one of the most wicked women in the Bible. She was illegally married since her first husband, Herod's brother, was still alive.
Matthew 14:3-5. Now Herod had arrested John and bound him and put him in prison because of Herodias, his brother Philip's wife, for John had been saying to him: "It is not lawful for you to have her." Herod wanted to kill John, but he was afraid of the people because they considered John a prophet.
Marriage to Herod, legally or illegally, meant the title of queen for his wife. John the Baptist pointed out Herod's indiscretion. While he was already imprisoned for his preaching, jail time wasn't enough for Herodias. In fear of losing her royal status, she schemed to get rid of John. She knew sensual behavior could be used as an influence. On the king's birthday, amid celebration and drinking, Herodias summoned her daughter to dance sensually for her husband. Herod was overcome by Salome's movements and turned to putty in the schemers' hands.
The second Salome we find in the Bible had quite a different tale. This Salome, mother of James and John and wife to Zebedee, was a devoted follower of Christ. Salome's family knew Jesus early on. Crosswalk.com states "Very possibly Jesus visited them in their home, where Salome cooked for Him. And when He did launch out into public ministry, Salome gave up a life of relative comfort to follow Him, serving Him both in actions and financial support."
She remained faithful to Jesus until death, watching his brutal crucifixion from afar with several other women. Mark 15:41 says "In Galilee these women had followed him and cared for his needs." Salome tended to Jesus in the days of his ministry and stood by him until his last breaths.
Salome went with Mary, Jesus's mother, and Mary Magdalene to the tomb. They intended to anoint his body with spices. However, when they arrived, they found the stone was rolled away and Jesus had risen. The women were among the first witnesses of Christ's resurrection.
What Did the Bad Salome Do to John the Baptist?
Bad Salome participated in a dance of death. After her scandalous performance, Herod vowed to give her whatever she wanted. Matthew 14:8 states, "Prompted by her mother, she said, "Give me here on a platter the head of John the Baptist." Even though Herod didn't want to follow through with the action, he had made a promise. At Salome's request, John the Baptist was ordered to be beheaded ending his period of ministry. Afterward, his head was given to Salome on a platter, and she brought it to her mother.
Salome turned John the Baptist into a martyr. He died for following God's calling and speaking the truth. Other followers of Christ would follow in John's footsteps, also being imprisoned and murdered for their faith.
What Was the Good Salome Known for in Jesus' Ministry?
The Good Salome was known for being a devoted mother and follower of Jesus. Together with her husband, Zebedee, they raised two faithful sons, chosen to be among Christ's disciples. Salome interceded for her sons, asking for seated positions to the left and right of Jesus.
In Matthew 20:22-23, Jesus replies. "You don't know what you are asking . . . You will indeed drink from my cup, but to sit at my right or left is not for me to grant. These places belong to those for whom they have been prepared by my Father."
Salome is also known for her faithful dedication to Jesus. The crucifixion was a horrendous scene, gruesome with an unruly crowd. Nonetheless, Salome remained at the site, even after her sons had left.
She continued to care for Jesus after his death, walking to his tomb with the willingness to cover a days-old body with spices. After years of devotion to Jesus, she was chosen to be one of the few women to find the empty tomb. An angel gave her the news that Jesus had risen from the dead.
Mark 16: 6-7. "Don't be alarmed," he said. "You are looking for Jesus the Nazarene, who was crucified. He has risen! He is not here. See the place where they laid him. 7 But go, tell his disciples and Peter, 'He is going ahead of you into Galilee. There you will see him, just as he told you.'"
Why Should We Know about Both Salomes?
Each individual Salome can teach us lessons as well as their stories together. From the bad Salome's story, we learn about the dangers of sin and promiscuity. A chain of immoral decisions led to the death of John the Baptist, a preacher of God's Word.
The story begins with greed for power and position in the heart of Herodias. With Herod, she was involved in an illegal marriage and betrayed his brother, Philip. When she heard the truth from John the Baptist, she wanted to get rid of him and his message to keep her place as queen. Then, she used her very own daughter to get what she wanted from Herod—John silenced forever.
From these verses in Matthew, we learn that decisions aren't limited to affecting individuals. Herodias's greed caused her daughter's promiscuity and Herod's murderous command. Sin can become a web of entanglement, trapping many along the way. A desire for prestige and power resulted in the death of a good and faithful man.
The good Salome shows us the fruit of faithfulness. We can also find a chain of events in her story, however, her actions affect others positively and eternally. We see Salome's dedication begin as a wife and mother. She was devoted to raising her children well and they were chosen as one of Jesus's twelve disciples.
James and John not only walked this Jesus, impacting themselves and others but also authored parts of the Bible that preach God's Word today. Salome was faithful to Jesus during her lifetime and received the glorious gift of finding the empty tomb, the foundation of the Gospel story.
From both Salomes we learn about the influence of parents on their children. We know more about the bad Salome's parents than we do about her. While she decided to dance provocatively and ask for John the Baptist's head, it's clear her mother greatly influenced her behavior. On the other hand, good Salome raised her children in the ways of the Lord, and her entire family was blessed by being an intricate part of the Gospel story and spread of Jesus's message.
In the Bible, we have two women with the very same name, but two vastly different stories. Both stories show us the impact of our decisions and the effect we can have on others. We need to choose to walk with God, trusting the path he sets before us and remaining faithful along the way.
Photo credit: ©GettyImages/fizkes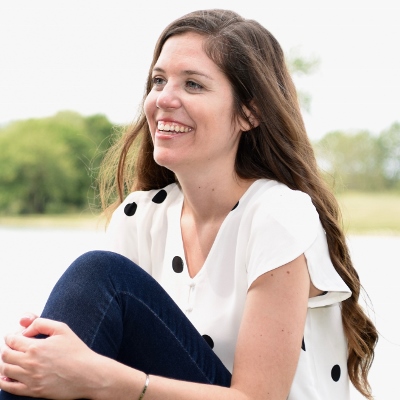 Jenna Brooke Carlson is an elementary dual language teacher in the Chicago suburbs. As a member of American Christian Fiction Writers and Word Weavers, she enjoys spending time with other writers and perfecting her craft. She recently signed a contract for her first young adult novel, A Big Hot Mess, with Elk Lake Publishing. Along with writing, she's pursuing her dreams of creating a community of brave young women, who she can encourage to live out their dreams amid challenges and imperfection. Her days are busy, but she's determined she can conquer anything with a fuzzy blanket and a hot cup of tea. To find out more about Jenna, visit her website at jennabrookecarlson.com.