10 Books Christians Need to Know About
Kristi Woods

KristiWoods.net

2017

29 Nov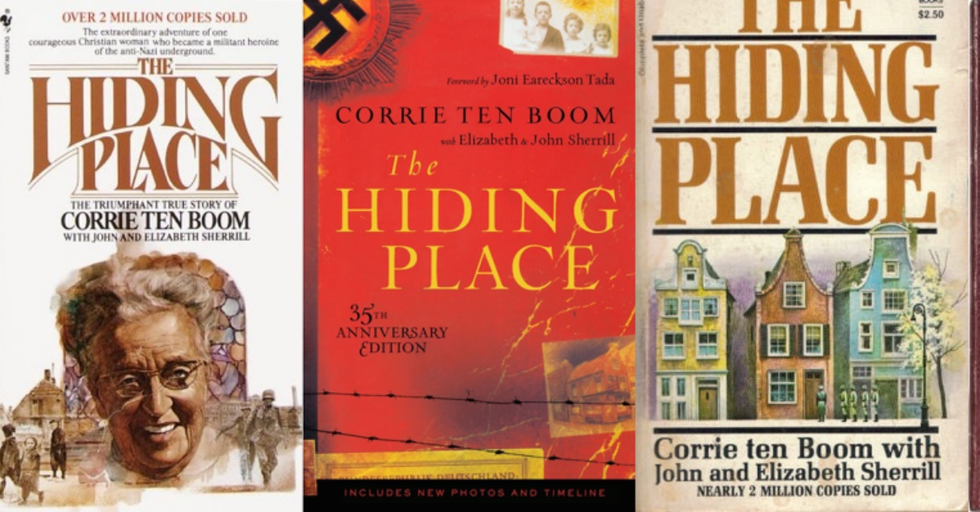 There's nothing like a good book; and one that sparks a fire to our faith, causing us to consider Jesus, love, and spiritual growth? Call it a gold mine.
The Bible stands first and foremost. There will never be a book on shelves to replace it. Other works, however, assist in supporting roles and encourage our walk with Jesus. Let's call them fertilizer for spiritual fruit.
Here are 10 books Christians need to know about. Each champions spiritual growth in one form or another. Publishing dates vary, but all prove worthy of review. Take a peek and see if your next Christian reading goldmine sits on this list.
Photo credit: Google/1.bp.blogspot.com
1. The Pilgrim's Progress by John Bunyan

Slide 1 of 10

This book from the 1600's ranked #2 on my pastor's reading list, standing in line only behind the Bible. As a curious young adult, I opened its pages. Like a sponge, I soaked in each paragraph little by little, each morsel of goodness going down with understanding. This piece immediately soared to number two on my list as well. 

This beautifully written allegory follows a man's life journey as he searches for salvation. He faces Giant Despair, Ignorance, and slew of other characters along the way. Hopeful and Faithful join him for parts of the journey as well, adding strength and guidance. It's applicable to every Christian's life. 

Need more reasons to love this book? Consider the options available on the market: audio books, abridged and unabridged versions, children's renditions, and more.

 

Photo credit: Google/divinerevelations.info 

2. The Hiding Place by Corrie ten Boom

Slide 2 of 10

Do you ever wonder why God made fleas? Corrie ten Boom, a prisoner of war at the hands of the Nazis, did. In The Hiding Place, Corrie unravels the mystery of a flea's purpose and more. 

Readers follow along with Corrie as she faces World War II and the horrors of concentration camps. They'll also see a faith bigger than mountains emerge – a faith overflowing with forgiveness that's certain to encourage anyone reading Corrie's story. 

The Hiding Place is based upon the amazing God-honoring testimony and life of Corrie ten Boom. 

 

Photo credit: Google/BakerPublishingGroup.com

3. Is That Really You, God? Hearing the Voice of God by Loren Cunningham

Slide 3 of 10

Sometimes a book comes along that prompts a person to consider their journey with the Lord. It'll cause them to dream big and consider stepping out on the water like Peter, or in this case, like Loren Cunningham. 

Loren's true story leans ears toward hearing God. Readers watch as he walks out on the water at Jesus' prompting. The birth of Youth With A Mission, a worldwide movement of Christians, resulted. What better way to prompt Christians to consider their own faith and outreach?

The publishing date sails back a few years, but consider this one timeless. Learning to hear God proves appropriate each and every year. 

 

Photo credit: Google/i.gr-assets.com

4. Come With Me: Discovering the Beauty of Following Where He Leads by Suzanne Eller

Slide 4 of 10

Jesus invites us to join Him in His ministry. We see it threaded throughout the New Testament, especially in the book of Luke. In Come With Me, Suzie Eller invites us to consider this invitation from Jesus. 

Amid its pages, we find a study of the lives of Jesus' disciples. Intertwined are challenges to walk closer with Jesus, arm-linking with the Savior of our souls. 

This 2016 release includes an audio version as well as a recently published one-year devotional. 

 

Photo credit: Google/tsuzanneeller.com

5. Enemies of the Heart: Breaking Free from the Four Emotions that Control You by Andy Stanley

Slide 5 of 10

How about the heart? Not only does it beat life into our bodies, but the pulse of it sets the tone for our faith and emotional responses in life. All that gathers in the heart matters a great deal. Perhaps that's why the Bible tells us to guard it well. 

Enemies of the Heart explores guilt, anger, greed, jealousy, and so much more. This one book has offered solid content for conversations with my own children, both pre-teens and teens. It left us with one prompt we revisit and check often: How's your heart? 

 

Photo credit: Google/Shopatnaa.com

6. The Five Love Languages: The Secret to Love that Lasts by Gary D. Chapman

Slide 6 of 10

Mind if I plaster "L-O-V-E" all over this one? It's a favorite of mine for gaining a better understanding of others. By the looks of its popularity, it sits as a favorite for many.

In the United States, English stands as the common language. Within a crowd of English-speaking folks, however, love languages inevitably vary. Some speak with gifts, others with physical touch, and don't forget those who prefer quality time or one of the other love languages. 

This book steers readers toward a better understanding of how their mate, children, friends, family, and coworkers tick. And where understanding blossoms, good relationships stand greater opportunity to thrive. Teens, couples, singles, the military, and a few other specific audiences will find versions published for them as well. 

 

Photo credit: Google/liveyourlifeatbest.com

7. Six Ways to Keep the Little in Your Girl: Guiding Your Daughter from Her Tweens to Her Teens by Dannah Gresh

Slide 7 of 10

Some parents walk in confidence. Others grapple with parenting certainty from time to time. All benefit from godly wisdom. Dannah Gresh splashes encouraging words onto the pages of Six Ways to Keep the Little in Your Girl. Call it godly wisdom for those ready to drink. 

This book shines a light on the path for parenting daughters as they grow and become young women. It contains ideas and suggestions as well as real-life situations – a necessary for those of us whose minds often run blank.  

Never fear, parents of boys. Dannah Gresh also authored a companion book for our young men. Several additional "daughter books" wait as well. All prove practical ministry in action.

 

Photo credit: Google/paththroughthenarrowgate.com

8. A Mom's Prayers for Her Son: Praying for Every Part of His Life by Rob and Joanna Teigan

Slide 8 of 10

Many prayer books sit on bookstore shelves, as do parenting aids. Not all make it to the home shelf. Make certain this one does.

Rob and Joanna Teigen intertwine prayers through the pages of A Mom's Prayers for Her Son that go deep, addressing the heart of issues. They cover social, relational, spiritual, and emotional points – all issues our sons find themselves facing.

Even though the title focuses on sons, tweak it slightly and you'll have prayers for a variety of young men and boys in your life – and perhaps even a few prayers for daughters as well. I highly recommend this tool.

 

Photo credit: Amazon.com

9. The Baxter Series Books by Karen Kingsbury

Slide 9 of 10

Do fiction and ministry intermingle? Yes; Karen Kingsbury novels do just that. 

A number of books find their way into The Baxter Series novels. Leading the way is a fiction piece called Redemption. Each title from Redemption to the current release, In This Moment, covers different and often relatable life issues encountered by the Baxter family and those surrounding them. Faith in the face of adoption, abortion, college life, the death of a child, sickness, and relationships are interwoven into these stories, as are many more real-life issues. 

I happened upon Take One initially. This novel sits in the middle of The Baxter Family series, an odd place to start but used by God nonetheless. Its subject matter proved "just what the doctor ordered" at a time when similar discussions were happening under our roof. How sweet to hand the children a novel, assured it'll minister. 

 

Photo credit: Google/kalynbrooke.com

10. The New Strong's Exhaustive Concordance of the Bible by James Strong

Slide 10 of 10

Mirroring the size of an encyclopedia, this reference tool takes readers straight to the Greek and Hebrew meaning of specific words in the Bible. Those words often come to life in a whole new way, as does the complete verse.

Other books useful for further study of God's Word include Vine's Complete Expository Dictionary of Old and New Testament Words, The Complete Guide to the Bible by Stephen M. Miller, and Holman Giant Print Illustrated Bible Dictionary by Norman Hillyer. All help to further our understanding of God's beautiful Word. 

 

Photo credit: Amazon.com 

Kristi Woods, writer and speaker, is passionate about women walking deeper with God. She clicks words of encouragement at www.KristiWoods.net and is published in both Chicken Soup for the Soul: Dreams and Premonitions and Military Families as well as on Proverbs 31 Encouragement for Today. Kristi, her husband, and their three children survived a nomadic, military lifestyle, and have set roots in Oklahoma. Connect with Kristi here: Facebook, Instagram, and Pinterest.