10 Reasons to Never Miss a Sunday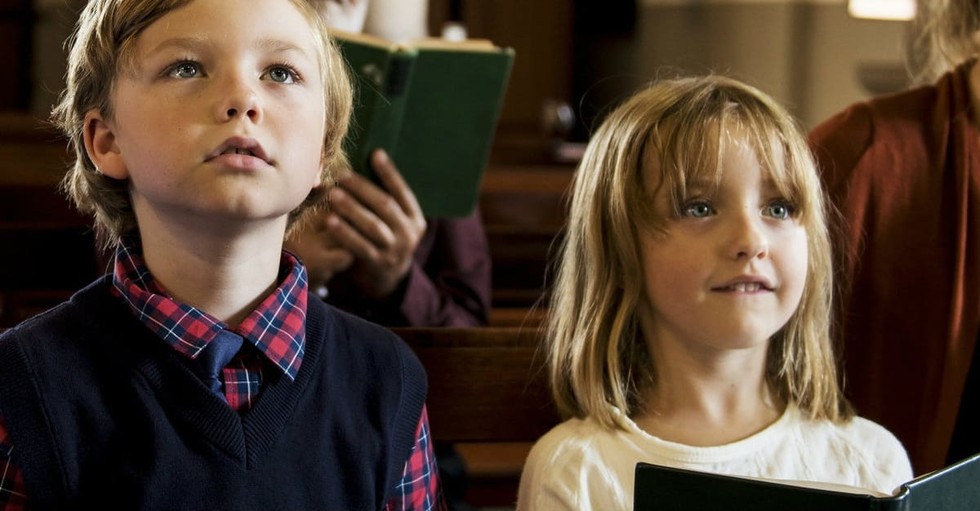 Days are short, and we are busy. Carving out time to spend Sundays in a church community may seem impossible. I know because I've missed quite a few in my thirty-six years, which is why I'm the perfect person to offer some reasons to never miss one.
I grew up going to church and believed in Jesus at a young age, but during my young adult life I thought I had better things to do on Sundays. I wandered, thinking I was invincible and in control of my destiny. On the surface, I was doing okay. I didn't get into trouble with the law. I worked and paid my bills. I tried to be kind and encouraging to those around me.
But my insides were anything but okay. It wasn't until God used events like my tough marriage, parenthood, a bankruptcy, and a failed business to reorient my life back to Him that I became healthy internally as well. A big part of getting healthy involved my church attendance, so I know the power of sitting in those rows.
Here are my 10 reasons to never miss a Sunday:
Photo credit: @Thinkstock/Rawpixel
1. God Deserves the Sacrifice of Our Time

Slide 1 of 10

I've now walked with God long enough to be able to look back at both the trials and celebrations in my life, and see how good He is. He brought me out of financial failure, He saved me from an addiction, He resurrected my marriage when it was heading toward ruin, and He healed my sister from a devastating sickness. Every heartbreak was used for good, and because of His faithfulness and love, He deserves a sacrifice of my time. 

If you are in a desperate place, know that He can bring you wholeness and healing. He can save you; His death on the cross already has. A church community provides a safe place to hear and accept His message of salvation. The time you sacrifice on Sundays to learn about His love for you and how He works is never wasted. 

 

Photo credit: Unsplash 

2. A Worship Service Starts My Week Out Right

Slide 2 of 10

That is such a cliché statement, but sometimes clichés make sense. Many times I've entered a Monday, the worst day of the week according to my Facebook feed, and almost reacted to—let's call it an issue—in an un-Christ-like way. Thankfully, I'm able to pull from a reserve of grace stored up during Sunday worship and change my reaction before it gets me into trouble. 

If Sunday messages fulfill their purpose to teach me about Jesus' love and saving grace, then certainly I should be able to use this knowledge to diffuse a situation or shed light in a dark place. Carrying a heart full of knowledge and praise for God into our week can never be a bad thing.

 

Photo credit: Unsplash 

3. God Deserves My Worship and Praise

Slide 3 of 10

Psalm 95:2 says, "Let us come before him with thanksgiving and extol him with music and song." The book of Psalms, the third-largest in the Bible, is full of songs and prayers to God. This should clue us in to the importance of worshipping Him. Whether it be through singing, clapping, raising our hands, dancing, playing an instrument, or swaying to the beat, God deserves our worship. If my week has been an epic fail or an epic victory, I need to lift my voice and sing praises to Him, the Creator of the universe. 

This worship and praise can, and should, be done in an intimate space between you and God, but never underestimate the power of corporate worship. Notice Psalm 95:2 says, "Let us come before him…" Instances of people worshipping together occur again and again in Scripture. Imagine what God sees when He looks at a group of people collectively singing and praising Him on a Sunday. 

 

Photo credit: ©Thinkstock_DesignPics

4. It Sets a Pattern and Example for My Children to Follow

Slide 4 of 10

I was in children's ministry for many years, so I'm an advocate of making regular church attendance a habit for your children. Proverbs 22:6 encourages, "Start children off on the way they should go, and even when they are old they will not turn from it." A similar verse appears in  Isaiah 30:21b: "This is the way; walk in it." Then there's John 14:6 in which Jesus declares, "I am the way…" These verses confirm that God wants our children to know about Him. 

Setting a godly example and teaching your children about Him through His Word at home is critical, but don't fail to see the power of a godly community surrounding and encouraging this. If I place value on my Sunday attendance, it is my hope my children will mimic this behavior as adults.  

Start establishing the importance of learning and worshipping God with fellow believers early, while striving to do so as well. I'm already seeing the benefit of having other women, whom I respect greatly, pour in to my teenage daughter and help her to grow spiritually. 

 

Photo credit: ©Thinkstock

5. God Wants Me to Serve Others

Slide 5 of 10

God has gifted everyone with talents and skills which are unique to them. Christ desires us to use these gifts and work together to reach His hurting world and to build up His body. 

Understanding lighting and sound equipment isn't in my skill set, nor do I have the desire to learn about either. I do, however, love to get in front of elementary school children and bring a Bible story to life. 

God may never ask a tech guru to teach on stage, and He may never ask me to get behind a sound board, but He will ask me to do what I can do. The church needs me. Don't fail to use your talents and skills to serve Him.

 

Photo credit: ©Thinkstock/DigitalVision

6. It's a Chance to Visit with My Church Family

Slide 6 of 10

For believers, Jesus' life on earth is our example to follow. Luke 4:16 tells us, "He went to Nazareth, where he had been brought up, and on the Sabbath day he went to the synagogue, as was his custom." Did you catch that? As was His custom, His norm. The New Testament is full of stories about Jesus going to synagogues, or the Temple to learn (as a child), teach, and worship God. 

His life with the disciples also demonstrates the need for friends with the same goal⎯to tell people about Him. His disciples were far from perfect, but they loved and believed in Him. They followed Him to synagogues and mountainsides. In return, Jesus loved and cherished those friendships. 

By design, God's church is a group of people seeking one thing⎯a relationship with Him, and with His followers. He desired this to be a group effort from the start, and we need to honor Him by not seeking to know Him in isolation, for that is not His example. 

 

Photo credit: ©Thinkstock/Brand X Pictures

7. Others are Watching

Slide 7 of 10

My family doesn't attend church for props; in fact, this world is increasingly hostile towards those who consistently go to church. We live near a large youth ballpark, and every Sunday morning we see cars spilling out of the parking lot. The mainstream no longer views Sundays as a time for worshipping God.

As 1 John 2:15 says, "Do not love the world or anything in the world. If anyone loves the world, love for the Father is not in them." 

As Christians, we must demonstrate our love for our Father and His people by going against the mainstream's norm. We have to show Christ to a hurting world, to be like Him amongst the chaos. This means not living as the world lives and loving what the world loves. Carving out time for Him on Sundays shows our commitment to make Him a priority. 

 

Photo credit: Unsplash 

8. It's Good for My Relationships

Slide 8 of 10

Typically, my husband and I are working on different Bible studies. I've often found that sitting side-by-side in those uncomfortable church chairs and listening to a message helps our spiritual journeys intersect. We regularly discuss songs the band played or something our pastor said during his teaching. We draw closer to one another because of our mutual desire to grow in a strong, loving relationship with Jesus.  

This is true for singles as well, because your church service should feel like time spent with like-minded friends. If you don't have someone you can attend with, discuss the teachings, and worship with on a regular basis, start looking for someone to fill this place in your life. They may already be sitting next to you in service. 

 

Photo credit: ©Thinkstock/digitalskillet

9. It Reminds Me to Give Back

Slide 9 of 10

I've seen God vastly improve our finances once we committed to giving back, monetarily, to Him; but this topic is for another article altogether. 

Did you know that during the summer, when families typically vacation, offerings are at their lowest for the year? Out of sight, out of mind, right? 

This impacts the church, our communities, and the world. My church donates locally and globally to non-profits and missions, and I know many churches do the same. Most can't deny the positive impact of charities which help the poor, hungry, and hurting. Attending a church service always reminds me to give back, to go above and beyond to give and serve. And in doing so, God has never failed to take care of my house and I.  

 

Photo credit: ©Thinkstock

10. God Wants to Use Me

Slide 10 of 10

We're given choices, both small and large, each day. Sometimes what I think are small choices are actually big ones to God. 

Have you ever had the urge to go say hello to someone and discovered they were in crisis and needed prayer? Have you ever texted someone God placed on your heart and found they really needed to hear those words? Have you ever smiled at or given a hug to someone and later learned that one small gesture changed the course of their day? 

God uses us to reach people, and sometimes it's in the smallest of choices that He uses us to make the biggest impact. But … He can't use us if we're absent. 

 

Photo credit: ©Thinkstock/santypan

Kristen has a Master's degree in Theological Studies and was on staff as a Children's Ministry Director for over five years. She cherishes her Southern roots and currently lives forty-five minutes outside of Atlanta, GA. With the support of her husband and two children, she stays at home writing Christian fiction, making up fantasy places and characters, allowing God to take the story where He needs it to go. She is on the women's leadership team at her church, and writes for Wholly Loved ministry at www.WhollyLoved.com. To see her blog and current novels, check out her website at www.kristenterrette.com.