10 Small (But Powerful) Ways to Show Respect to Your Husband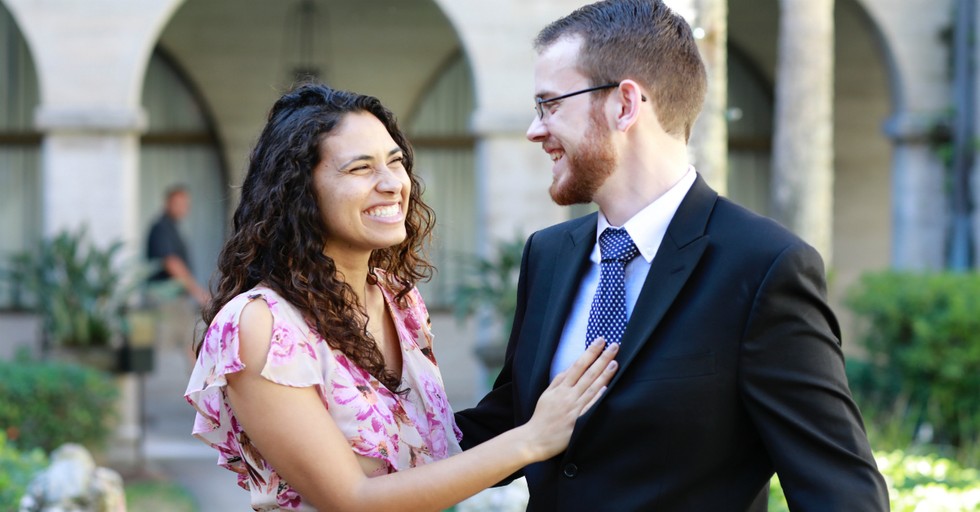 "Her husband is respected at the city gate, where he takes his seat among the elders of the land." (Proverbs 31:23)
Did you know your husband craves respect the same way you crave love?
As you read about the wife of noble character famously described in Proverbs 31, there's a little verse tucked away about her husband in verse 23. It says he is respected at the city gate where he takes his seat among the elders of the land.
This one sentence description of the husband isn't about his extraordinary wife making him feel loved. It's about how she makes him feel respected. His wife adds to his reputation. He is known to have a good wife which speaks well of his choice of a bride and the state of his family. A good name is important to a man.
Whether it's been a few months or decades since you said "I do," you can continue to act respectfully to your Prince Charming. During your dating days, you probably spent a lot of time admiring and praising your beloved. You kissed with tenderness. You watched ball games together and went out often to have fun. You did your best to look good.
How can you keep saying "I do" respect you, day after day, year after year? Here are 10 small (but powerful) ways to keep showing love by showing respect.
Photo courtesy: Unsplash.com
1. Speak the language of respect.

Slide 1 of 10

I was in the car with my husband James as he was telling a story to our kids. I perceived the tale was about to get scary so I tried to stop his story with a disapproving look and loud throat clearing. He continued to tell his story which actually turned out amazing without a hint of darkness. Afterward, he told me how upsetting it was to him that I would question his judgment. "Do you really think I would tell an inappropriate story to our kids?" Because he felt disrespected, he was very hurt. I apologized and realized in that moment how important it was for me to speak the language of respect.  

Photo courtesy: ©Thinkstock/Ivanko_Brnjakovic

2. Cheer your husband on.

Slide 2 of 10

Your husband needs to know that no matter what life throws his way, you are his enthusiastic supporter. You are always in his corner. In my book 31 Days to a Happy Husband, Dr. David Jeremiah said this about his wife, "Her words weigh more than all the words of everyone else. That's not just me. That's everyone. You have got to be your husband's cheerleader. Be his number one fan. Let him know. Don't assume that he knows." Maybe your husband is stressed about his sales numbers, pressures at work, or strained relationships. You have the unique ability to cheer him on. Think of something you admire about your husband and tell him about it today.   

Photo courtesy: ©Thinkstock/monkeybusinessimages

3. Give him a warm welcome home.

Slide 3 of 10

In this digital age, it's not unusual to barely look up from the phone or computer when a family member comes home. Make it your practice to pivot away from devices and always put your family members first. When your husband comes home, greet him with eye contact and a hug or kiss. It only takes a few seconds but it makes a big difference in the atmosphere of your home. If you have kids, make sure your home is adult friendly, not just kid friendly. We can give too much real estate to toys and tricycles instead of creating a space where adults can relax and unwind too.  

Photo courtesy: ©Thinkstock/GeorgeRudy

4. Respond positively to his sexual advances.

Slide 4 of 10

When your husband tries to be physically intimate with you, and you shy away, it feels like disrespect. He feels unwanted and rejected. On the other hand, good lovemaking makes a man feel alive. I remember James telling me, "The action of sex makes me feel really appreciated." Sex is the currency of appreciation for many men. Wives tend to feel appreciated through emotional connection, and husbands tend to feel it through physical intimacy. Your husband may demonstrate his love by listening to your concerns patiently in the living room. You may show your husband respect by heating things up in the bedroom.   

Photo courtesy: Unsplash.com

5. Do a good deed for your husband.

Slide 5 of 10

Good deeds aren't just reserved for neighbors, Girl Scouts, strangers, or friends. You can practice good deeds on the one you love most – your husband. Proverbs 31:12 says, "She brings him good, not harm, all the days of her life." What's one thing you can do today to make your husband's life easier? Maybe it's bringing in the car for an oil change, cooking his favorite meal on the weekend, or delivering a tall glass of water when he's working on a project. Look for ways to serve your spouse on a regular basis and you will be blessed.

Photo courtesy: ©Thinkstock/David Sacks

6. Look your best.

Slide 6 of 10

Remember how you used to take special care of your appearance while dating? Keep putting on lipstick to see your husband. I remember being at an amusement park all day with the kids. By dinnertime, I certainly didn't look my best. But before greeting my husband, I quickly put on some lipstick. Doing something small to improve your appearance just takes a little effort, but it communicates you care. Men are visually oriented. Keep trying to catch your husband eye, whether it's putting on lipstick, wearing your husband's favorite color, or styling your hair.  

Photo courtesy: ©Thinkstock/Mike Watson Images

7. Find him interesting.

Slide 7 of 10

When you were first getting to know one another, you were fascinated with your then boyfriend. You studied his likes and dislikes. You listened to his stories with rapt attention. You laughed like crazy at his jokes and wisecracks. But after many years of marriage, it's possible to think you know all about him. You stop being curious. You stop investigating his likes and dislikes. Make a point to find out something new about your man. What's he reading? What are his hobbies? Has he heard any good stories lately? Find your husband interesting once again.  

Photo courtesy: ©Thinkstock/Don Mason

8. Honor your husband's preferences.

Slide 8 of 10

If you kept asking to go out to Italian, but your husband kept taking you to Chinese, you would wonder after a while if he was even listening, right? In a similar way, when your husband drops a hint like "I wish the kids would go to bed earlier," you need to act to honor his desire. We can discount our husband's wishes and make excuses for ourselves, but that doesn't feel like respect to a man. He wants to be heard. He wants his opinion to matter. This doesn't mean there's no room for compromise. It simply means his preferences should have weight and should not be easily dismissed.

Photo courtesy: Unsplash.com

9. Kiss every day.

Slide 9 of 10

Giving your husband a 5 to 30 second kiss a day can make him feel respected as a man. It honors his need for physical affection and proves you still find him sexy and desirable. A passionate kiss takes just a few moments and it acts like glue in a marriage. Look for opportunities to steal a kiss in the garage before he leaves, in the kitchen after dinner, or the backyard when he's doing yardwork. Kissing connects you physically, keeping the pilot light lit between you. Adopt the saying of the Shulamite woman in Song of Songs 1:2, "Let him kiss me with the kisses of his mouth – for your love is more delightful than wine." 

Photo courtesy: Pexels.com

10. Enjoy mutual activities together.

Slide 10 of 10

Have you noticed men enjoy activities? They don't just sit face to face and chat with their friends. They build, hunt, bike, fish, camp, hike, run, golf, and much more. Your husband needs to have fun with you side by side. What's an activity you enjoy doing together? This has been a challenging area in my marriage because I am not very athletic or coordinated like my husband. With many failed attempts, we've ruled out skiing and rollerblading. But I can (kind of) mountain bike and camp. When I try to do something out of my comfort zone to have fun with my husband, he tells me it means a lot to him.  

Consider these 10 small (but powerful) ways to make your husband feel respected. Which ones are you really good at? Which ones seem like a foreign language to you? Choose one or two things to practice on your husband this week. Maybe you'll kiss passionately each day or try bowling together on Friday night. The more you look for opportunities to show your husband respect, the happier he will be in the marriage. It will be easier for him to show you relentless love as you show him relentless respect. God, the engineer of marriage, has wired it so respect speaks directly to the heart of your man. Don't fight that; embrace it. May our husbands "be respected at the city gate." Let's renew our commitment to do good to our husbands, not harm, all the days of our lives.  

 

Arlene Pellicane is a speaker and author of several books including 31 Days to a Happy Husband and Parents Rising: 8 Strategies for Raising Kids Who Love God, Respect Authority, and Value What's Right. She has been a guest on the Today Show, Focus on the Family, Family Life Today and Fox & Friends. Arlene and her husband James live in San Diego with their three children. Visit Arlene's website at www.ArlenePellicane.com.  

Photo courtesy: ©Thinkstock/jacoblund