10 Things That Are Not Evangelism
Rhonda Stoppe

Speaker and Author

2020

25 Feb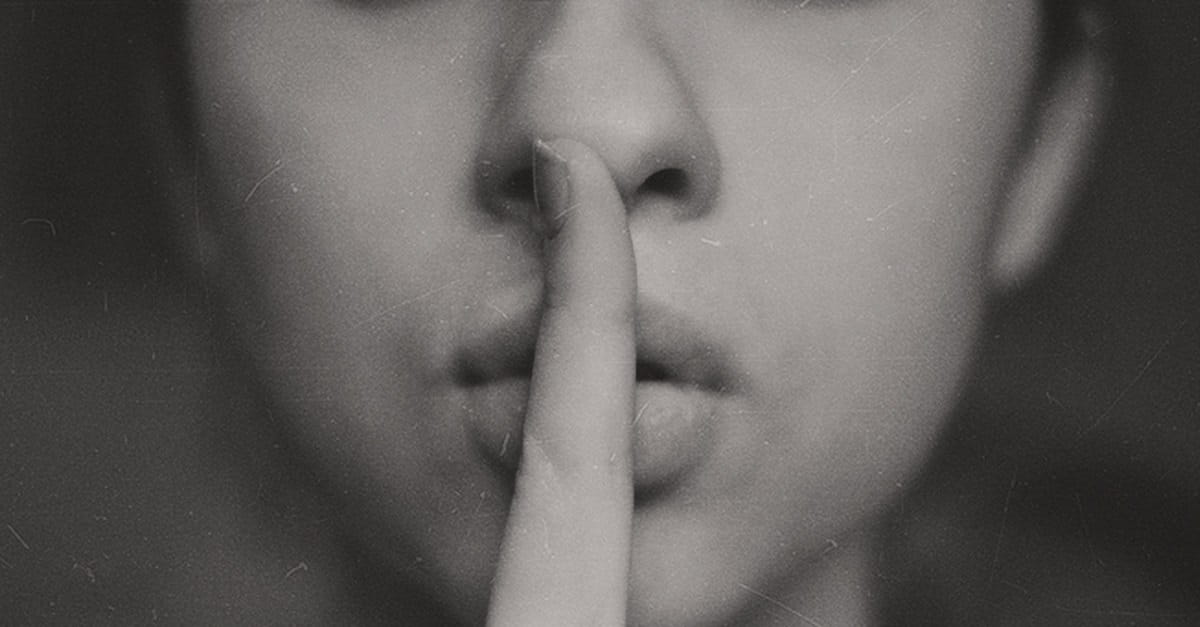 Kim had been a believer for a number of years. She often felt the twinge of guilt whenever her pastor brought up evangelism. Since becoming a Christian, Kim knew God wanted her to tell others about the hope she found in Christ, but the fear of seeming pushy or appearing as that weirdo who threatens people with hell's fire and brimstone made her hesitant to share her faith.
Maybe you can relate to Kim's situation. Think back—can you recall the people and circumstances God used to draw you to Christ? Most likely, someone was bold enough to share the gospel with you.
So why is it that we, whose lives have been transformed by a relationship with Christ, tend to recoil when God brings to us those He's drawing to Jesus? What are some ways God would have us be His ambassadors in this generation? To help, let's begin by looking at 10 things that are NOT evangelism:
Photo credit: Unsplash
1. Silent Witness

Slide 1 of 10

Growing up, I remember hearing adults say, "I am a silent witness for Christ." They would say, "You may be the only Bible others will ever read." And somehow use that statement to justify their tendency to never tell people the reason for their godly lifestyle. 

In this instance, silence is not golden. Scripture says, "We've overcome by the blood of the lamb and the word of our testimony" (Revelation 12:11). There's power in sharing how knowing Christ has set you free from sin's bondage, so know your testimony and be ready to share it.

 

Photo credit: Pexels

2. Inviting Someone to Church

Slide 2 of 10

While asking people to come to church is not a bad practice,  it is important to realize the church is not the "salvation station" where Christians bring their unbelieving friends to get saved. 

Nonbelievers tend to think God keeps track of when they attend church, and their attendance somehow counterbalances the bad things they've done. Our churches are full of well-meaning people who think this way. But the Bible says the church is for the edification of true believers to hear the preaching of the word, and to be equipped to go out into the world and make Christ known.

This is not to say you should never invite friends to church; but you should pray for God to help them understand their need for a Savior, as you boldly share with them your own testimony of repentance and salvation. Explain how you are happy to have them attend church with you, but turning from their sin to wholeheartedly follow Jesus is the only way to salvation.

 

Photo credit: ©Thinkstock

3. Asking "Are You a Christian?"

Slide 3 of 10

I am surprised how many times I've heard Believers say, "Oh yes she's saved. I asked her if she was a Christian and she said yes." Remember, a large number of the population will call themselves Christians simply because they "believe" in God. But James 2:19 reminds us, "even the demons believe and tremble."

Remember, the true gospel involves a person recognizing they are a sinner, while believing that Jesus is the Son of God who lived a sinless life, died to take the punishment for the sins of mankind, rose victorious over death, and was seen by many people after His resurrection––which proves He is alive (See 1 Corinthians 15:1-8).

 

Photo credit: ©Thinkstock

4. Giving Money to Missionaries

Slide 4 of 10

I'm not suggesting you withhold financial support for missionaries. Scripture encourages believers to give to those God sends to share His great message of salvation. In 1 Timothy 5:17-18, the Apostle Paul reminds us that one who labors for the Lord is worthy of his wages. 

And yes, giving to missionaries will most certainly add to your reward in heaven when God reveals all He accomplished through your sacrifice. But often there's a temptation to think that giving to missionaries somehow excuses us from personally telling others about Christ.

We are each called to be ambassadors for Christ (2 Corinthians 5:20). The Great Commission is Jesus' calling for you and I to make known His message of hope and redemption.

 

Photo credit: ©Thinkstock

5. Feeding the Hungry

Slide 5 of 10

Jesus certainly fed people who were hungry; remember, He fed more than 5,000 people with only loaves and fish. But after Jesus fed them, He immediately began to teach them that He was the bread of life. And what did those people do once their bellies were full? Most walked away from Christ. Why? Because they realized He was calling them to turn from their sin and their religious rituals to follow Him, the true Messiah.

Feeding people in need has always been a hallmark of Christian ministries, and those who couple a hot meal with a gospel message closely follow Jesus' example. I am shocked how many programs invite churches to contribute or help distribute food, with the stipulation they are not allowed to share the gospel.

Giving food to the homeless or sending money to buy food for the hungry will only meet their temporal need. If we are going to feed people, we must include the gospel, the true nourishment for their starving souls.

 

Photo credit: ©Thinkstock

6. Telling People the Things You Don't Do Because You're a Christian

Slide 6 of 10

You know what I'm talking about—that woman at the office who is careful to point out how she doesn't attend the work Christmas party or go to happy hour after work because she is a Christian.

I've been to my fair share of office parties, and I agree that much of what occurs after a night of drinking is usually less than Christ-honoring. But there is a way to graciously not attend an event, or kindly not accept an invite to party with co-workers without coming off as superior or prideful.

Ask God to give you His wisdom to shine the light of Christ brightly so that He can draw others to His Son through your life. At work, your content attitude, kindness to others, refusal to gossip, and genuine compassion for your coworkers who need Jesus will do far more to draw them to want to know more about Christ than you listing all of the things you don't do because you're a Christian.

 

Photo credit: ©Thinkstock/SIphotography

7. Saying "I'll Pray for You"

Slide 7 of 10

God will use whatever circumstances necessary to draw people to Christ. For some that means a difficult marriage, wayward child, financial struggle or personal illness. When you meet someone who is facing such trials, rather than patting them on the back and saying, I'll pray for you, take time to ask God if He is inviting you to guide this person to Christ. 

We tend to want to help people in need by solving their problem, or offering them some advice to ease their struggles. But realizing that God uses these things to draw people to Christ can motivate you to share with them the answer to their real need—a relationship with Jesus. 

When my mother became so sick she lost everything she valued, she was finally ready to listen when I shared with her the gospel of Salvation. I had shared with her on numerous occasions over the years, but in her moment of despair she was finally ready to repent of her sins and ask Christ for forgiveness.

 

Photo credit: ©Thinkstock/B-C-Designs

8. Promising Someone They Will Go to Heaven if They Only Believe in Jesus

Slide 8 of 10

When the rich young ruler asked Jesus how he could be saved, Christ did not affirm his belief and send him on his way. Jesus, seeing the depths of the man's heart, knew he idolized his riches and would need to repent and walk away from those things to truly become a follower of Christ.

When Nicodemus came to Jesus by night, Christ quoted John 3:16, "…that whoever believes in Him should not perish but have everlasting life." It is important to look to the original language to learn what the word "believe" actually means in this passage.The belief Jesus referred to was not simply a mental ascent to the truth of who He is.

Rather, the word "believe" points to a one point and time action with a continued result. Jesus invites us to a covenant relationship with Him, calling His followers to turn from their sin and the cares of this world to live daily in a relationship with Him as Master of their lives. Inviting others to just "add Jesus onto their life" so they can go to heaven is simply not true salvation.

 

Photo credit: ©Thinkstock/allanswart

9. Asking Someone to "Pray This Prayer"

Slide 9 of 10

While it is tempting to get people to repeat a prayer to invite Jesus into their hearts, be very aware of how, in your zeal to "seal the deal" and get them to "accept Christ," you might give them a false hope.

For example, I can remember when I was a teenager in the 1970s and churches sent out buses to pick up kids for church. It was an amazing ministry where lots of people came to Christ. As a volunteer, however,  I recall a time when an adult encouraged me to get the kids to say the "Sinner's Prayer." I was then to assure them that they were saved. The problem came when I realized a lot of these kids had come forward for the free ice cream and would say just about anything I told them to say. 

Realize if a person is not ready to repent and turn from their sin to follow Jesus, getting them to repeat some words so they can "be saved" may do more harm than good. A prayer without true repentance is merely a ritual and will never transform a heart.

 

Photo credit: ©Thinkstock

10. Telling People You're a Christian

Slide 10 of 10

Am I saying you shouldn't be bold about telling people you are a Christian? Of course not! But merely mentioning to others that you're a Christian is not evangelism. 

When I'm asked about my religion these days, rather than saying I'm a Christian, I tell people "I'm a follower of Christ," or "I have a relationship with Jesus." Defining myself in this way has opened doors to explain how Jesus calls us not to religion, but to a relationship with Him. "Religious people" are often intrigued to learn how your love for Christ is what motivates your obedience––as opposed to doing religious rituals to appease an angry God.

After discussing what evangelism is not, it's time to ask God to help you be ready to share the true gospel. "Always be ready to give an answer for the hope that lies within you." Ask God for help, and then just wait and see the people He brings your way. And I promise you won't regret it!* 

*To learn more about sharing your faith watch this video of Rhonda Stoppe's message: How to Make Christ Known. https://youtu.be/-OBd2IyIlwY

 

Photo credit: ©Thinkstock/digitalskillet

Rhonda Stoppe is the NO REGRETS WOMAN. Rhonda is an evangelist who meets women at the point of their desperation and shows them the way to Christ. I could have listened to Rhonda talk all night is what audiences say at her No Regrets Woman Evangelism Conference. Since 1990 Rhonda has helped women break free from the regrets that hold them back by guiding them toward practical ways to  build a life with no regrets.

Rhonda's books include Moms Raising Sons to Be Men, If My Husband Would Change I'd Be Happy & Myths Wives Believe, Real Life Romance, and The Marriage Mentor (to release 2018).

Connect with Rhonda on Facebook, Instagram, Twitter, and NoRegretsWoman.com.