14 Christmas Book Ideas for Your Kids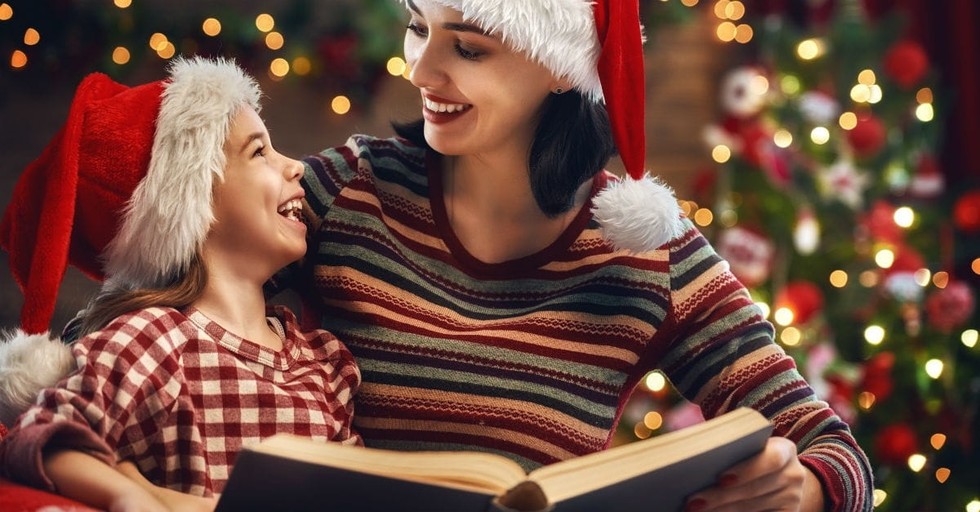 Snuggled up by the Christmas tree, little eyes marvel over the pages of the most miraculous story of all time—Jesus' birth. The Son of God's birthday has sparked classic holiday stories that we enjoy year after year. Whether it be a new version of an old classic, a copy carried through our own childhood, or a fresh new spin on the season, grab a book and cuddle with the kids this season.
Though Christmas has become commercialized over the years, Proverbs 22:6 reminds us to "Train up a child in the way he should go, even when he is old he will not depart from it." As they grow, the root of all that is good about the season will remain. Include stories that tell of the Biblical version of Christ's birth, for God's Word read allowed welcomes His presence. It's not necessary to shy away from fun quips and other holiday stories, as long as the right message remains front and center.
Photo credit: ©Thinkstock/Choreograph
1. The Pine Tree Parable by Liz Curtis Higgs

Slide 1 of 14

Liz Curtis Higgs' The Pine Tree Parable is the tale of family that owns a Christmas tree farm. As the family grows us, they begin to sell the pine trees to their neighbors at Christmastime. All but one tree that the farmer's wife cannot part with. Instead, it sits adorned with a star atop each year with a tag that says, "not for sale." 

"He plants a pine tree, and the rain makes it grow" (Isaiah 44:14).

This wonderful parable is woven together by a beautiful tapestry of Scripture verses that adorn every set of pages. They sync right to the message, beautifully and applicably speaking of helping others and treating our neighbors as ourselves. The sacrifice the farmer's wife makes at the end of the story is big, but it causes so much joy. "Just like Christmas," the story concludes. 

 

Photo credit: Google/Alibaba.com

2. Unwrapping the Greatest Gift by Ann Voskamp

Slide 2 of 14

Ann Voskamp authored Unwrapping the Greatest Gift as a family devotional for the Advent Season. Page after page contains vivid pictures and well-crafted retellings of familiar Biblical stories of the Advent season, beginning with Isaiah prophesying the "stump of David's family will grow a shoot- yes, a new Branch bearing fruit from the old root…" (Isaiah 11:1-2). In her unique, poetic way, Ann Voskamp brings each story to life in way that weaves around the true meaning of Jesus' coming to earth. She cues us all to action with simple ways we can help a hurting world in the holiday season and beyond. 

Each Scripture and eloquent teaching of the story is followed by a few points to discuss and digest each lesson as a family. They are pulled right out of real life moments that families should probably be talking about anyway, and allow opportunity to relate common struggles to Jesus' purpose at Christmastime. There are also activities to do each day as a family, together at once, or all individually. Lastly, the most special part of this book is the option to participate in the Jesse Tree by downloading or purchasing the matching ornaments to hang on a Christmas tree for each coinciding day. 

 

Photo credit: Google/DaySpring.com 

3. December Devotionals

Slide 3 of 14

Christmas is a great time to start a routine of reading Scripture regularly with our children. There are many daily devotionals made for kids, and it's OK to flip to the back of a dated one and start in December. When January arrives, turn to the front of the book together and keep on going. VeggieTales, Sarah Young of "Jesus Calling," and Max Lucado have all written beautiful devotionals for elementary aged children. They meet them where they are and give them practical ways to live out what they have read each day. Bethany Hamilton of the movie Soul Surfer has written an excellent devotional for girls on their way to a more difficult stage in their lives. 

Not all devotionals are dated. Some simply number the entries from 1-365. If it's not possible to gain access a book that can be held in hand, try some of the free Bible apps that are available to anyone with a device to download it. There are free devotional plans catered to all walks of life. JellyTelly offers family video devotionals that are fun to watch together, too. At the very least, aim to pick up one of the books reviewed here today and capture a piece of Christmas Spirit daily.

 

Photo credit: Unsplash

4. God Gave Us Christmas by Lisa Tawn Bergren

Slide 4 of 14

In the preface, author Lisa Tawn Bergren states, "always remember that God gave each of YOU Christmas!" Yes! What an appropriate reminder of how individually Jesus loves us in the midst of a big and busy holiday season. Throughout this sweet story, a momma polar bear takes one of her cubs on a journey to see God, and explain the true meaning of Christmas. 

When they reach the Northern Lights, and the little cub asks her momma what they are, she responds, "That is God at work, Little Cub." The story goes on to explain how Jesus came so that we would know the difference between dark and light, and how the world is held in control by the power of God. Bergren answers childlike questions about Santa with love and care, putting the spotlight on Christ as the greatest present given to us by God.

 

Photo credit: Google/Kobo.com

5. How the Grinch Stole Christmas by Dr. Seuss

Slide 5 of 14

Who can avoid the gentle pulling-in of the disgusting green Grinch of the classic Dr. Seuss tale How the Grinch Stole Christmas? Throughout the typical sing-song way that Seuss spins a tale into a classic we continue to repeat, the Grinch experiences a change of heart. Our society is bogged down with commercialism, and it's easy to feel "Grinchy" at Christmas. Even children can relate the hustle and bustle of shopping and packages and hours spent on exterior lighting. It can all seem very confusing, leaving kids to wonder what the point of it all is—just like the Grinch. 

Though the Grinch thinks stealing every belonging, gift and crumb in Who Village will steal Christmas, he learns that the spirit of Christmas isn't something that can be stolen. Through a wonderful lesson in kindness, Christians in particular can relate to a feeling of contentment that cannot be stolen away, whether our bellies are full or we are without a warm bed. An innate Christian virtue to love beyond possibility is only possible because Christ was born on Christmas.

 

Photo credit: Youtube.com

6. The Christmas Miracle by Mary Beth and Steven Curtis Chapman

Slide 6 of 14

The Christmas Miracle, by Mary Beth and Steven Curtis Chapman, tells of the adventures of a ladybug named Dot on the day before Christmas. In a rush to make sure Christmas is perfect, Dot learns along the way that the cookies and gifts are not what makes the holiday special. As parents, sometimes we feel like we have to manage to fit everything in, every year. Reading this story together with our children will remind us that it's OK if sickness or other circumstances prevent us from fulfilling every favorite holiday tradition on our list. 

Christmas comes every year, regardless of how ready we feel we need to be. Even Santa himself lends Dot some advice about Who Christmas is really about, and that everything else is meant to remind us of Him. Ending with a Scripture from the gospel of Luke, this quaint story reflects the simple struggle we all have to stay centered on Christ at Christmas. 

 

Photo credit: Google/ChristianChildrensBookReview

7. A Charlie Brown Christmas by Charles M. Shulz

Slide 7 of 14

The book version of this classic Christmas story by Charles M. Schulz has become part of the American anthem for the Christmas holiday. Charlie Brown never seems to be able to do anything right, but his friends teach him that Christmas is about much more than being able to execute play lines and find the perfect Christmas tree. It's not even about rescuing a tree that needs some love, as he tries to do in the story. "I killed it!" Charlie exclaims, seeming to give up all hope. 

From Linus reciting the story of Christ's birth from the gospel of Luke, to the way they linked hands and say "Hark! The Harold Angels Sing," together around that little tree, the Peanuts teach us that we are not in control of fixing Christmas. In fact, we aren't in control of very much at all. But we have each other, and we have Jesus, who came to save us with a love that would conquer all. And of course, there's nothing sweeter than laughing over Charlie's beagle dog, Snoopy, and his comical bits.

 

Photo credit: Google/9to5Toys.com

8. The Nutcracker

Slide 8 of 14

The Nutcracker ballet premiered in 1892, but it was Tchaikovsky's score that launched it's continued popularity, which continues on today. The story originates from the book The Nutcracker and the Mouse King, written in 1812 by E.T.A. Hoffman. The German author wrote about a favorite Christmas toy coming to life, and the rest is history. 

There are many different versions of this classic, but all revolve around the same love that came to be because a little girl choose to love beyond what she could see. Its synchronicity to the Christmas season makes perfect sense. Look for a version illustrated with the ballet dancers a la the famous production of this story, or a cartoon charactered version that is perhaps easier for younger children to follow. This Christmas classic, full of imagination and childhood wonder, is a must at Christmastime.

 

Photo credit: Google/simonandschuster.co.uk

9. The Christmas Baby by Marion Dane Bauer

Slide 9 of 14

The Christmas Baby begins in the familiar scene of Mary and Joseph failing to find an inn or a room for Mary to have baby Jesus. Beautifully illustrated throughout with picturesque images of Bethlehem, on the ordinary night which welcomed the King of Kings to earth. In a unique twist, Joseph whispers to his donkey of the night's unfolding, and his loyal steed leads him to a stable full of friendly beasts who share in their excitement. All of the familiar members of the nativity scene gather at the stable to rejoice, from the shepherds out in the fields to the three wise men that traveled from afar. 

The author, Marion Dane Bauer, makes the most of our captured attention to drive home the point of Jesus' coming one step further than the typical Christmas story. She prompts us to imagine the smile of baby Jesus as "God's own smile." We, too, smile in the image of God when we are born, as Bauer continues to the end of the story. It's a lovely way for children to understand that we are all made in the image of our Father. 

 

Photo credit: Google/SimonandSchuster.com

10. The Littlest Christmas Kettle by Deborah L. Cranford

Slide 10 of 14

Deborah L. Cranford brings a Salvation Army Red Kettle to life in this wonderful Christmas story about the importance of giving. As Matthew 26:11 reminds us, "the poor will always be with us." It's not something to be overlooked around the holidays. Inciting the desire to give, even as children, is an important message. The Bible tells us to take care of each other, and the simple red kettles that have become part of the backdrop to an American Christmas, provide a simple way to accomplish that. 

Through the colorfully illustrated pages of this story, Sally the Kettle is discovered, rescued, and given a purpose. Not only is it nice for children to have an understanding of who those people are that ring the bells by the red kettles at Christmastime, but that they are raising money to help needy families. Christmas is the celebration of a Savior who rescued us and gave us a purpose. We have been blessed, and it's important to make that connection and help children begin to experience the heartwarming effect of giving.

 

Photo credit: Google/ShopDownHome.com

11. Bear Stays Up by Karma Wilson

Slide 11 of 14

Bear Stays Up is part of a collection of books about a lovable Bear and all of his woodland creature friends. Karma Wilson writes this particular adventure about a bear who's supposed to be in the midst of hibernation, attempting to stay up for Christmas. His friends keep him busy getting ready for Christmas, and even though he's very sleepy … "the bear stays up!" 

This book embraces the spirit of giving and receiving, and going out of our way to think of our friends. Each friend in the story takes the time to gift something meaningful and personal to another friend, even a blanket big enough for bear to go back to sleep. The kindness that the characters show each other reaches beyond their imperfections. They work together as a team to do things they wouldn't be able to accomplish alone, like hauling a Christmas tree from the middle of the woods and into Bear's cave. There are so many great lessons in this sweet story that bring out the true sprit of Christmas. 

 

Photo credit: Youtube.com 

12. Stranger in the Woods by Carl R. Sams ll and Jean Stoick

Slide 12 of 14

Children are often fascinated with wildlife from a young age. This book captures them right in that moment, as the tale of a snowman in the woods unfolds. The animals that live in the woods discover him one by one, each a little more curious and skeptical. But the magical part of Stranger in the Woods is the group of sweet children that discover the animals striking up a friendship with their snowman. 

Carl R. Sams II and Jean Stoick team up to produce a walk through a real-life winter wonderland. Photographs illustrate this sweet tale, making it all the more plausible for little readers to imagine their own snowman attracting friendly woodland visitors. We so often miss the beauty of winter as we rush through the season of Christmas, and this book reminds us to take a winter walk through the woods. The world we live in is full of beauty. The children in the story leave little treats for the animals, to lure them back over and over again just so that they can watch them from a distance. What a thrill just to be living amidst God's beautiful creation.

 

Photo credit: Google/Friendsofthefells.com

13. Llama Llama Holiday Drama by Anna Dewdney

Slide 13 of 14

Little Llama mirrors every school-aged child at Christmastime, making every parent of one such child enjoy this book just as much as their kid! Llama hates to shop, hates to wait for Santa, eats too many sweets and feels sick, and eventually has a Llama meltdown. Author Anna Dewdney brings little Llama to the edge before his momma scoops him up to reinforce the importance of having each other around the holidays. 

In a world where many children are lonely at Christmastime, this sweet story is a gentle reminder to kiddos in the middle of a holiday meltdown to stop and snuggle their loved ones. Simple gratitude for those we have to hold on to is a gift greater than any other package, tradition, cookie, or decoration. The humor that Dewdney crafted into the story makes it easy to remember, jokingly, the next time we see a "holi-drama" meltdown attempting to take down our own households.

 

Photo credit: Amazon.com

14. Journey to Christmas by Wayne Skinner

Slide 14 of 14

Journey to Christmas begins with a family slowing down to return to the family farm for Christmas. They park their car, hop on a train, and then continue by horse-drawn carriage as their only means of transportation amidst a snowstorm. Throughout the story, the children discover an old harness in their adventuring. 

The arguing amongst them finally ceases as they take part on a magical journey to discover the real meaning of Christmas. Skinner illustrates the importance of family, despite the common quarreling that exists between siblings. The spiritual meaning of Christmas is tied in as the scene of Christ being born is magically revealed through a special flashback in time. The children develop a new appreciation for each other and for Christmas during their visit to their grandfather's farm. 

 

Photo credit: Google/Odyssey.com

Meg encourages others to seek Him first through her life as a stay-at-home mom, career as a freelance writer, teaching Emoti-moms Weekly Bible Study, and leading the kids worship teams at her local church. She resides in a small, Northern lake town with her husband of ten years, two daughters, and their Golden-doodle. Meg writes about everyday life within the love of Christ on her blog, http://sunnyand80.org.