5 Powerful Un-Resolutions You Need to Try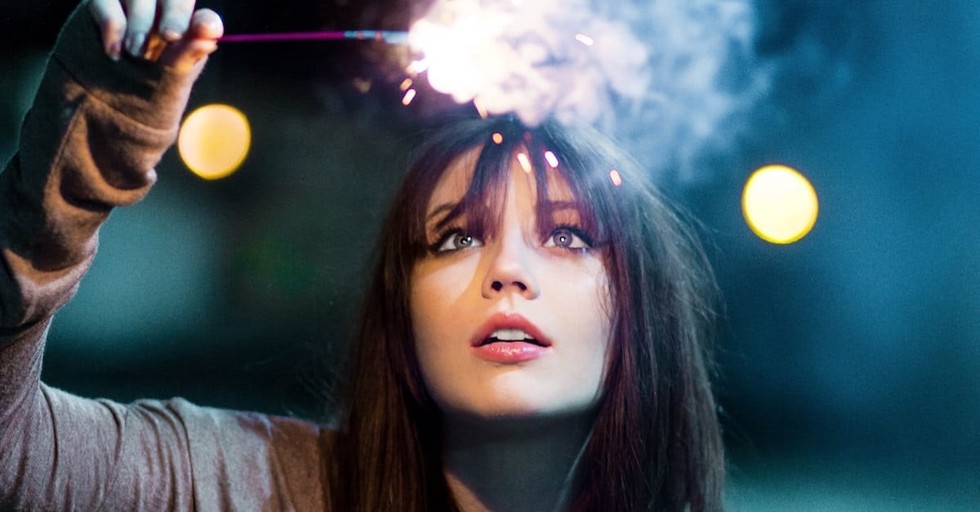 Here we go again. It's only been a few weeks into this new year and I've been inundated with an onslaught of goals, expectations, and resolutions I should have for myself this coming year. Social media has bombarded me with posts about every program for weight loss, finances, wellness, speaking, writing, and relationships that promises me guaranteed success in just three easy steps and three easy payments.
How many of us have made heartfelt resolutions, set lofty goals in the early hours of the new year that we've never really gotten around to, eventually given up on, and somehow forgotten until next year rolls around and we find ourselves trying to remember what resolutions we made in the first place? Has anyone else had enough? I have.
Photo courtesy: ©Thinkstock/Voyagerix
First of all – Why I Want No More Resolutions

Slide 1 of 6

Please forgive me, but I don't want any more resolutions this year.  I don't need another weight on my shoulders.  I can't take the pressure, the guilt, or the remorse for what I didn't do, didn't accomplish, perhaps didn't even remember. 

What I am recognizing is that what I need most is quiet space.  I need less pressure and more solitude.  I need to exhale and to learn how to settle into each moment with more ease.  I need to be a little more gentle with the broken parts of myself that are still healing and growing.  I need more down time to re-teach the child in me how to dream, how to re-imagine the world, and how to color outside the lines.  Perhaps I need to be reminded that indeed, it is okay to color outside the lines.

Somehow I think we all feel like the busyness of life is becoming too much.  What we need most are not more resolutions, but more ways we can become un-burdened, un-ashamed, un-stressed, and un-afraid. 

So here are a few things I'm doing to push back from the pressure and make this year the year of un-resolutions.

Photo courtesy: ©Thinkstock/Voyagerix

1. Un-schedule yourself.

Slide 2 of 6

Take one thing off of your calendar each week.  Find one chore, responsibility, errand, or meeting that you can remove from your schedule.  Trust me, you'll live even if the classroom cookies don't get baked, if the house doesn't get vacuumed, or the phone call doesn't get returned right then.  We are all over-leveraged and over-scheduled.  We are drowning in a sea of  'musts.'  Pick something you can remove and begin to simplify and un-clutter your life.

Photo courtesy: ©Unsplash

2. Un-commit your children.

Slide 3 of 6

Find one activity, birthday party, or seasonal sport you can remove from your children's schedule.  Just say no.  It's easy, try it.  Your kids won't die.  They won't be rejected from Harvard.   Your entire family will actually benefit from a simpler schedule that's not so jam-packed.  Everyone will experience less stress, less anxiety, and less depression.   Each family member can relax into a purposeful pace that allows them to define and nurture their natural talents as well as their highest priorities. 

Photo courtesy: ©Pexels

3. Un-attach technology.

Slide 4 of 6

Find pockets of time where you choose not to pick up your phone or tablet in order to mindlessly scroll through your favorite social media.  Instead, breathe, and notice the scenery around you.  Be mindful.  Find peace in the silence.  When you feel the impulse to pick up your technology, simply make a choice not to.  Notice how it feels.  Create a sacred space that your heart and your mind can let go and recharge.

Photo courtesy: ©Unsplash

4. Un-plug the noise.

Slide 5 of 6

 

Have the family practice thirty minutes of silence every day.  No television, no technology.  Little ones can play quietly with toys or color.  Older children can read, explore outdoors, or paint.  Adults can enjoy a quiet moment with a cup of tea, find time to pray, take a walk, contemplate, or journal.  Everyone in the family benefits from being freed from their addiction to technology, music, and other external stimuli.  Developing the ability to connect with ourselves, our environment, and our family members would not only strengthen communication and relationship skills, it would fundamentally enhance creativity and build core emotional resilience needed to successfully manage the pressures of day-to-day life.

Photo courtesy: ©Thinkstock/AntonioGuillem

5. Un-leash your faith.

Slide 6 of 6

Do something meaningful to engage your faith.  Lean in.  Surrender.  Develop a relationship with God that you've been putting off or avoiding.  Stop trying to live life being your own superhero.  The truth is, you can't.  Allow God to step in and rescue you.  Let Him carry your heaviest burden and heal your deepest wound.  Cultivate joy and gratitude.  Invest in love.  Growing a deep connection with God will unleash a supernatural power and peace in every area of your life.

What might happen if we all resisted the urge to grind out more resolutions this year and embraced a few of these "un-resolutions?"  I believe we might just breathe better, live freer, and find more strength, more passion, and more hope than we could ever imagine.

Have you ever tried any of these "un-resolutions?"  What kind of impact did it have on you or your family's life?  I'd love to hear!

Lisa Murray is a Licensed Marriage and Family Therapist, author, speaker, coffee lover, and wife. Her online community lisamurrayonline.com provides a compassionate place embrace peace in the midst of the stresses and struggles of life. In her new book, Peace for a Lifetime, Lisa Murray shares the keys to cultivating a life that's deeply rooted, overflowing, and abundant, the fruit of which is peace. While she grew up in the Florida sunshine, she and her husband now live just outside Nashville in Franklin, TN. Peace for a Lifetime is available on Amazon.com. Visit her on Facebook and Twitter.

Photo courtesy: ©Pexels