5 Things You Need to Know before You Say 'God Hates Divorce'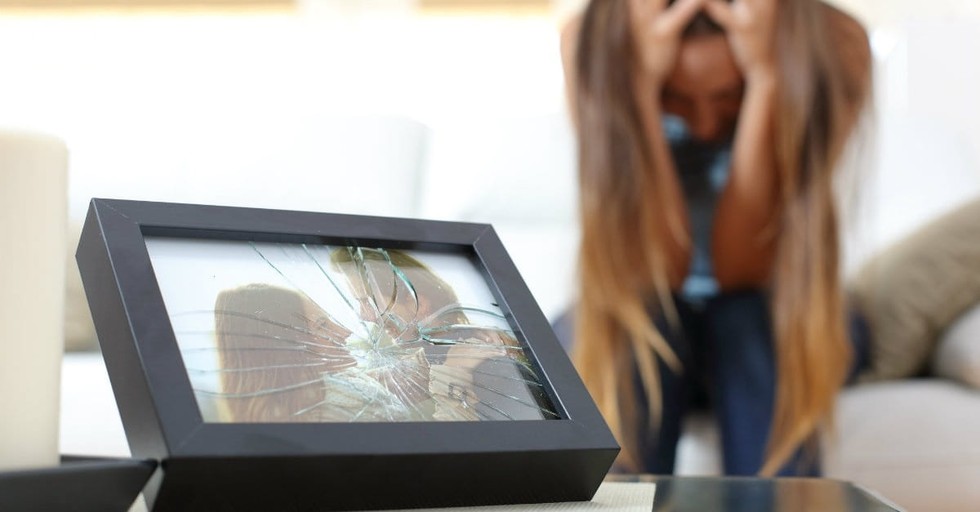 "'For I hate divorce!' says the Lord, the God of Israel." (Malachi 2:16)
I've heard it quoted by so many people. It's been thrown in my face, reminding me what a sinful person I am for walking away from my marriage. I've been told I am required to live a celibate life until my death, pining away for my ex-husband or risk the fires of hell for living in adultery.
And yet, I know how hard I tried to save my marriage. I know how I chose forgiveness after learning of his adultery. I know how I prayed without ceasing, fully believing God would save my marriage. I know the hurt and pain I endured for the sake of doing the right thing, of keeping my marriage together.
I also know how I was losing my dignity and self-respect. I know how my very life was being chipped away, bit by bit. I know how I doubted myself, wondered what was so terribly wrong with me that I couldn't keep my husband happy. I know how I began to hate myself, hate my life.
Until the day God told me it was time to walk away. Yes, God told me it was time, I had endured enough hurt, pain, and rejection. It was time for me, the captive, to be set free. It was time for me to fulfill the purposes for which He created me.
Since that day over seven years ago, my life has changed dramatically. My children and I have found freedom. We have found joy. We have found purpose. We have found life. And we have found our Savior!
But it's not been easy. I have battled shame, guilt, and condemnation for years, and my fellow Christians have often chosen to add more guilt and shame on top of what I've already experienced. I've been told how much God hates divorce, how disappointed He is in me. I've been told I chose happiness over holiness. But, if that's true, why would God tell me to walk away?
Let's take a closer look at Malachi 2:
-Dena Johnson
1. There is much more to the Scripture than those three words.

Slide 1 of 6

Let's read this verse in context: 

"You cry out, 'Why doesn't the Lord accept my worship?' I'll tell you why! Because the Lord witnessed the vows you and your wife made when you were young. But you have been unfaithful to her, though she remained your faithful partner, the wife of your marriage vows.

"Didn't the Lord make you one with your wife? In body and spirit you are his. And what does he want? Godly children from your union. So guard your heart; remain loyal to the wife of your youth. 'For I hate divorce!' says the Lord, the God of Israel. 'To divorce your wife is to overwhelm her with cruelty,' says the Lord of Heaven's Armies. 'So guard your heart; do not be unfaithful to your wife.'" (Malachi 2:13-16)

 

Photo credit: Unsplash.com

2. This was an admonishment to the men of the day who hurt their wives.

Slide 2 of 6

This passage was written during a time when men, mostly leaders, were divorcing their wives without cause. And if you think women are a bit more vulnerable now and get the shaft post-divorce these days, women back then were pretty much done for if their husbands divorced them. So these words came at a specific time to address an issue that is actually opposite of what you might think. God wasn't saying "I hate divorce" to address the abused woman in an effort to motivate her to buck up or to shame her into staying; he was actually addressing the throw-away-wife man and telling him what he was doing was wrong and that he despised it.

And look at it in the New International Version, "'The man who hates and divorces his wife,' says the Lord, the God of Israel, 'does violence to the one he should protect,' says the Lord Almighty."

In other words, God hates the man who tosses out his wife, who hurts his wife, who mistreats her, who covers her with violence, especially so because the husband is supposed to be her protector.

-Elisabeth Klein

 

Photo credit: ©Thinkstock/AntonioGuillem

3. God hates divorce for a surprising reason.

Slide 3 of 6

Thirty years ago in February 1985, I got divorced. So far I've lived fifty-nine years, and without a doubt divorce was the worst season of my life.

Nothing I've suffered since that time even comes close. Not a wayward child, not a stroke, not the betrayal of a close friend, not job loss, not watching the collapse of a ministry, not the death of a parent, not a root canal when the Novocain didn't work—absolutely nothing compares to the horrific pain of having a spouse decide, "I Don't" after saying "I Do."

"So what do you do with that kind of pain and shame? You give it to God. And he forms something beautiful out of the ashes.  

As he did with Adam in the Garden, God took the cinders of my shattered heart and created a new purpose. Malachi 2:16 states that God hates divorce. And I learned that God does hate divorce, but not for the reasons we hear in most churches ("it breaks his law"). No, the root reason is much more intimate, more affectionate. God knows that divorce deeply wounds and attempts to destroy his precious Beloved. Divorce endeavors to steal, kill, and destroy God's creation. Divorce tried to assassinate me. That's why God hates divorce.

-Laura Petherbridge

 

Photo credit: ©Thinkstock/djedzura

4. God's heart goes out to the vulnerable.

Slide 4 of 6

God's heart all across Scripture is towards the vulnerable. God's heart all across Scripture is grace and mercy. God calls himself our strong tower, our refuge, our help in times of trouble.

Proverbs 6:16-19 lists off seven things that God hates: "A proud look, a lying tongue, hands that shed innocent blood, a heart that devises wicked plans, feet that are swift in running to evil, a false witness who speaks lies, and one who sows discord among brethren."

For some women, this is the description of their entire marriage. God's clear intention for marriage is for it to be a representation of how Christ and the Church are in relationship together. There is love, mutuality, care. There is no violence, no unnecessary harshness, no power trips, no lying, no wickedness.

(Let me state for the gazillionth time: I am not a proponent of every woman just up and leaving her marriage for any reason. But I am saying that I believe God hates abuse of every kind, including – or perhaps especially – in marriage, and if the husband refuses to stop and get help, that's where grace must step in and cover over when the husband won't do what he's supposed to be doing.)

-Elisabeth Klein

 

Photo credit: ©Thinkstock

5. The church should reach out to the divorced in love instead of condemnation.

Slide 5 of 6

Author Gary Thomas wrote a book, Sacred Marriage, in which he states marriage was designed to make us holy more than happy.

And, over the years, I have had many people use it to tell me I should have never walked away, I should have stuck it out and allowed God to use my marriage to make me holy rather than focusing on happiness. Shame and guilt. Doubt and condemnation.

Last week, however, Thomas wrote a blog post entitled Enough is Enough. He talked about a recent marriage conference where he was confronted with story after story of women suffering through hellacious marriages, marriages fraught with all types of verbal, emotional, sexual, and mental abuse.

Did he say, "Hang in there. Marriage is designed to make you holy not happy"? Did he say, "You took a vow and you have to keep it no matter the cost"? Did he say, "If you love him well and pray enough your marriage will survive"?

NO! He said, "Enough is enough!" Enough of women suffering untold abuse in the name of keeping a marriage together! Enough of the church valuing an institution over a person! Enough of women sacrificing their God-given purpose for a man who doesn't value them! Enough of this shame, guilt, and condemnation being heaped upon women for walking away from abusive marriages!

It is time the church recognizes divorce is always caused by sin, but divorce itself is not always sinful.

-Dena Johnson

 

Photo credit: ©Thinkstock/DragonImages

About the Authors

Slide 6 of 6

Elisabeth Klein lives with her sweet husband, Richard, in Illinois. Together, they are parents to five children, fifteen through twenty-six. They attend Community Christian Church in Yorkville.  She fills her time with writing, speaking and mentoring women. She has written several books, all of which are available on her website (www.elisabethklein.com). She also offers e-courses and private Facebook groups for women in difficult marriages or those going through divorce. You may contact her at elisabeth@elisabethklein.com.

Laura Petherbridge is an international author and speaker who serves couples and single adults with topics on relationships, stepfamilies, divorce prevention, and divorce recovery. She is the author of When "I Do" Becomes "I Don't"—Practical Steps for Healing During Separation and Divorce, 101 Tips for The Smart Stepmom, and The Smart Stepmom, co-authored with Ron Deal. Laura is a featured expert on the DivorceCare DVD series. She has spoken at the Billy Graham Training Center and has been featured on Focus on the Family.  Laura and her pastor husband of thirty years live in Florida. www.LauraPetherbridge.com 

Dena Johnson is the founder of Dena Johnson Ministries, a non-profit corporation aimed at helping others find beauty through a broken life. In her spare time, Dena works as a Registered Nurse. She enjoys spending time with her children, Blake, Cole, and Cassie. She loves life and wants to live it to the fullest! denajohnson.com

 

Photo credit: ©Thinkstock/Rawpixel