Gifts of Three for Christmas
Amy Wagner

The Old Schoolhouse Magazine

2010

3 Dec

COMMENTS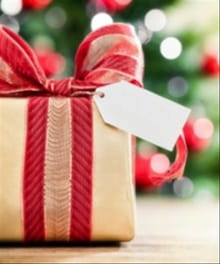 The year I found a garbage bag full of wrapped presents hidden under a blanket on the washing machine four days after Christmas, I knew. I knew we were going overboard with the gift giving, because the girls hadn't even missed those lost presents. As I looked back on pictures of Christmases past, I realized that the girls were dazed by present-overload, not knowing what to play with first and just sitting there in the midst of the jumble of gifts and wrapping. This was not good.
The next year we were expecting child number three, and I knew if we kept up with each year's status quo of presents we wouldn't be able to sit in the same room with the tree. That is when I hit on the idea of giving three gifts to each child in honor of the three gifts the Wise Men gave Jesus that first Christmas. When I shared my epiphany with my husband, he decided that he and I would also give three gifts to each other. We then sat our children down and explained the new way we wanted to do Christmas, as well as the reasons why we wanted to go this different direction. Thankfully, they were totally on board. Thus, a new family tradition was born.
Each family member receives a Gold Gift. Gold is precious and expensive, and so is this gift. The Gold Gift is something that child really truly wants and/or is the most expensive gift on her list.
Next is the Frankincense Gift. Frankincense is a spice that was burned as incense in the Temple during Jesus' time. For our family, the Frankincense Gift is a gift that will draw the recipient closer to God, such as a Bible study book, devotional, worship music CD, Christian fiction, or great audio CDs like Adventures in Odyssey or Jonathan Park.
The last gift is the Myrrh Gift. In Biblical times, myrrh was one of the ointments used to embalm the dead and was said to have been one of the spices carried by Mary to the tomb to anoint Jesus' body. For our family, the Myrrh Gift is a gift that covers the body, such as clothing and bath products (special soaps, lotions and/or shampoo).
To deepen this tradition, a friend who decided to adopt the gifts of three also gave me packages of hardened frankincense and myrrh. I separated the hardened, sweet-smelling resins into gauzy pouches cinched with ribbon, to which I added a tag describing the significance of the gift, and each year these special tags adorn each person's gift. For our Gold Gifts we wrap the present in gold paper and tie it with a big gold ribbon (which is actually gold binding tape I found at the fabric store).
Our children love this tradition and share with others the special way we do Christmas. Never once have they felt neglected or that it was unfair that they each receive only three gifts. They have become great at tweaking their own lists for Christmas under the "three gifts" guidelines and have made my Christmas shopping much easier and less stressful. Both of my girls have stated this is a tradition they will pass down to their own families some day.
This article is excerpted from the 2010 Digital Holiday Supplement from The Old Schoolhouse® Magazine. You can enjoy the full supplement by clicking here.
---
Amy loves her chaotic, blessed life working alongside her husband Brad, homeschooling and raising their three children, aged 6, 10 and 13. When she gets a bit of free time, she can be found writing about finding contentment in the common, ordinary everydayness of her life at www.acontentedcommonlife.blogspot.com.
Visit Crosswalk's Christmas Facebook page at www.facebook.com/LuvChristmas.