How to Survive 'The Most Wonderful Time of the Year' When You Feel like Your World Is Falling Apart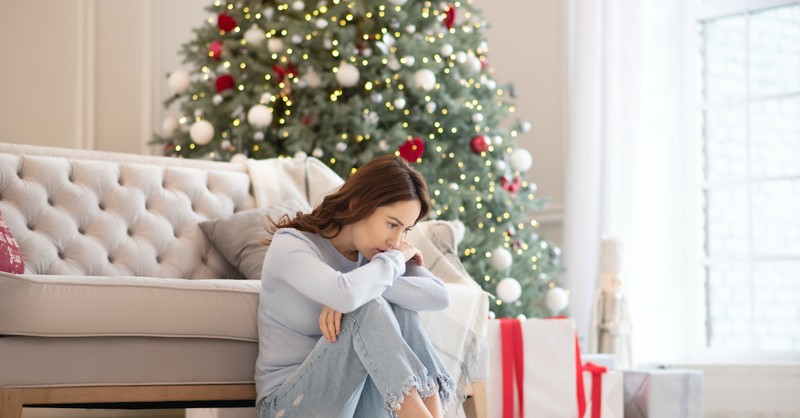 It's funny how some things remain constant in the midst of wild change. The air is still crisp and cold this December—and it still smells of burning firewood. Like clockwork, town squares and neighborhoods displayed their finest holiday lights and decor. Flashes of tinsel and splashes of red and green adorn store windows. And, of course, pumpkin spice is back again, enticing thirsty shoppers with the sweet nectar that reminds us—it's the most wonderful time of the year.
But is it? Something seems off this season. Not quite right. Yes, the halls are decked, the stockings are hung, the lists are made—and we've checked them twice. But where's the payoff? Where's holly-jolly in our Christmas?
Why Are We Experiencing Holiday Depression?
Oh yeah, 2020.
If you have not experienced personal trauma this year, it's likely someone close to you has. Some form of illness, loss, or grief has left its mark on most households. Apart from the individual challenges we've faced, if you tune in to the nightly news or take a scroll down social-media lane, the evidence is clear. The world at large is mourning.
Even if you're not one who normally experiences holiday sadness, chances are you're feeling the weight of this unusually heavy moment in time. Prevalent illness, political unrest, and the isolation of social distancing are just a few reasons for our collective grief.
One silent night many years ago another nation felt burdened beneath a load of their dire circumstances. The dark plague of sin had overtaken the land—leaving isolation, illness, and unrest in its wake. The vaccination for the plague had been promised for centuries through the prophets. But would Israel ever see their deliverer? What was taking him so long? Would the Messiah ever appear?
Alistair Begg, in his devotional The Long Expected Day, describes beautifully the longing of God's people two thousand years ago … and today. "If only He would come on the wings of the wind! He is our Husband, and we are widowed by His absence; He is our fair and faithful Brother, and we are lonely without Him. Thick veils and clouds hang between our souls and their true life: When will the day break and the shadows run away?"
The good news is—He did come. He has come. And He will come.
What Are Some Uplifting Verses for the Holidays?
The best verses to breathe hope into the holidays are ones that take our eyes of the temporal and fix them to the eternal. We have this hope as an anchor for the soul, firm and secure.
"For to us a child is born, to us a son is given, and the government will be on his shoulders. And he will be called Wonderful Counselor, Mighty God, Everlasting Father, Prince of Peace. Of the greatness of his government and peace there will be no end. He will reign on David's throne and over his kingdom, establishing and upholding it with justice and righteousness from that time on and forever. The zeal of the LORD Almighty will accomplish this" Isaiah 9:6-7.
"But for you who revere my name, the sun of righteousness will rise with healing in its rays. And you will go out and frolic like well-fed calves" Malachi 4:2.
"The virgin will conceive and give birth to a son, and they will call him Immanuel" (which means "God with us")" Matthew 1:23.
"They were looking intently up into the sky as he was going, when suddenly two men dressed in white stood beside them. "Men of Galilee," they said, "why do you stand here looking into the sky? This same Jesus, who has been taken from you into heaven, will come back in the same way you have seen him go into heaven" Acts 1:10-11.
"He will wipe every tear from their eyes. There will be no more death' or mourning or crying or pain, for the old order of things has passed away'" Revelation 21:4.
How Can I Comfort Others Who Have Holiday Depression?
"It's hard to miss seeing a broken arm when it's covered by a cast. On the other hand, it's hard to see a broken heart," explains Dr. Roger Barrier in his article The Right Way to Comfort Someone Who's Hurting. But if we take the time to look—and ask God for the eyes to see—It won't take long to identify people all around us who are in need of comfort during the holidays.
God has equipped us to be a comfort and to receive comfort from one another when we need it most. "Praise be to the God and Father of our Lord Jesus Christ, the Father of compassion and the God of all comfort, who comforts us in all our troubles, so that we can comfort those in any trouble with the comfort we ourselves receive from God" 2 Corinthians 1:3-4.
To do this well we need to be great listeners and let our words be few. We help bear someone's burdens when we make ourselves available to care for their needs. Hurting people rarely need words. Some things they might need are—a shoulder to cry on, prayer, a hot meal on a lonely night, or an in-person visit. Any loving act that lets the griever know they are not alone in their grief is helpful.
When all else fails, just be there—not as a fixer or someone who has all the answers to life's deepest questions—but as a fellow mourner.
"Rejoice with those who rejoice; mourn with those who mourn" Romans 12:15.
Through Michael Kelley's 3 Practical Ways to Weep with Those Who Weep we learn that, "The tears of the church are a beautiful thing, friends. There is nothing like them for those whose time has come for a season of grief. Weep, then, with those who weep, and let those tears be expressed in all kinds of ways that demonstrate the love of God that was already demonstrated through our Savior, who knows better than all what it means to suffer loss."
3 Ways to Survive 'The Most Wonderful Time of the Year' While Battling Holiday Sadness
If you're personally struggling with holiday sadness you're not alone. We've all been impacted by this year's increased isolation, stress, and uncertainty. Here are some practical ways to combat the blues.
Cling to Hope Instead of Tradition
Holiday traditions can be a source of joy when all is well, but those same traditions can become a painful reminder of loss during difficult times. If you find yourself trudging through the task of decorating the tree or you dread the very idea of preparing a holiday feast—give yourself a reprieve. Instead, spend some time turning your focus from the tradition to the One who inspired it. Melissa Spoelstra says it this way in Three Ways to Celebrate Jesus This Season: "We can identify rituals that bring us headaches instead of joy and let them go this year. We also might want to discover new traditions to keep our focus on Christ in a more intentional way."
Christmastime offers a unique opportunity to remember the hope we can find in Immanuel. God is now and forever with us.
Leave Room for Grief
No one wants to be sad during the holidays, but you can't manufacture joy; it's a byproduct of the peace and hope only God can give. "Grieving is the process God uses to bring us to a place of wholeness. Grieving is His great gift to us. It is a necessary part of our journey," says Lisa Murray in 4 Ways to Embrace the Power in Grieving.
Ecclesiastes 3:1 tells us, "There is a time for everything, and a season for every activity under the heavens."
If this is your time to grieve let God have His way in your suffering. Don't plaster your broken heart with a fake smile. Give God the pieces and let Him heal it. He's faithful. He cares. He's there—and that's why He has come.
"The Spirit of the Sovereign LORD is on me, because the LORD has anointed me to proclaim good news to the poor. He has sent me to bind up the brokenhearted, to proclaim freedom for the captives and release from darkness for the prisoners" Isaiah 61:1.
Put on the Garment of Praise
The weight of sadness sometimes causes simple tasks to require great effort. It may take all your strength to get out of bed in the morning, shower, and dress for the day. But Debbie McDaniel reminds us in What Does it Mean to Offer God a "Sacrifice of Praise"? Worshiping in the Tough Times of Life, "When we feel pressed and burdened, weighed down with cares, and in despair without hope, God reminds us that He is able to provide all that we need. He promises to bring beauty instead of ashes, joy instead of mourning, and praise instead of despair. We can trust that He can do in us, for us, what we are never fully able to do for ourselves. "
Something miraculous happens when we make a choice to lift our eyes from the cares of this world to the glory of our Father in Heaven. As we focus our gaze and our praise on His unchanging goodness, grace, and splendor—the dark things of this world fall into the backdrop of the brilliance of his light. Are you humming the old hymn yet? I am.
Even though we grieve, we don't grieve as those who have no hope. The troubles we face in this world have no impact on who God is. He is and always will be worthy of every praise. Our sacrifice of praise is not only able to return our thoughts to who God is and what He has done, but it is a divine rehearsal for the concert of praise we'll participate in when He comes again.
"Then I heard every creature in heaven and on earth and under the earth and on the sea, and all that is in them, saying: "To him who sits on the throne and to the Lamb be praise and honor and glory and power, for ever and ever!" Revelation 5:13.
A Prayer for Those Enduring Holiday Depression
Dear Heavenly Father, thank you that even in the midst of wild change You are our constant. Please help those who are hurting today. Give them the assurance of your presence—which meets our every need. Draw them close to you and envelope them in your peace that passes understanding. Guard their hearts and minds with it, Lord, and overwhelm them with the eternal hope you've so graciously given us through Your son, Jesus. It's in His holy name I pray. Amen.
Photo credit: GettyImages/Zinkevych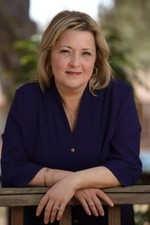 Annette Marie Griffin is an award-winning author and speaker who has managed and directed children's and youth programs for more than 20 years. Her debut children's book, What Is A Family? released through Familius Publishing in 2020. Annette has also written curriculum for character growth and development of elementary-age children and has developed parent training seminars to benefit the community. Her passion is to help wanderers find home. She and her husband have five children—three who have already flown the coop and two adopted teens still roosting at home—plus two adorable grands who add immeasurable joy and laughter to the whole flock.
---
This article is part of our larger Christmas and Advent resource library centered around the events leading up to the birth of Jesus Christ. We hope these articles help you understand the meaning and story behind important Christian holidays and dates and encourage you as you take time to reflect on all that God has done for us through his son Jesus Christ!
What Is Christmas? Understanding History, Origin and Traditions
The History of Santa Claus: Origin of St. Nicholas & Christmas Traditions
Beautiful and Inspiring Christmas Prayers
The Beautiful Meaning and Purpose of Advent
Advent Wreath & Candles - Understanding the History, Meaning, and Tradition
The History and Meaning of the Advent Calendar
Listen to our FREE Christmas Podcast: The Characters of Christmas - The Surprising People in Jesus' Family: