Joy in the morning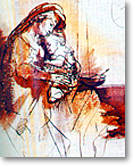 In order that there be
joy in the morning
, many parents, each
Christmas
Eve, find themselves master builders as they attempt to assemble the toys for under the tree. If you think
assembly
is hard, think of what creation must have been like.
From nothingness came exquisite intricacies of nature that we accept as part of life - and are still discovering. Scientists spend lifetimes studying the complexities of the body and the environment which the Lord instantaneously caused by the breath from His mouth.
The Word was spoken - and creation sang a chorus too beautiful to behold! The Word was spoken many years later - and a baby was conceived. For nine months God's Promise grew into the perfect size for the world to grasp, until, on a cold night in an unfamiliar city, a mother was able to hold the Word from God and the Word of God in her hands.
What will you hold in your hands on Christmas morning?
God's creation. From the first breath you take in the morning, you testify to His creation. You have been created in God's image.
God's promise of a Savior. The baby in the manger is but one glimpse of our Savior. That baby was God before the world began. That baby died that you might live. That baby, now grown, lives and reigns with the Father. Surely God is my salvation; I will trust, and will not be afraid, for the Lord God is my strength and my might; He has become my salvation (Is. 12:2). From the babe's first cries in the manger to His last from the cross, Jesus calls out with hope for a world in desperate need. He - and He alone - offers the comfort and peace that each person longs for.
God's blessing. God pours out His love for you through His Son. He blesses you in His desire to have a close meaningful relationship with you. He watches over you and cares about your most intimate needs.
God's hope for a fallen world. If your part of the world feels as cold as December and the future looks bleak, know that Jesus holds a future for you that is without pain, sadness, or loneliness. Right now. He wants to help you find peace in the midst of sorrow and hope in your despair. You can talk to Him this very moment.

Rejoice this Christmas Day, that what was a promise became real...because there shall be joy in the morning.

Merry Christmas from the editors at Live It!. Our prayer for you is that knowing the Good News of Christ you will Live It!