Moments for Mom: Advent Hope for the Brokenhearted
Elisabeth Klein

Crosswalk.com Contributing Writer

2011

1 Dec

COMMENTS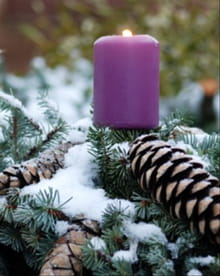 Advent. I love this word even though I was not raised in a tradition that observes it. A simple glance at the dictionary shows me why it resonates with me.
n. a coming into place, view, or being; arrival
A coming into. We head into the holiday season and into the month of December bringing with us a list of expectations and to-do's as long as our arms. We want the best holiday ever. We want to create sweet memories. We want our family to feel loved. We want lingering time around the tree with hot chocolate in our hands and contented smiles on our faces.
But if only we could remember, even before we rush into the season, that it is about a coming into, an arrival.
It's most certainly the arrival of our Savior, but even before that, it is the preparation of our hearts as we come into his view, as we come into being, deep in our souls, at a place that is ready and willing to look and find and experience this Christ.
Yes, he came as a baby. We celebrate his birth. But he didn't come to stay as one. He arrived with purpose for you and for me. He came into our view, anointed by the LORD, so that he could share good words with those who were poor in spirit. He came to bind those of us up who are carrying broken hearts with us into this season. He came to tell us that we who feel imprisoned can actually be set free. He came to cover us with comfort if we are in a mourning season. He came to share his beauty with us, to replace our despair with his joy.
Jesus does not come on Christmas morning simply to stay in the manger and to smile angelically over our present-opening. He arrives each holy season to heal you. To set you free. To bring you deep joy.
Are you coming into? Are you ready? Will you be prepared when he comes into view and finally arrives?
(c) Copyright Elisabeth K. Corcoran, 2011
Elisabeth is the author of At the Corner of Broken & Love: Where God Meets Us in the Everyday; One Girl, Third World: One Woman's Journey into Social Justice (Kindle); He Is Just That Into You: Stories of a Faithful God who Pursues, Engages, and Has No Fear of Commitment (WinePress), In Search of Calm: Renewal for a Mother's Heart (Xulon), and Calm in My Chaos: Encouragement for a Mom's Weary Soul (Kregel).
Visit her blog here or watch Elisabeth and her friends spread hope through Africa with Samaritan's Purse.
Elisabeth is a proud member of the Redbud Writers' Guild.
Visit Crosswalk's Christmas Facebook page at www.facebook.com/LuvChristmas.