Should You Let Your Child Believe in Santa?
Katie Howard

katiehoward.com

2015

2 Dec

COMMENTS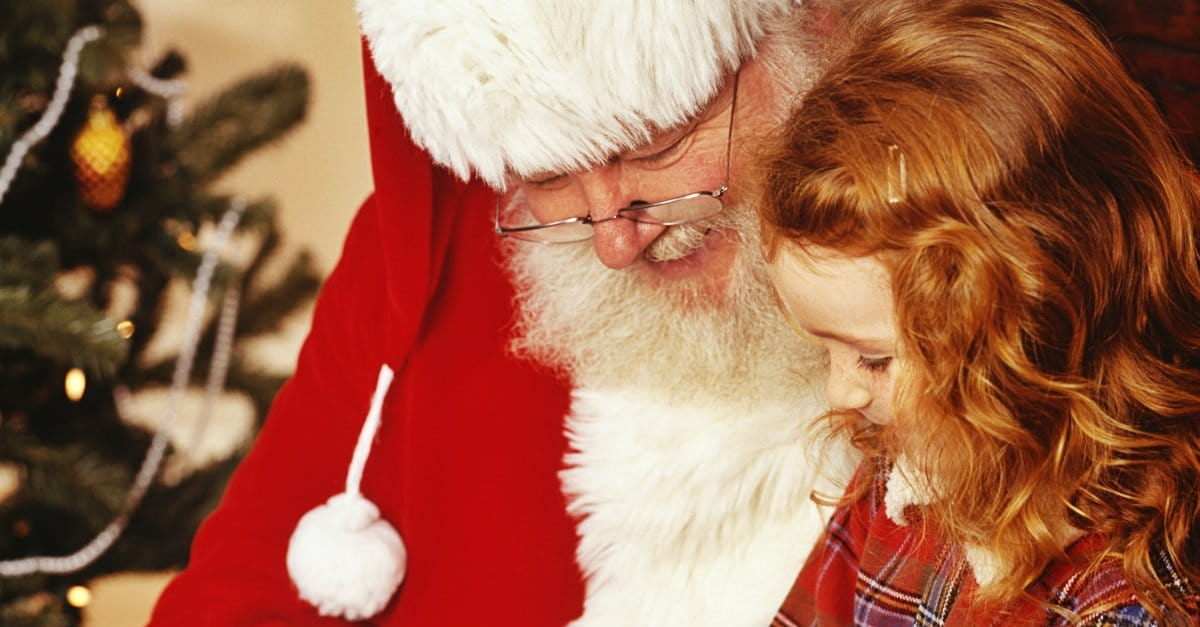 I know what you're thinking. Great. Another article on why I should or shouldn't do Santa with my children. You're not alone. I never even thought about this being a debatable topic before I had children and it entered into the equation. There are so many sides to this discussion. There are countless articles telling you how you'll scar your children because you're basically lying to them about a nonexistent person and in contrast telling you how you'll ruin the whole Christmas experience for them if you tell them Santa isn't real. So what are we to do? Who is right?
Honestly, I think we should probably fall somewhere in the middle and I hope that reality gives you some peace this holiday season. There are good things to come from both sides and we need a game plan when those big, dewey eyes come asking if Santa is real.
Growing up, my family was all in on Santa. We put a blanket in the kitchen floor, gathered together as my Dad read the Christmas story, then we waited for Santa. We talked about what gifts we were most looking forward to, about our excitement over his arrival, about the wonderful gift of Jesus and the reasons we celebrate. Then my grandpa would turn off his lights as he drove down our driveway, climb up on our back deck, and stomp his boots, and ring jingle bells while shouting "Ho, Ho, Ho!" All us kids would then dart up the stairs so we wouldn't get busted, sending Santa flying off with our goodies.
These are some of my fondest memories and when my grandpa passed away my senior year of high school, the fact that he wouldn't be around to do this with my kids was very hard for me. So I've always loved Christmas with Santa.
Along with that, my whole life I have been in church. I've spent countless Christmas seasons focusing on Christ's first coming and looking toward his second as we lit the candles on the Advent wreath. This has always been one my most favorite times of year because family that hadn't seen each other in many months gathered together in laughter and fellowship. The focus was always in the right place; thankfulness for the Savior sent from Heaven and joy over his arrival. But we still enjoyed the fun of our Santa family tradition.
Now I'm an adult, married with two kids of my own. My husband and I have had numerous conversations on how to handle this Santa thing. We both LOVE Christmas, the gift-giving and the music and the decorations, and we both enjoyed the fantasy of Santa as children. It's a glorious celebration around here, but how would we, a pastor's family, approach something that can be divisive in the church? This is the conclusion we came to.
There is much myth surrounding the personhood of St. Nicolas. No one knows the exact truth about him other than he was a man who served with great impact. There are many stories of St. Nick defending the faith and generously giving gifts as a result of the fortune left to him after his parents died. Because of this, we explain that St. Nicolas was a real person who did wonderful things for people in need because of his great love for Jesus. And just as St. Nicolas honored Jesus by caring for others and giving gifts, we do the same thing.
We don't crush the imaginations of our children as they speak of reindeer and world travel in one night, but we also don't teach these as truths. We've educated ourselves on the stories of St. Nicolas and share those with our boys, but we are careful not to overshadow Christ and his coming with the story of a man and his good deeds.
The biggest thing we leave out of our Christmas celebration is the apparent omniscience of Santa Claus. We don't threaten the all-knowing power of a man in a red suit as cause for behavioral change in our kids, because we don't want them to do good things to get stuff in return. We want our kids to know that above all, we should honor God and his command to obey because we love him - not because it will result in the acquisition of temporary possessions via behavior modification. This type of adjustment is not lasting and once there is no more threat of Santa Claus, what drive is there to behave? By continuing to teach them throughout the Christmas season that we behave because Christ commands us to do so, our desire to see heart change and not just behavior change remains the guiding light for the choices of our kids.
Ultimately the decision to include Santa Claus in your Christmas celebration is up to each individual family and and their own personal convictions. And we should not shame those that choose differently than us. But we must not forget the whole point of our celebration on that day and the days leading up to December 25th - that our Savior humbled himself into the form of a helpless baby, come to earth as the perfect remittance for our sins.
And my challenge for us all: don't end the conversation at Christmas. As the decorations come down and the new toys lose their appeal and families travel home until next year, look forward to the completion of what began on Christmas morning. Begin preparing the hearts of your family for Easter; the death and resurrection of Christ, without which Christmas would have no value. Because when Santa fades, Christ will remain.
Katie H. Howard is a pastor's wife and stay-at-home mom. She loves Jesus, music, and the written word. She enjoys writing about community, spiritual growth, womanhood, and parenting. Her desire is to see women released from the chains of perfectionism and into the Gospel freedom of serving transparently in everyday life. She lives in Seaford, Virginia with her family. Check out Katie's blog at katiehhoward.com and catch up with her onFacebook, Twitter, or Instagram!
Publication date: December 2, 2015