Take The Challenge: Unwrap Jesus -- A Celebration of Simplicity
Bonnie Gray

The Faith Barista

2011

2 Dec

COMMENTS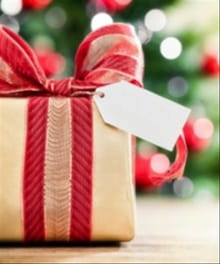 No matter how traditional, sentimental or ordinary this Christmas may turn out to be, one thing's for sure. Jesus stands apart from the tinsel to bring you a new message this year. Will you unwrap Him to find what it is?
A year ago, my son's preschool put on a special Halloween concert for the parents. The kids dressed up in costume and sang an incredible number of songs that I never knew came with so many hand motions.
Before we started, the director offered an interesting comment in her welcome to the audience. She said that despite what we think about Christmas, Halloween for kids is their favorite holiday of the year. It's a chance for them to pretend and be anything they wanted, and have access to all that candy.
Hubby and I threw a bewildered glance at each other. No. Way. Isn't Christmas the best holiday of the year?
Where has Christmas gone? As we countdown to December 25th, each of us are on a journey to return.
No matter how many Christmases we've celebrated, it happens every year. We look for a star to guide us and messages of Good News to bring us back to a place of joy, peace, and hope again.
We want to find Christ in our hearts again.
It's the most magical time because God's Gift -- Jesus -- makes His way back into our lives too.
Jesus stands behind this Christmas with a special message, just for you.
What will it be?
Sipping Our Holiday Brew
During the holiday season, Starbucks puts out their Christmas Blend, while Peet's calls their blend of best-coffees-of-the-year their Holiday Blend. I'm kicking off a special December series of holiday brew for us too: Unwrapping Jesus -- A Celebration of Simplicity.
Every year, I start the season off with a question: What does Christmas mean to me this year?
I anticipate receiving new inspiration -- a fresh take on the Gift of Jesus. So, I'm making this journey again.
How are you returning to the heart of Christmas?
I'd love to hear how God is inspiring you, too.
Together, we can bring our hearts back to God and have them ready for the new year.
Most days will appear ordinary. But, if we look deeper, we will find something sparkly in them. Even one thought will do.
Take The Faith Barista Challenge: Unwrapping Jesus
If you're looking to unwrap Jesus in a new way this month, join me and take the Faith Barista Challenge this month.
Keep a lookout for:
*1. Ways to celebrate Christmas simply.
*2. Inspiring moments that fill you with God's love, joy, peace, or hope.
*3. Encouragement to see Christmas in a new way.
*4. A Fresh Take on the Gift of Jesus.
Who knows? Maybe you'll get a special message you didn't expect. On second thought, if you take up the journey -- I know you will.
"A Savior has just been born... This is what you're to look for: a baby wrapped..."
~ Luke 2:11-12
(A faith prompt for the shepherds)
To others, this is a month for finding good deals and spending money. But for sojourners of faith, we are pointing our hearts to December 25th.
The journey we are on is not shopping or doing more.
Jesus is who we want to see new and fresh this year.
Let's embark on this journey to simplicity -- and unwrap Jesus together.
~~~~~
Will take the challenge to Unwrap Jesus?
Let's begin the journey to look for Jesus fresh this Christmas season together.
Pull up a chair. Click to share a comment.
~~~~~

By Bonnie Gray, the FaithBarista serving up shots of faith for everyday life.
Join Bonnie at http://www.FaithBarista.com, on Facebook or Twitter.
Bonnie Gray is an inspiring Christian writer and blogger, offering encouragement to keep faith fresh in the daily grind. Her writing springs from the belief that the beauty of faith often takes place when life goes off script. Bonnie is the Founder of FaithBarista.com and featured writer for Hallmark subsidiary DaySpring's (in)Courage. Bonnie is a native Californian living in the heart of Silicon Valley with her best friend Hubby, wrangling their two heaven-sent boys on the homestead.
** Don't miss Faith Barista's Special December Series: Unwrapping Jesus! ** If you are new to Faith Barista, I'd like welcome you there. Click to subscribe by email and get each post in this series served up hot and fresh directly in your mailbox.
Visit Crosswalk's Christmas Facebook page at www.facebook.com/LuvChristmas.