The Colorful Significance of Each Advent Candle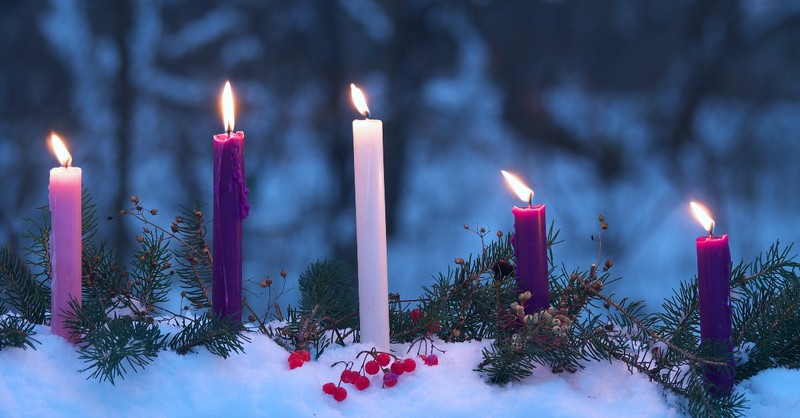 Christmas gives us time to concentrate on the wonder of Jesus' birth and what it means to us. Many families mark this time with family activities that center their focus on Jesus. One of these activities is an Advent Wreath.
What Does Advent Mean and Why We Celebrate It
During the Advent season, we remember, and we look forward. In these four weeks, we meditate on Jesus' sacrifice that brings us to repentance and we anticipate his return. In the busyness of the Christmas season, celebrating Advent provides us a time to focus our hearts on Jesus.
Advent is a word with Latin roots and means "coming." Christians use this period of time before Christmas to prepare for the celebration of Jesus' birth. It's also a time of repentance and meditation while anticipating Jesus' second coming.
Advent is a season rich in wonder as we focus on the incarnation of God. In Jesus, we have the divine God who left his glory to become the perfect example of a sinless man. He enlightens people and generates in them eternal life for those who believe and receive him in faith.
Looking for Advent readings to celebrate this season with family and friends? Download our FREE 25 Advent Readings for Christmas to prepare your heart for the Nativity of Jesus Christ!
Why Christians Light Candles for Advent
Jesus is the light of the world and we light Advent candles to signify this. It's also a way to build anticipation for the celebration of the first coming of Jesus. Beginning on the fourth Sunday before Christmas and each Sunday leading up to Christmas Day, families light a candle and conduct a themed advent reading.
The closer one gets to Christmas, the more the candles get lit, and the brighter it shines. Advent moves us through the prophecies about Christ, to the hope he provides, to the joy he brings, and the love he gives. As we move through each week, the wreath glows brightly with significance. Let's take a look at the different advent candle colors and their beautiful meaning and symbolism.
The First Sunday of Advent's Purple Candle Signifies Hope
The first Sunday of Advent leads our hearts to Hope. The purple color symbolizes royalty, repentance, and fasting. This week is a time for us to reflect on what it must have been like to feel the depth of God's silence during the period between the Old Testament and New.
It is a time to ponder the prophecies about the promised Messiah. We begin the season with a mindset that creates hope in our hearts.
The people who walked in darkness have seen a great light; those who dwelt in a land of deep darkness, on them has light shone (Isaiah 9:2).
For to us a child is born. To us a son is given, and the government shall be upon his shoulder, and his name shall be called Wonderful Counselor, Mighty God, Everlasting Father, Prince of Peace. Of the increase of his government and of peace there will be no end, on the throne of David and over his kingdom to establish it and to uphold it with justice and with righteousness from this time forth and forevermore (Isaiah 9:6-7).
The Second Sunday of Advent's Purple Candle Signifies Preparation
On the second Sunday of Advent, we light the Hope candle and then we light the Preparation candle. First, hope blooms as we realize the prophecies about the Messiah are true. Then we begin to prepare our hearts to receive the Lord Jesus.
Imagine how Joseph must have rushed to prepare the crude stable for Mary and the soon-to-be-born Jesus. As we rush through the season of buying gifts and attending parties, may we pause and reflect on the words of Isaiah:
A voice cries: "In the wilderness prepare the way of the Lord make straight in the desert a highway for our God. Every valley shall be lifted up and every mountain and hill be made low; the uneven ground shall become level, and the rough places a plain, and the glory of the Lord shall be revealed, and all flesh shall see it together, for the mouth of the Lord has spoken" (Isaiah 40:3-5).
The Third Sunday of Advent's Pink Candle Signifies Joy
The third Sunday of Advent brings us to Joy. The color pink represents rejoicing. We light the previous two purple candles and then light this week's pink one. Rejoicing is our response to the Good News — joy that our Messiah has come.
The light of the world sweeps away the darkness in our world and in our hearts. We seek him and, in joy, find him.
And the angel said to them, "Fear not, for behold, I bring you good news of great joy that will be for all the people. For unto you is born this day in the city of David, a Savior, who is Christ the Lord" (Luke 2:10-11).
The Fourth Sunday of Advent's Purple Candle Signifies Love
On the fourth Sunday of Advent, we reach the culmination of Love. The Messiah comes in love and righteousness. The angels filled the sky with the greatest news of love.
They visited the lowest of the lows in Jewish society, the shepherds, with the most amazing birth announcement. This love is no respecter of persons but is for all who receive. As we light the four candles, we ponder,
For God so loved the world, that he gave his only Son, that whoever believes in him should not perish but have eternal life. For God did not send his Son into the world to condemn the world, but in order that the world might be saved through him (John 3:16-17).
Why Some Add a Fifth White Candle
A fifth candle is an optional addition to the traditional advent celebration and represents Christ. This candle is lit on Christmas Eve. The color white stands for purity, light, and victory.
Jesus is pure — without sin and because of his sacrifice he makes us white as snow. He is the light in the darkness and the victor over sin and death. We have life because of him.
Come now, let us reason together, says the Lord: though your sins be like scarlet, they shall be as white as snow; though they are red like crimson, they shall become like wool (Isaiah 1:18).
Holy God, we begin this week of advent with a heart awakening to hope. You are our signpost lighting our way forward. Darkness may abound, but you reveal light. Night may linger, but hope comes in the morning because of you. May we turn our hearts turn toward you. In Jesus' name, Amen.
A Prayer for Preparation
Holy God, we praise you for the hope you give us. As we move into the second week of Advent, we prepare our hearts to receive you. Just as Mary and Joseph journeyed to Bethlehem over rough terrain, so our lives lead us down rocky paths.
We remember that you are with us. We forgive what needs forgiving, we confess what needs confessing, and we welcome you. In Jesus' name, Amen.
A Prayer for Joy
Holy God, at times our world seems joyless. Let us turn our focus on you and rejoice! We bow down in worship and praise you. You are worthy of all honor and praise. As the wise men followed the star on a cross-country journey, they must have wondered how long this journey would take.
Yet, their joy was exceedingly great when they found the young Jesus. May our joy be great as we find you this Christmas season. You're more than an Elf on a Shelf that pops up here and there, you're with us always. We rejoice in you. In Jesus' name, Amen.
A Prayer for Love
Holy God, your love for us is amazing. You sent your son who left his glory and throne to confine himself to the dependent state of a newborn, toddler, and child. It is a mystery for which we are so grateful and one in which we hold our arms wide open to receive.
Let your love wash over us this Advent season. And as this love washes over us, may we love others by your example. In Jesus' name, Amen.
Turning Our Thoughts Towards Him
The Christmas season gives a month-long focus on celebrating God and what he does for us. It fills my heart with awe and brings a smile to my face when I consider how generous and kind he is. He is loving and good and gave us the best Christmas gift — the opportunity to receive eternal life and a close relationship with him.
To spend four weeks considering the prophecies about Christ woven throughout the Old Testament, to preparing our hearts to receive him by repentance and forgiveness, to feeling the joy in the anticipation of his coming, and then culminating in the reality of how much he loves, is the best way to turn our hearts towards him. Let us not lose sight of him in the busy craziness of December.
Photo Credit ©iStock/Getty Images Plus/bkkm
---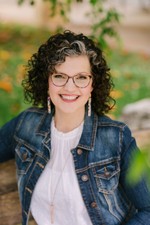 Jessica Van Roekel loves the upside-down life of following Jesus as she journeys to wholeness through brokenness. As an author, speaker, and worship leader, she uses her gifts and experiences to share God's transformative power to rescue, restore, and renew. She longs for you to know that rejection doesn't have to define or determine your future when placed in God's healing hands. Find out more reframingrejectionbook.com You can connect with her on Instagram and Facebook.
---
This article is part of our larger Christmas and Advent resource library centered around the events leading up to the birth of Jesus Christ. We hope these articles help you understand the meaning and story behind important Christian holidays and dates and encourage you as you take time to reflect on all that God has done for us through his son Jesus Christ!
What Is Christmas? Understanding History, Origin and Traditions
The History of Santa Claus: Origin of St. Nicholas & Christmas Traditions
Beautiful and Inspiring Christmas Prayers
The Beautiful Meaning and Purpose of Advent
Advent Wreath & Candles - Understanding the History, Meaning, and Tradition
The History and Meaning of the Advent Calendar
Listen to our FREE Christmas Podcast: The Characters of Christmas - The Surprising People in Jesus' Family: