When Does Advent Start This Year? - 2022 Dates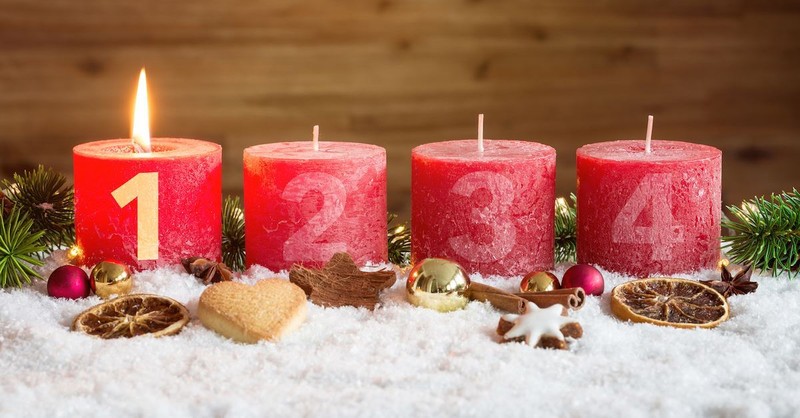 Advent marks the start of a season of preparation that looks forward to the celebration of Christmas and the second coming of Christ. It is a time of reflection in preparing our hearts for the coming of Christ—we remember how our Savior humbled Himself to be born as a baby and live among those He would save. We remember the perfect life He lived doing the will of His Father, His sacrificial death on the cross, and how He was raised from the dead three days later, having paid the penalty to save all who would believe. Christians remember Jesus' promise to return again one day and restore everything fully. This season invokes feelings of expectation and hope! The word Advent comes from the Latin adventus, meaning "arrival" or "coming" from the word advenire (ad- "to" venire "come"). Advent is a reminder of how the Jewish people waited for the Messiah and how Christians wait for the second coming of Christ today.
When Does Advent Begin in 2022?
Advent also marks the start of the new liturgical year, which always begins on Advent Sunday, the fourth Sunday before Christmas day.
Advent 2022 begins on Sunday, November 27th, and ends on Saturday, December 24th.
Future Advent Start Dates:
*Advent 2023: December 3, 2023
*Advent 2024: December 1, 2024
*Advent 2025: November 30, 2025
*Advent 2026: November 29, 2026
*Advent 2027: November 28, 2027
*Advent 2028: December 3, 2028
*Advent 2029: December 2, 2029
*Advent 2030: December 1, 2030
What Are the Four Advent Sundays?
Generally, the themes that correspond to each week fall into these categories:
Week 1: Hope (or promise)

Week 2: Preparation (or waiting or prophecy)

Week 3: Joy (or peace)
Week 4: Love (or adoration)
While the differences in weekly Advent themes may be confusing, we can unite in our desire to quiet our hearts during a hectic holiday season and worship Jesus. And the good news is that you can definitely mix and match these weekly themes with various Advent readings that will best serve your congregation or your family. There is no right or wrong way to observe Advent as long as you're coming to God with a sincere and open heart. (Excerpted from What Are Advent Readings? by Asheritas Ciuciu)
Looking for Advent scriptures and prayers to read with family and friends? Download our FREE 25 Advent Readings for Christmas to prepare your heart for celebrating the Nativity of Christ!
First Sunday of Advent Reading
"The people walking in darkness have seen a great light; on those living in the land of deep darkness a light has dawned. […]For to us a child is born, to us a son is given, and the government will be on his shoulders. And he will be called Wonderful Counselor, Mighty God, Everlasting Father, Prince of Peace. Of the greatness of his government and peace there will be no end. He will reign on David's throne and over his kingdom, establishing and upholding it with justice and righteousness from that time on and forever. The zeal of the Lord Almighty will accomplish this."
Alternate readings: Psalm 122; Isaiah 2:2-5; Romans 13:11-14
Suggested hymns: Come Thou Long Expected Jesus, Silent Night
Find more readings and prayers for each week of Advent Here:
The History of Advent
Originally, there was little connection between Advent and Christmas. Scholars believe that during the 4th and 5th centuries in Spain and Gaul, Advent was a season of preparation for the baptism of new Christians at the January feast of Epiphany, the celebration of God's incarnation represented by the visit of the Magi to the baby Jesus (Matthew 2:1), his baptism in the Jordan River by John the Baptist (John 1:29), and his first miracle at Cana (John 2:1). During this season of preparation, Christians would spend 40 days in penance, prayer, and fasting to prepare for this celebration. By the 6th century, however, Roman Christians had tied Advent to the coming of Christ. But the "coming" they had in mind was not Christ's first coming in the manger in Bethlehem, but his second coming in the clouds as the judge of the world. It was not until the Middle Ages that the Advent season was explicitly linked to Christ's first coming at Christmas. (Excerpt from What Is Advent? by Justin Holcomb)
Why Do People Celebrate Advent with a Wreath & Candles?
The Advent wreath first appeared in Germany in 1839. A Lutheran minister working at a mission for children created a wreath out of the wheel of a cart. He placed twenty small red candles and four large white candles inside the ring. The red candles were lit on weekdays, and the four white candles were lit on Sundays.
Eventually, the Advent wreath was created out of evergreens, symbolizing everlasting life in the midst of winter and death. The circle reminds us of God's unending love and the eternal life He makes possible. Advent candles are often nestled in the evergreen wreath. Additional decorations, like holly and berries, are sometimes added. Their red color points ahead to Jesus' sacrifice and death. Pinecones can symbolize the new life that Jesus brings through His resurrection. Families begin lighting a candle on the fourth Sunday before Christmas and light another candle each subsequent Sunday.
The first candle symbolizes hope and is called the "Prophet's Candle." The prophets of the Old Testament, especially Isaiah, waited in hope for the Messiah's arrival.
The second candle represents faith and is called "Bethlehem's Candle." Micah had foretold that the Messiah would be born in Bethlehem, also King David's birthplace.
The third candle symbolizes joy and is called the "Shepherd's Candle." To the shepherd's great joy, the angels announced that Jesus came for humble, unimportant people like them, too. In liturgy, the color rose signifies joy.
The fourth candle represents peace and is called the "Angel's Candle." The angels announced that Jesus came to bring peace—He brought people closer to God and each other again.
The (optional) fifth candle represents light and purity and is called "Christ's candle." It is placed in the middle and is lit on Christmas Day.
-Excerpt from Advent Wreath & Candles by Laura Richie
How Did the Advent Calendar Come About?
Among the many traditions that have sprung up to accompany the Advent season over the years (e.g., a wreath with candles, the Jesse Tree, etc…), one of the simplest and most popular is the Advent calendar. The popularity of Advent calendars spread with the help of a German printer named Gerhard Lang. Having grown up with a homemade calendar, Lang began designing cardboard Advent calendars around the turn of the century and, later in the 1920s, came up with the idea of cutting out little doors that could be opened each day. Behind each door, a devotional picture or Bible verse was hidden. This innovation makes Lang the father of the modern Advent calendar. Paper rationing during World War II halted the production of Advent calendars for a time. With the resolution of the war, a few printing companies revived the tradition, and the calendars began to catch on once again. Their popularity in America was boosted by images of President Dwight Eisenhower opening an Advent calendar with his grandchildren in the 1950s. By that time, many calendars began including simple gifts, such as chocolate or a small toy, behind each door. Since then, the popularity of Advent calendars has continued to grow, even crossing over into non-religious contexts.
-Excerpted from The History and Meaning of the Advent Calendar by Scott James
What Should I Pray for During Advent?
1. Pray for attentiveness to what truly matters, without being distracted by trivial things.
2. Pray for opportunities to learn something new regularly.
3. Pray for discernment of how God would like you to set your priorities and the ability to focus on them consistently to fulfill His purposes in your life.
4. Pray for the grace to be able to rest, become aware of God's presence, and enjoy it.
5. Pray for strong relationships with other people in the bond of loving community.
6. Pray for an enlivened imagination that helps you contribute to the world in creative ways.
7. Pray for peace in all situations, no matter what the circumstances.
8. Pray for freedom from all that burdens you - past mistakes, fears, destructive habits, hurts other people have inflicted, and more.
9. Pray for joy and a sense of humor.
10. Pray for confidence in God's love for you and trust in His power to work things out for the best in your life.
11. Pray for a clear mind and the ability to clearly communicate what you value to others.
12. Pray for purity so you can grow as a person and encounter God more fully.
13. Pray for openness to the Holy Spirit's guidance.
14. Pray for a genuine awareness of God's grace in your life and the humility to extend grace to others.
15. Pray for a passion to pursue justice.
- Excerpted from Whitney Hopler's "Pray for Simplicity this Advent"
Find more from our collection of Advent Prayers HERE!
Looking for Advent Bible Verses? Find them HERE!
Photo credit: ©GettyImages/A-Basler
---
This article is part of our larger Christmas and Advent resource library centered around the events leading up to the birth of Jesus Christ. We hope these articles help you understand the meaning and story behind important Christian holidays and dates and encourage you as you take time to reflect on all that God has done for us through his son Jesus Christ!
What Is Christmas? Understanding History, Origin and Traditions
The History of Santa Claus: Origin of St. Nicholas & Christmas Traditions
Beautiful and Inspiring Christmas Prayers
The Beautiful Meaning and Purpose of Advent
Advent Wreath & Candles - Understanding the History, Meaning, and Tradition
The History and Meaning of the Advent Calendar
Listen to our FREE Christmas Podcast: The Characters of Christmas - The Surprising People in Jesus' Family: