When the Cynic Sings: A Decision Not to Miss in the Movie Elf
Jessica Van Roekel

Crosswalk.com Contributing Writer

2019

26 Nov

COMMENTS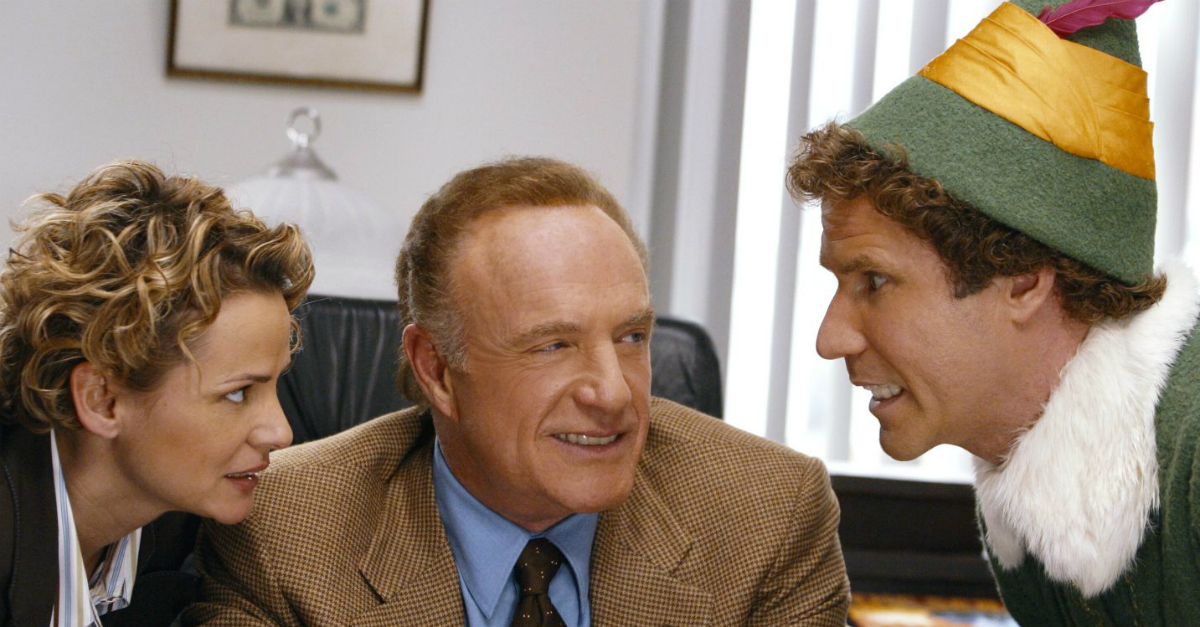 Elf never made it on my radar as an option for a classic Christmas movie. The thought of it didn't exactly invoke cozy-warm, hopeful feelings in me like It's a Wonderful Life, White Christmas or Miracle on 34th Street.
A grown man in leggings? Ew. Spaghetti with syrup? Double ew. Elf released in 2003 and its popularity launched it into a modern classic enjoyed by families across the country. I decided to lay aside my skepticism about the movie and watched it for the first time last year.
I giggled, snorted, and chortled my way through the movie, and it's now rightfully earned its way into the Van Roekel family Christmas traditions. For two hours, hilarity filled my home and our hearts.
A New Tradition Brings Laughter, Light, and Life
There's so much in our world these days that steal the laughter from our heart: disease, death, and destruction, and all kinds of devastation. Moments when we are exhausted from laughing—rather than from crying—are a gift to cherish.
But the laughter isn't the only reason I like this movie. And it's not Buddy who holds my attention.
In the movie, we meet Walter, the hard-as-nails book publisher, distracted husband, and father. Buddy, his long-lost son, who grew up thinking he was an elf, loves a father he's never met. Throughout the movie, Buddy makes repeated attempts to break the hard crust around his father's heart. In his characteristic cynicism, Walter resists.
Like Walter, We All Face a Decision
The film presents two contrasts—skepticism and belief. Cynicism runs rampant through our culture and is a common response. There's fake news, biased news, and no news. There are opposing perspectives, opinions, and ulterior motives. It's easy to live in a state of constant cynicism.
Is our boss' compliment genuine or does she have an ulterior motive? Will the delivered packages still be on the doorstep? Are the neighbors trustworthy?
Cynicism is the enemy of belief. And it's our belief in Christ that causes us to live.
But there's cynicism amongst Christians, too. We doubt each other's motives, salvation, and ministries. We say God is faithful, but act like he is faithless. We embrace irony when we care for the poor in another country, but neglect the poor in this country. We fail in keeping our word. We do what we don't want to do, and don't do what we want to do in our public and private lives.
James 2:17-18 says that faith without works is dead. James is not talking about working for salvation. Ephesians 2:8 explains that salvation is a gift from God and has nothing to do with our efforts. God saves us, not man-made efforts. James is talking about how we activate our faith when we put actions to our faith.
Have you ever noticed that it's easy to commit to something, but not so easy to follow through? This is especially hard when we're pressed but not crushed; persecuted, but not abandoned? I read verses like John 16:33 and skim right over them because I don't want to experience trouble.
But then I do experience trouble, and I have a choice. I can decide to say I'm a victor because Christ has overcome the world, but then act like I'm defeated. Or I can decide to say I'm a victor and then act like I've won, not because of my strength and efforts, but because of Christ in me.
A Moment in Elf that Changes Everything
There's a moment in Elf where this contrast between lip service and action meet—and the results change the trajectory of the story. Walter is the classic cynic. His hard crust softens when he finally reveals that he cares deeply about Buddy, Michael, and Emily. He even tries to help Santa evade the Central Park mounted police. But cynicism rests in his heart.
The crowd gathers around Jovie, who's spreading Christmas cheer by "singing loud for all to hear." The crowd joins in the singing and as they do, Santa's sleigh gains more power, but not enough to lift it into the air.
Walter blends into the crowd, refusing to sing, but only grudgingly mouthing the words. That is, until his younger son, Michael, discovers his subterfuge. Walter stutters and stammers.
But the moment he sings, Santa's sleigh gains full power and soars into the sky.

And although as Christians, we place our salvation, and our anticipation, in the arrival of Jesus, not Santa...imagine how our faith would soar if we remembered to act on our beliefs. To give voice and action, not lip service. Our faith would grow strong and vibrant if we lived like we're not abandoned.
In that moment in Elf, Walter Hobbs demonstrates a deflated cynicism we all can easily fall prey to—and what we gain when we decide to put actions to our words. It's our actions coupled with our belief that makes faith grow in our lives.
For example, we might offer to volunteer at our kid's midweek church program, not because we want to, but because we pressured to do so. We might start out cynical about our participation and complain that it's going to occupy another evening. But as time goes on, we realize that we're fulfilling what God instructs: serving the body of Christ. We find our faith swelling, growing, and affecting others and ourselves for the good and for God's glory.
Elf might not be your first choice as a Christmas classic, but it's now become one of ours. The message it reveals when the cynic sings changed my mind (and heart) about the meaning of this movie. And I love that it's wrapped up in the gift of joy.
Deciding to sing and not pretend reminds me that it's important that I put my beliefs into action. Action and belief combine to make effective, story-changing lives.
---
Jessica Van Roekel leads worship in her local church and writes at https://welcomegrace.com/. She believes that through Christ our personal histories don't have to define our present or determine our future and writes about the transforming power of grace. Jessica lives in a rural setting surrounded by farmland and her husband and children. You can connect with her on Instagram and Facebook.
Photo Credit: ©New Line Cinema