How to Find Balance in the 'New Normal' of Coronavirus
Heather Riggleman

Crosswalk.com Contributing Writer

2020

6 Apr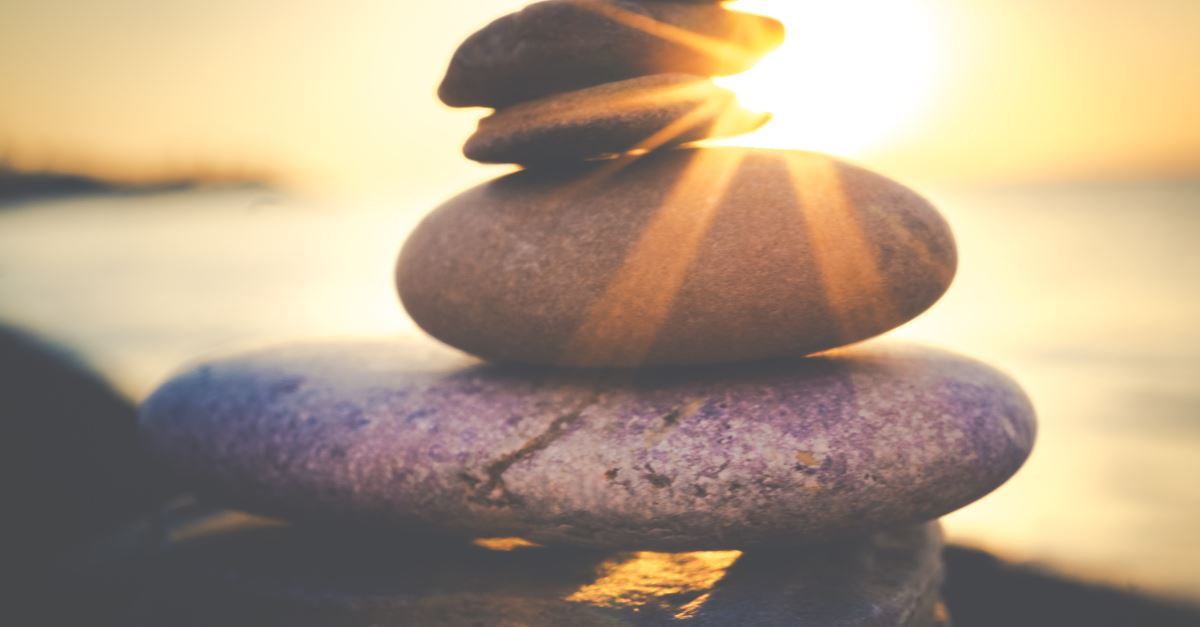 The first week COVID-19 hit American borders my family and I were embarking on a cruise set to leave port in New Orleans. After traveling 18 hours, we received word that all cruise lines had been shut down due to the virus. We returned home to social distancing, empty toilet paper aisles, closed businesses, and home confinement.
COVID-19 has flipped 'life as we knew it' upside down. We're now all trying to navigate a new normal. Daily routines have been uprooted or disregarded.
Many workers' commutes have become a walk to another room. Meetings are moving from conference rooms to laptops. Church doors are closed as congregants reassemble virtually. I found myself morphing into a homeschool mom and day-long kid-entertainer.
With no direction or routine, the temptation arises to lounge around in pajamas and binge on Netflix as a way to adjust to this new life of self-isolation and social distancing. Or, we can feel overwhelmed by the lack of former 'borders' and allow overworking to overtake our home and personal lives. But this new normal can only go so far before something deep within us begins to lose any sense of direction, purpose, hope, and happiness.
We can find an answer to this dilemma in Genesis: God created the world in rhythm and then He designed us to live in cadence with Him!
Photo Credit: ©Pexels/tinanord1200
God Created Rhythm

Slide 1 of 6

Rhythms and routines essentially create a set of boundaries that help us stay in cadence with God, fulfill the need to be productive, and enhance relationships with everyone under one roof. Mental health professionals and educators who specialize in psychology insist that it is imperative as we work to keep a positive frame of mind and maintain a semblance of normalcy. Developing new rhythms during what coronavirus is threatening to make chaos, can restore balance.

Rebekah Lyons, author of Rhythms of Renewal describes how rhythms can replace stress and anxiety with life...giving peace and purpose. Rhythms cultivate and sustain durable emotional health. Rhythms help break anxiety-inducing cycles of the world around us and bring balance. Establishing rhythms can help us create spiritual and mental space needed to allow God to bring us to a place of freedom without fear.

Habits and Behaviors Can Help

Rhythms are essentially habits and behaviors we've developed over time which can hinder or help us. Justin Whitmel Earley, the author of The Common Rule: Habits of Purpose for an Age of Distraction, writes, "Habits form much more than our schedules: they form our hearts."

In this article, I've adapted what others have shared with me, and it's helped me develop a cadence and routine that work for my soul and my family. Use these suggestions as a springboard to help you identify your own rhythms that you discover are needed in your own life.

Here are five ideas for rhythms to help you create a life well-lived in the coronavirus 'new normal.'

Photo Credit: ©Unsplash

Rhythm Idea 1: God Before Social Media or News

Slide 2 of 6

This rhythm comes straight from Earley's The Common Rule. We wake and the first thing we do is reach for our phone. Before you know it, you're in the kitchen pouring coffee with your mind full of Facebook, Instagram, and the news.

The first rhythm to develop is checking God's word for the day. Whether it's a devotion, a reading plan, or a worship song. This should be our first devotion of the day. There's a very good reason Paul wrote that we are to be transformed by the renewal of our minds in Romans. What we think, we become. If our minds are filled on the news and other junk, how will this play into the rest of your day?

Earley writes, "Daily immersion in the Scriptures resists the anxiety of emails, the anger of news, and the envy of social media. Instead, it forms us daily in our true identity as children of the King, dearly loved."

Let God's Word shape your day as you begin—not your phone, the news or social media.

Photo Credit: ©GettyImages

Rhythm Idea 2: Create White Space

Slide 3 of 6

The artist Pablo Picasso once said, "Without great solitude, no serious work is possible." Talk to any artist or designer and you'll likely hear the words 'white space.'

White space is like a canvas: it's the background that holds the elements together in a design, enabling them to stand out. Design theory promotes the use of white space for elegance. However, it is often seen as wasted space that could have housed more information or other visual elements. But white space is a great tool to balance design elements, better organize content, and improve the experience.

Our lives are desperately in need of spiritual white space.

The time we have right now at home is a chance to create white space for our spiritual lives. Bonnie Gray, author of Finding Spiritual Whitespace puts it like this:

Finding spiritual whitespace isn't about carving out an hour of time to escape the things that stress us. It's the opposite. It's getting away from everything we do to distract ourselves from all the hidden pieces—in order to nurture our soul. It's getting away from the lie that spiritual rest is something we have to work hard at in order to get closer to God.

Be mindful of how you structure your day as you add God and other things to the mix. In this current new normal, we have the opportunity to develop new spiritual habits and routines. Let this be a time of getting to know Jesus better instead of worry.

Photo Credit: ©GettyImages/kerkez

Rhythm Idea 3: Re-establish Your Circadian Rhythm

Slide 4 of 6

The ocean waves ebb and flow with the tide. The sun rises and sets with the moon following. God created the world in rhythm. God created us to work in rhythm too, especially when it comes to our circadian rhythms.

Circadian rhythms are physical, mental, and behavioral changes that follow a daily cycle. They respond primarily to light and darkness in an organism's environment. This rhythm influences sleep-wake cycles, hormones, eating habits, digestion and other important bodily functions.

Biological clocks that run fast or slow can result in disrupted or abnormal circadian rhythms. Irregular rhythms have been linked to various chronic health conditions, such as sleep disorders, obesity, depression, and seasonal affective disorder. This one doesn't seem that spiritual, but it's vital to living well in this new normal.

To care for your circadian rhythm, establish a regular time of rising and going to bed, and regular times of mental and physical rest.

Photo Credit: ©GettyImages/Wavebreakmedia

Rhythm Idea 4: Honor Movement

Slide 5 of 6

Getting fresh air, going for a walk, or doing some sort of aerobic activity may not seem spiritual to some—but when we move, we are honoring God.

Marcus Tullius Cicero said, "It is exercise that supports the spirits, and keeps the mind in vigor." And I couldn't agree more. When my Jazzercise classes were closed, I was devastated because I meet God on the dance floor every time. As the music pumps through the air, God lifts my spirit.

Thankfully, classes are now being live-streamed online...and so are thousands of different kinds of physical exercise. Make it a point to sweat out the stress each day.

Exercise creates a chemical chain reaction in our brains allowing for calm to increase and stress to decrease. It gives your mind greater clarity and lifts the fog as well as your mood.

We're reminded in 1 Corinthians 6:19-20, "Do you not know that your bodies are temples of the Holy Spirit, who is in you, whom you have received from God? You are not your own; you were bought at a price. Therefore honor God with your bodies."

Photo Credit: ©Unsplash/Nathan Trampe

Rhythm Idea 5: Create Something New

Slide 6 of 6

What were some of the worries that used to keep you up at night pre-pandemic? Did you want to have a stronger marriage? Were you wondering how to have a better relationship with your children? Did you want to learn how to use a prayer journal or start a podcast? Maybe you've always wanted to paint or plant a garden.

Now is the time. Inside each of us are beautiful God-given gifts that have long laid dormant and covered in dust. These gifts were given to us because the ability to create or cultivate brings joy and reminds us of our Creator.

It's a great time to meditate, journal, and really think about the things you've always wanted to do that bring you joy and passion.

The game of life as you knew it may be on pause right now, but that doesn't mean you can't thrive. Let's face it, before COVID-19 hit, many of us were overworked, overbooked, and overtaxed. It's a good time to reflect on what you have to do, want to do, and why—and drop those things that no longer bring you joy as you establish new rhythms to live by.

Use this time to live in the moment, not fear.

Photo Credit: ©GettyImages/lovelyday12

---

Heather Riggleman calls Nebraska home (Hey, it's not for everyone) with her three kids and husband of 20 years. She writes to bring bold truths to marriage, career, mental health, faith, relationships, celebration and heartache. She is the co-host of the Moms Together Podcast. Heather is an author and a former national award-winning journalist. Her work has been featured on Proverbs 31 Ministries, MOPS, Today's Christian Woman and Focus On the Family. You can find her at heatherriggleman.com or connect with her on Instagram or Facebook.