What Is the Jellybean Prayer and What Does it Have to Do with Easter?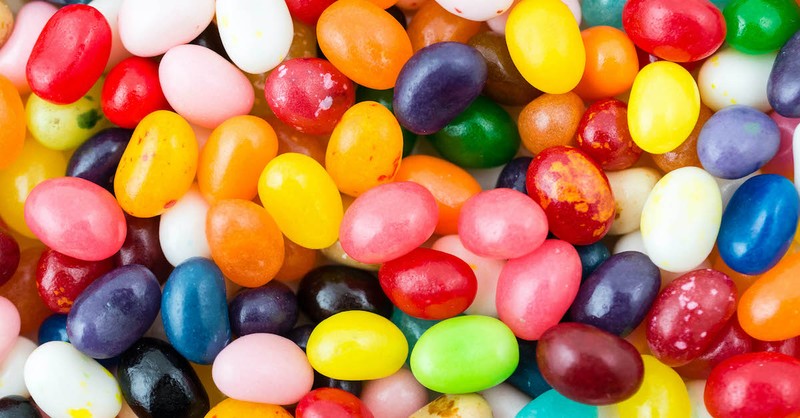 When most of us think of Easter baskets and eggs, the image of a jellybean may come to mind. After all, those small candies can fit inside plastic eggs and make for a delightful spring treat. But did you know you could share the Gospel and a prayer through jellybeans? That's right. The jellybean prayer allows you to share the message of the Gospel, and to eat some wonderful candy in the process.
Let's take a look at the meaning behind each of the colors in the jelly bean prayer, some other wordless ways to share the Gospel, and a sample prayer you can pray with someone with whom you share the Gospel through the jellybean candies. Let's dive into this short, sweet way to spread God's word.
What Is the Jellybean Prayer?
Also known as the Jelly Bean poem, the jelly bean prayer shares the Gospel through the different colors of the candies. Most of the time, you will likely share this with someone younger who has gotten jellybeans from an Easter basket. But this doesn't have to bar you from sharing this with those older than Easter basket age.
The first few lines of the poem go:
"Red is for the blood Jesus shed,
Green is for new life ahead."
You may have had a similar Gospel presentation in a youth group or Vacation Bible School, more on this below, via Wordless Picture books. This Gospel-sharing method offers additional colors to what we see in the Wordless Picture books.
For more fun ideas on the jellybean poem and for ways to fill up those Easter baskets in a Christ-honoring way, check out this wonderful article by Kelly Givens.
Now, a jellybean prayer can incorporate a prayer you say after you present the various jellybeans. We'll provide an example below, but please feel free to deviate or go based on how the Spirit leads. A prayer to the Lord doesn't have to contain "just the write words." The Holy Spirit will translate the yearnings of our hearts and with those whom we share the Gospel.
Click HERE to download a cute printable for the Jellybean Prayer!
What Do Each of the Jellybeans Represent in the Jellybean Prayer?
We should note that each jellybean prayer we've found contains different colors. After all, maybe you got a jellybean pack that doesn't have the color orange or purple. No matter what the case, we'll include a variety of colors that you could use, but you can adjust according to what you find within the bag.
Green: Green stands for "the grass he made." In other words, God created us (Genesis 1 and Genesis 2). God created us to live in harmony and relationship with him in the Garden of Eden. Unfortunately, in Genesis 3, things take a dark turn.
Black: Usually the flavor of licorice (you could use dark blue or dark purple if you don't have black available) represents sin. Romans 3:23: "For all have sinned and fall short of the glory of God" Everyone sins and falls short of God's glory. We've created a chasm between ourselves and our Creator with no way to bridge that divide.
Purple: In this poem, it stands for Christ's hour of sorrow he experienced in the Garden of Gethsemane (Luke 22). He knew what he had to do to save humanity, but he also knew how much pain and suffering he'd have to go through. In the Bible, purple also represents royalty. This means that Jesus is our everlasting King and Prince of Peace.
Red: Because of our sin, Jesus shed his blood for us. By his wounds, we are healed (Isaiah 53:5). Because Jesus shed his blood, we can come into a relationship with him.
White: Stands for God's grace. He washes us white as snow through his blood. Isaiah 1:18 says, "Come now, and let us reason together, saith the Lord: though your sins be as scarlet, they shall be as white as snow; though they be red like crimson, they shall be as wool."
Yellow and Orange: In the poem, these stand for the sun and the edge of night. But we could also interpret these two colors as heaven. One day, we will live in a place where we will shed no tears and experience eternal joy with our Father in heaven (Revelation 21). The edge of night orange could represent the hope we experience as we wait for that glorious reunion in heaven.
Pink: Pink stands for our hope of a new tomorrow. For now, we wait for God's kingdom to arrive here on earth. But we know he has fulfilled his promises in the past, and he will come through for us now. As the rest of the poem goes, "And handful of jellybeans, Colorful and sweet, Is a prayer, a promise, A loved one's treat!"
In other words, on Resurrection Sunday, we celebrate the sweetness of salvation and the sweetness to come when we reunite with our Lord in Heaven.
What Are Other Wordless Ways to Show the Gospel?
The jellybean prayer may sound similar to the Wordless Picture book. This other method uses colors to share the Gospel. Most of the colors stay the same, but the book does have some variations.
Black: Similar to the jellybean poem, black represents sin in the Wordless Picture book.
Red: Red here also represents Jesus' shed blood.
White: White represents the purity we experience through the sanctification process after we come into a knowing relationship with Jesus Christ.
Green: Represents the new life we experience in Christ. Most often presenters will compare the green with grass when using a Wordless Picture book, just like the jellybean prayer.
Gold: (Sometimes yellow) symbolizes the streets of gold we'll walk in heaven one day with our Savior.
You may have also heard of other wordless methods, such as the Bridge to Life illustration or Lifehouse's Everything Skit (discretion advised for this later skit. We suggest not sharing with anyone until they've reached their teen or tween years, due to some heavy topics covered in the skit).
No matter what the case, we can have a lot of ways to share the Gospel using everyday objects. Or in the case of Easter, jellybeans. Below we've included a sample prayer that you can pray with someone after you've shared the jellybeans and their meaning.
A Sample Jellybean Prayer
Dear Heavenly Father, thank you so much for creating me and everything in this universe (green jellybean). I admit that I have sinned (black jellybean) and have fallen short of your glory. But I want to thank you for going through with God's plan, even when it was scary for you (purple jellybean). Thank you for dying for my sins and the cross (red jellybean) and shedding your blood for me so that I could become pure as snow (white jellybean). I know that you will do everything you said you will do and that one day I will be in heaven with you (orange and yellow jellybean). For now, I wait in hope and excitement for when I will see you face to face (pink jellybean). Amen.
God can use even simple objects, such as Easter candies, to share his message. Think about the hidden message of the candy cane as well.
This Easter, get a handful of jellybeans and be ready for a sweet way to share the wonderful news of Christ's resurrection and what it means for us today.
Photo credit: ©GettyImages/Gladys_Glez
---

Hope Bolinger is a multi-published novelist and a graduate of Taylor University's professional writing program. More than 1,200 of her works have been featured in various publications ranging from Writer's Digest to Keys for Kids. She has worked for various publishing companies, magazines, newspapers, and literary agencies and has edited the work of authors such as Jerry B. Jenkins and Michelle Medlock Adams. Her modern-day Daniel trilogy is out with IlluminateYA. She is also the co-author of the Dear Hero duology, which was published by INtense Publications. And her inspirational adult romance Picture Imperfect releases in November of 2021. Find out more about her at her website.