5 Reasons I Still Believe in Father's Day (Even When it Hurts)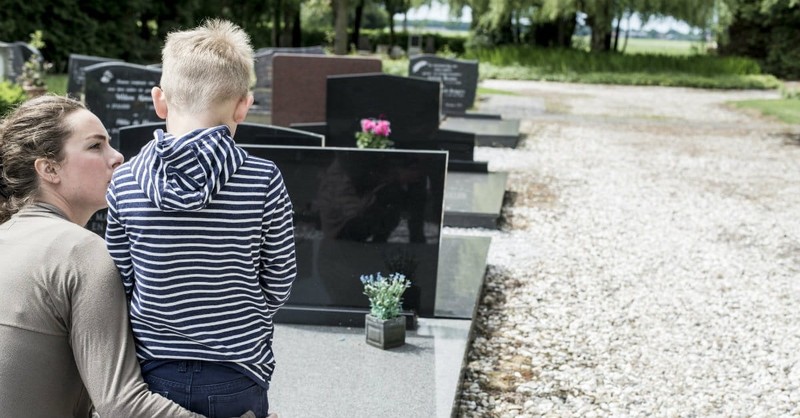 Oh, the memories of Father's Day. I still remember watching my dad unwrap the paperweight I'd made him in kindergarten, followed by years of hardback books and wide ties and grilling aprons.
But Father's Day forever changed for us six years ago. Just days before the holiday, my husband suddenly passed away and I became a widow and single mom to our seven kids – ranging from preschoolers to teens. 
Two days later, on that first painful Father's Day, my oldest showed me the gift he'd ordered weeks before for his dad – an oiled canvas hat. Size XL. The fact that it wouldn't fit anyone else close to us was such a picture of our gaping loss.  
What do we do with Father's Day when it hurts? When we're grieving a dad who's passed away, or who's left deep wounds from a divorce or from not being there? Do we just skip the day altogether? Cover our eyes and ears until Father's Day has passed?
Here are five reasons I still believe in Father's Day, even when it hurts. 
1. Ignoring Father's Day doesn't erase the pain. 
The pain is always there. It might not be right at the surface, but grief for someone you love isn't something you ever just get over. Father's Day doesn't suddenly remind someone who's fatherless or grieving past wounds of their pain. Sure, it can hurt when we see moms and kids shopping for the perfect card or when we scroll through photos of Father's Day celebrations. But the loss is always there. 
Ignoring Father's Day isn't the way to healing. The grief that comes on the hard days and the holidays needs to be processed, rather than stifled. Learning to manage the emotions and memories on Father's Day – to live and enjoy and hope and thrive despite the loss – is the best way to healthy healing.  
2. We can celebrate other father-like men in our life. 
Though we acknowledge the loss of my husband on Father's Day, we also celebrate my own father. He's been a hero in the wake of my husband's death. He's taken my boys golfing and fishing, been at recitals and basketball games and graduations, and given me days out for errands and appointments. He's been a wonderful example of a godly father and grandfather. 
To ignore Father's Day would be to ignore the gift that he is and to miss celebrating him. Even if we don't a father to celebrate, Father's Day is a great time to thank an uncle or coach, grandfather or friend who has been father-like in the gap.   
3. We're called to honor our fathers. 
When we tell stories and recall favorite things about a father who's passed away, it brings warm memories to a hard day. It helps our family preserve my husband's legacy and helps my youngest children know who their father was.
But what if there are present wounds or a strained relationship? Even then, Father's Day is an opportunity to find an authentic way to honor fathers and take a step toward healing. That may mean simply praying for your father if you don't or cannot have contact with him. It may mean initiating contact with a dad who rarely reaches out to you. The day may be another reminder to forgive and move toward a better relationship. Romans 12:18 tells us that "if it is possible, as far as it depends on you, live at peace with everyone." 
4. We can celebrate fatherhood. 
Father's Day is not just a day to celebrate our own father, but to recognize the impact fathers have in our nation. Strong fathers make strong families. And like never before, our country needs the strength and security provided by godly fathers. 
President Lyndon Johnson recognized the significance of strong fathers in the first Father's Day proclamation, stating "in the homes of our Nation, we look to the fathers to provide the strength and stability which characterize the successful family." As the traditional family is buffeted by change and pressure today, Father's Day allows our nation to acknowledge the importance of fatherhood. 
5. We're raising future fathers and wives of future fathers. 
My five boys will in all likelihood be fathers one day and I long for them to be strong, godly fathers in their homes. I want them to know that being a dad is a high calling and one of the most honorable and important tasks they'll do. Fathers in the trenches should get some of our loudest cheers. 
Though Father's Day can be hard, I still believe in it. I'm glad our nation recognizes it and our churches celebrate it. Fathers are doing hard, holy, sacrificial and courageous work. So while we'll acknowledge our grief that day, we still have much to celebrate. 
Lisa Appelo is a single mom to 7, young widow, author & crazy in love with Christ. She shares encouragement for the life of faith and hope in the hard at LisaAppelo.com. Check out her free Bible study & journal 100 Days with Christ here. You can also connect with her on Facebook and Instagram.
Photo credit: ©Thinkstock/patat