New Year's Reflections for Mom
Elisabeth Corcoran

Moments for Mom

2006

2 Jan

COMMENTS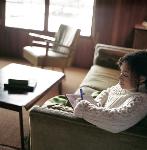 I had to open up my computer calendar to recall this past year. Unfortunately, I didn't start using it until June, so the first half is quite the blur, I'm afraid. Let's see – what milestones happened in the life of the Corcoran family in 2005?
• My son turned 7 and my daughter 9, entering 2nd and 3rd grades. (Unbelievable – I could swear I just gave birth like two or three weeks ago.)
• I helped organize a capital campaign at church, which nearly sucked the life out of me (maybe that's why January through May is a daze).
• My second book came out…answer to prayer.
• I turned 35 … no comment.
• (I started wearing black every day due to the previously mentioned milestone.)
• My marriage turned 12, so my husband and I spent a few days in Michigan to celebrate.
• A few girlfriends and I went away for a couple days just for the fun of it, and we had a blast.
• My husband took on a leadership role at church that really suits him beautifully.
• My oldest friend got married to a wonderful man whom she'd been waiting a long time to find.
• Both kids (finally!) learned to ride two-wheelers.
• Jack can read and Sara's writing in cursive.
• I started running every day (which is huge for me – to quote a friend who I wholeheartedly agree with, "I only run when someone's chasing me" … thankfully, not any more.)
• A huge trial became a part of our daily lives and we continue to wait to see the outcome.
• I came back into an intimacy with God that I had known many times over my almost 20 years walking with Him, but hadn't felt in quite awhile.
Wow, so much has happened in just one year, and I'm sure I'm just scratching the surface. So many things have changed. The interesting thing is seeing the differences -- the things we chose to change and the things that sort of changed all on their own. Comforting, scary and exciting all at the same time.
What's your year been like? Anything you wish you could forget? Things you are so completely grateful for? Anything left open-ended that maybe you need to have a conversation with God about? I think this year the thing I'm walking away with is how hard and just plain odd life can be … but, even when we don't feel it, we can continue to count on some things that will never, ever change – our God is good, our God is faithful, our God is loving … always. May He carry us into 2006, and may we be so very aware of His goodness, faithfulness, and love -- maybe even more than ever before.
Happy New Year, Moms!
© Elisabeth K. Corcoran, 2006
Elisabeth Corcoran is the author of In Search of Calm: Renewal for a Mother's Heart (2005) and Calm in My Chaos: Encouragement for a Mom's Weary Soul (2001). She is wife to Kevin, and mom to Sara, 9, and Jack, 7-&-1/2. Her passion is encouraging women and she fulfills that through serving in leadership on staff part-time at Blackberry Creek Community Church in Aurora, IL and writing and speaking as much as she can. In Search of Calm can be purchased through Xulon at #1.866.909.2665 or www.xulonpress.com; Calm in My Chaos can be purchased at #1-888-644-0500 or www.kregel.com; or they are both available at amazon.com, or through your local Christian bookstore. You can visit her at www.elisabethcorcoran.com.