Christian Ministries Gear Up for Outreach During 2012 Summer Olympics
Russ Jones

ReligionToday.com Contributor

2012

25 Jul

COMMENTS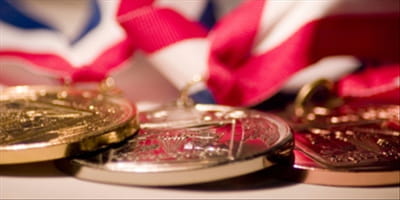 While athletes compete for gold and attempt to break world records during the London 2012 Summer Olympic Games, hundreds of Christians will take the Gospel message to the streets of the British nation in pursuit of a different reward.
The Olympic Games will be held in London from July 27 to August 12, 2012, followed by the 2012 Paralympic Games from August 29 to September 9. With backpack, bedroll and Bible in hand, volunteer ministry teams from around the globe will seek to evangelize those who have yet to accept Jesus Christ as their Lord and Savior.
Christians Take Aim
London hosted the Olympic Games in 1908 and 1948, making this year's event the third time the games have been held in London since the modern Olympics began in 1896. This year 205 nations are expected to take part in 306 different events and 26 different sports.
Roughly 500,000 people from all over the world are expected to visit London for the Olympics. International ministry organizations see the premier sporting event as a prime opportunity to spread the Good News of Jesus Christ through literature and personal witnessing with both spectators and Olympiads.
More Than Gold, an ecumenical initiative linking Christian organizations together who brings mission teams into the United Kingdom around the time of the Olympics, serves as a logistics conduit for visiting ministries. The organization works with thousands of churches and agencies coordinating mission outreach efforts.
Visitors to the 2012 Games will be able to experience almost 700 free performances by Christian musicians, dancers and visual artists from over 30 nations.
Some 40 teams of performers and artists coming to London involve about 440 individuals. Among the talent on display with be an Indian musician playing a multi-stringed guitar with built in bongo drums, an international folk-rock band, a Hawaiian-based dance troupe and a children's ballet company.
"This is about more than great performances and outstanding art," said Julie Spence, More Than Gold talent organizer. "All involved use their talents to provoke questions about life and faith and point to Jesus as being key to having them answered."
A number of ministries from the U.S. will partner with More Than Gold.
In conjunction with Sports Fan Outreach International, Living Waters, founded by well-known author and speaker Ray Comfort, will host a fourteen-member team to the Olympic Games. Participants joining the team raised their own funds for the two-week outreach.
"Our mission is very simple," said Tony Miano, director of events and special projects at Living Waters. "We will be out every day and every night heralding the Gospel of Jesus Christ."
At $3,000 to $4,000 per person, Miano told ReligionToday.com it is a significant investment of both time and money, but a worthwhile cause. Participants will stay at the Guildford YMCA hostel, about 40 minutes away from the major Olympic venues.
"We are going there because we love Christ, we love the lost and we don't want to see anyone perish from their sin," said Miano. "We know that there is only one law giver, one judge and it is not us, but we are commanded by His word to proclaim the Gospel to every creator."
Miano said it is doubtful volunteers will get to see any of the Olympic events or even the traditionally spectacular Opening Ceremonies. The group will, however, tour the historic Oxford University and sit under the teaching of The Rev. Dr. Richard Turnbull. In May 2012 Turnbull stepped down as Principal of the noted theological seminary Wycliffe Hall. The evangelical Anglican scholar will teach on the English revival of Christianity and the tumultuous world of the 18th century.
Open-Air Preaching
Major sporting events like the National Football League's Super Bowl or the NCAA Basketball Tournament are often targets for ministries who might host a short-term mission trip. Thousands of adoring fans attend these events. The Olympics is another sporting event that attracts ministry teams from all over the world with the hope of sharing the Gospel with total strangers.
After weeks of training, hundreds of teams are expected to engage people with the Gospel through open-air street preaching and one-on-one witnessing on the grounds of the Olympic village and surrounding communities. This method of evangelism, however, comes with its share of risk and controversy.
Miano, who has been doing street preaching for years, says the Gospel is an offense to those that are lost, so he anticipates negative reactions from some. It is for that reason appropriate training has been a priority before his team gets to London.
"Unfortunately, there are characters out there who don't represent the Gospel well and some of them may be in London," said Miano. "They inflame or insight fights and that is not what we are about."
Miano noted a recent incident in Dearborn, Michigan where a group of street preachers led by Ruden Israel did "more damage than good." Israel used a pig's head on a pole as a conversation starter and a symbol of protest at Dearborn's 17th Annual International Arab Festival on June 15.
"We aren't going to London to simply create a spectacle that might land us a video on YouTube," said Miano. "We are going to speak the truth in love. We hope we as messengers will not be offensive in the way we deliver that message."
Olympians Look to Christ
4 Winds Christian Athletics, a global-class track and field ministry, claims the Olympic track and field team is well represented by a good core of Christian athletes who are ready to tell the world about their Christian faith.
4 Winds President Steve McConkey is asking Christians to pray for the USA Olympic track and field team as well as the other Olympians, "Since 1981, we have seen a good core of Christians on the USA teams. We are asking Christians everywhere to pray for the Olympic Athletes. Pray for protection, peace, strength, and boldness."
Olympic ministry Lay Witnesses for Christ has conducted outreach efforts for the past seven summer Olympic Games. Ministry leaders said the organization would host a variety of outreach events at locations all across the city.
Kimberly Parker, director of communication at Lay Witnesses for Christ, said there will be an evening with the Olympians, Stars for Christ events, as well as, alcohol and violence prevention programs.
"Our goal is to use the platform of world class athletes to reach young people with the message of Christ and His salvation. The Olympics is just one of the venues we seek to reach people," said Parker.
Parker notes about 200 lay volunteers will travel to London to participate in the ministry's outreach events.
Two-time NCAA Champion from Texas Christian University (TCU), and member of the 2012 U.S. Olympic Sarah Scherer says the support of the Christian community is vital to the success of the athletes, both during the Games and upon the completion of the Olympics.
"The whole Christian community coming together is a huge part of the Olympics," said Scherer. "It is amazing how God can work when we support one another."
Free Bibles and Other 'Supplies'
The Bible Society announced it would distribute thousands of Bibles among the athletes at the Olympic and Paralympic Games. The Olympic Village Religious Services Centre will hand out 3,000 copies of commemorative English-language and non-English Scriptures.
Matthew van Duyvenbode, Head of Advocacy at Bible Society contends the initiative provides a unique opportunity to show that the Bible has a crucial place in every sphere of public life, including sports.
"When some of the athletes will be going through some of the most turbulent experiences of their lives we can demonstrate to them that the message of God's comfort, and reassurance are for them in the Scriptures," said Duyyenbode.
But apparently Bibles won't be the only item provided for free. Organizers at the London Olympics have ordered a record 150,000 condoms to include in the welcome kit athletes receive upon arrival at the Olympic village, after 100,000 didn't prove sufficient at the 2008 Beijing Games.
4 Winds president Steve McConkey said he isn't surprised with the condom use, as immoral sexual behavior has been rampant for years in the Olympic Village. He recalls how several centuries ago the Apostle Paul visited Athens and preached his well-known Mars Hill sermon (Acts 17). McConkey, who said the Olympics, originally was established around Paganism, challenges athletes to enter the Games with the same spirit as Paul.
"Athletes are a reflection of their culture," said McConkey. "There are undisciplined athletes, but then there is are Christian athletes that will be in London ready to witness about their love of the Lord. They will run a good race and raise the standard."
Russ Jones is a 25-year award-winning journalist and correspondent. He is co-publisher of various Christian news sites such as ChristianPress.com, OxfordFamily.com, and a media consultant to a number of political and cause-oriented campaigns. He is also a freelance correspondent for the American Family Radio Network, Crosswalk.com and various Christian TV networks. Jones holds degrees from the University of Missouri-Columbia and St. Paul School of Theology. Russ is married to Jackie and together they have four children. He may be reached at russ@russjones.me or Facebook.com/russjones.
Publication date: July 25, 2012