A Prayer of Thanksgiving - Encouraging Words of Gratitude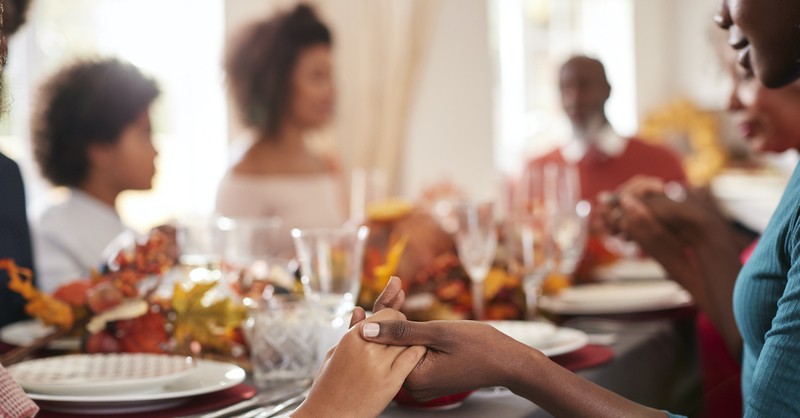 Lord, I ask you often for many things, but today, I only want to give you thanks. Thank you for being a great Father and God who loves me with all my faults. Thank you that you forgive me completely and teach me faithfully through your Word. Thank you for all the times you picked me up when I fell, and for all the times you carried me when I couldn't make it on my own. Thank you for experiences when I was unaware of your angels standing guard to rescue me from danger and protect me from harm.
Thank you for family and friends, for placing people in my path again and again— those whose encouragement and kindness I will never forget. Thank you for the things I take for granted like clean water, a place to sleep, air conditioning, and food to nourish me. I'm grateful for your protection and your gentle prodding away from danger.
Thank you for answered prayers, for fun surprises, and for happy memories with loved ones and friends. Thank you for faithful servants who help make the world a safer place—like policemen, firemen, lifeguards, pastors, and teachers. Thank you for those who work long hours in low-paying jobs and contribute to my life and welfare through their service. Thank you for always providing for my needs, in big and small ways.
Thank you for children, laughter, and the beauty of nature you created so miraculously. For blessings both unreserved and undeserved, Lord, I offer a grateful heart. For arms to lift in praise to you, for a mouth to speak your praise, for legs to walk new pathways, and for a heart that beats for you, Lord. For times of healing and amazing grace, for drawing me close and preparing a place for me to live with you one day. Thank you for your salvation offered freely to all through Jesus' sacrifice—all because of extravagant love.
I'm grateful not only for good things but for blessings in disguise. Thank you for mistakes I've made and lessons learned, for pain and sorrow, too. For your comfort, Lord, your tender hand, for even things I'll never understand, so in turn I can comfort others—thank you God.
In everything, for everything, good or bad, my prayer today brings an attitude of gratitude. May it always be so, Lord. Amen.
To help you in thanking God, we created a 30 Days of Gratitude Prayer Guide HERE. Download and print this guide to keep with you as a reminder of God's love and promises.
5 Inspiring Bible Verses on Thankfulness

Photo credit: ©GettyImages/monkeybusinessimages
Rebecca Barlow Jordan is an inspirational author, speaker, and passionate follower of Jesus who loves to encourage others heart to heart. She has written 11 books and over 1700 other articles, greeting cards, and other inspirational pieces. Her daily devotional Daily in Your Presence is available for delivery through Crosswalk.com. You can find out more about Rebecca at www.rebeccabarlowjordan.com.
---
This article is part of our larger Thanksgiving Resource Library. Learn about the first Thanksgiving, what Thanksgiving means in the Bible, how to get along with your family, and ways you can make this celebration more meaningful.
The First Thanksgiving
30 Days of Gratitude
Thankful Bible Verses
Thanksgiving Bible Verses
Examples of Thanksgiving in the Bible
Calming Thanksgiving Prayers for Moms
Encouraging Prayers for Thankfulness
Things That Will Make Your Thanksgiving Better
How to Celebrate When There's an Empty Chair
How to Celebrate without the Usual Big Meal
Photo credit: ©Thinkstock/LiudmylaSupynska