Resources for Celebrating Thanksgiving
Martha Zimmerman

Author

2003

24 Nov

COMMENTS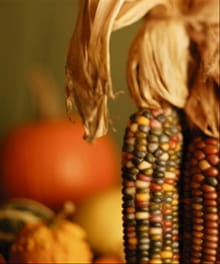 Put something where you can see it so your eye will remind your heart.

• Lovingly assemble a harvest display for your Thanksgiving table. Remember your table is an altar. Invite God to be present. Fill and arrange a basket, bowl or cornucopia — which has traditionally been the symbol of abundance — with seasonal produce as your centerpiece.

• Decorations throughout the house might include dried flowers, gourds and even cornstalks. We always hang a cluster of Indian corn on the front door, tied with a pretty bow.

• Through your local food bank or Christian agency, discover local needs. Decide together how you can help. This is the season to send a "hand-written" thank-you message to the Lord through sharing with others. Deep down, our hearts are filled with thankfulness all year round. This is the time of year when we can let them overflow into action.

•We live in a media-oriented society that has given birth to the "couch-potato syndrome." Instead of "vegetating" or simply bemoaning what has happened, let's take advantage of the situation and turn on God's educational television. The best learning takes place when all the senses are involved! Relationships grow as people experience things together. It is psychologically true in relationships that doing things for the one you love increases your love for that one.

Enter the beautiful scenario of the harvest. With your eyes, allow your heart to lift you beyond your present circumstances. God is providing incredible visual reminders of His faithfulness at this time of year.

Take a walk through the fallen leaves. Enjoy the colors. Flaming red mixed with the splash of the maples' gold gives way to muted antique hues as the season unfolds.

The harvest is in and the barns are full. Apples are tart, crisp and refreshing. Cider presses are busy squeezing out fantastic juice. Geese are heard overhead honking their way south. Squirrels dart around hoarding their winter supply — enjoying their own kind of harvest.

The air has become crisp and clean. Lights come on a little earlier each afternoon. The harvest moon is big and orange. Hardware store clerks put out the rakes and then strew their windows with beautiful maple leaves. When I was growing up, our reward for raking was getting to jump in the pile!

Autumn is the climax of God's great "year-round" show. The nip in the air finally draws us in to sit before a crackling fire and remember ...

• When I was a child, we spent the day making lists of all the things for which we were thankful while waiting for the turkey to roast. Our children had fun making turkeys by tracing their hands on a plain piece of white paper. The thumb is the head and the four fingers are the feathers. By adding two legs and a waddle from the thumb, you have a turkey! Then they colored the picture. Use this activity to focus attention on the meaning of the day.

• Place a colorful leaf at each person's place at the table. On each leaf place five kernels of dried corn. Before the meal is served, take time to remember the hardships of the pilgrims' first winter in the New World.

Read this ever-so-familiar verse with new eyes and only one little change: "In everything live thanks; for this is God's will for you in Christ Jesus" (1 Thessalonians 5:18, NASB). The real art of thanksgiving is found in thanksliving. Weave the two words together, and the result is appreciation in action.

The best way to thank God for the gift of life is to live it for Him with joy. The best way to thank God for your spiritual gifts, talents and abilities is to accept them and then invest them in His service. The best way to thank God for all that family and friends have done for you is by doing what you can for others.
---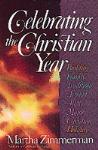 Excerpted from:
Celebrating the Christian Year by Martha Zimmerman, © 1994, Martha G. Zimmerman. ISBN 1556613490. Published by Bethany House Publishers
Used by permission. Unauthorized duplication prohibited.
Publication date: November 24, 2003
Visit Crosswalk's Thanksgiving Facebook page at www.facebook.com/iAmThankful.