When is Thanksgiving This Year? 2021 Date and Holiday History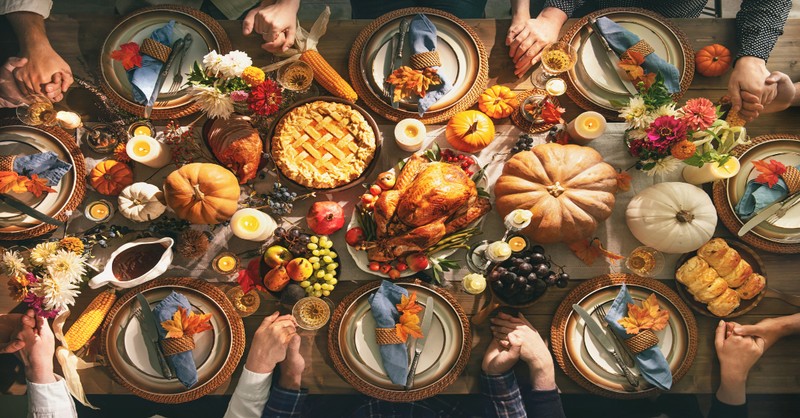 So when is Thanksgiving this year? Find the Thanksgiving date for 2021 and the history of this holiday below! Learn why we celebrate Thanksgiving in late November and the Christian meaning of this tradition.
"Oh give thanks to the Lord, for he is good, for his steadfast love endures forever!" ~ Psalm 107:1
What Day is Thanksgiving in 2021?
This year, Thanksgiving will be on Thursday, November 25th, 2021.
To help you in thanking God, we created a 30 Days of Gratitude Prayer Guide HERE. Download and print this guide to keep with you as a reminder of God's love and promises.
Which Thursday in November is Thanksgiving?
Thanksgiving Day, as a United States national holiday, is annually celebrated on the fourth Thursday of November.
Thanksgiving was formally set to the fourth Thursday in November in 1939 by then-President Franklin D. Roosevelt. Loc.gov explains the historical context of the Thanksgiving date:
Today, Thanksgiving is celebrated on the fourth Thursday of November. But that was not always the case. When Abraham Lincoln was president in 1863, he proclaimed the last Thursday of November to be our national Thanksgiving Day. In 1865, Thanksgiving was celebrated the first Thursday of November, because of a proclamation by President Andrew Johnson, and, in 1869, President Ulysses S. Grant chose the third Thursday for Thanksgiving Day. In all other years, until 1939, Thanksgiving was celebrated as Lincoln had designated, the last Thursday in November.
Why Do We Celebrate Thanksgiving?
As you could guess by its name, the annual holiday of Thanksgiving centers around a tradition of giving thanks for the people, prosperity, and divine blessings in our life. Christianity.com explains the historical origins and development of this renowned celebration:
Pilgrims and Puritans who migrated in the early 17th century from England brought the tradition of "Days of Fasting and Days of Thanksgiving" with them to the New World of America. The present Thanksgiving holiday custom is inspired by a notable gathering from 1619 in Virginia and a lesser recorded 1621 festival at Plymouth in modern Massachusetts.

In 1619, English settlers arrived in Virginia rejoicing a successful journey with a celebration of thanksgiving as directed by the group's charter from the London Company. The charter then ordered that the date of their arrival to Virginia "...shall be yearly and perpetually kept holy as a day of thanksgiving to Almighty God." The 1621 Plymouth feast was prompted by a great harvest, which the Pilgrims joined with Native Americans, who helped them get through the preceding winter by providing them food in that time of hardship.

Thanksgiving declarations were made mostly by church leaders in New England up until 1682, and then by both state and church leaders until after the American Revolution. During the revolutionary period, political influences affected the distribution of Thanksgiving proclamations. As President of the United States, George Washington declared the first national thanksgiving observance in America designating November 26, 1789, "as a day of public thanksgiving and prayer, to be observed by acknowledging with grateful hearts the many and signal favors of Almighty God".
Is Thanksgiving a Christian Holiday?
Thanksgiving is not only a holiday that began with Christian origins, giving thanks is a requirement that is central to the Christian faith! Rev. Marjorie Nunes of Hicksville United Methodist Church explains the connection of this American holiday with Christianity, saying:
"Thanksgiving is definitely a religious holiday rooted in the Christian tradition of our country. Even though the secularism of our present culture may have turned the focus somewhat, we ought not to forget the history and the religious significance of this American holiday.

Actually, the first Thanksgiving Day observance originated in Virginia. On Dec. 4, 1619, 38 English settlers arrived at Berkeley Plantation on the James River. The settlement's charter required that the day of arrival be commemorated with thanksgiving to Almighty God. After they arrived on the shores of the James River, the settlers got on their knees and gave thanks for their safe passage. Hence, America's first Thanksgiving was about prayer and thanksgiving to God."
Prayer for Thanksgiving Dinner
O Heavenly Father, we thank You for this food and remember the hungry. We thank You for our health and remember the sick. We thank You for our friends and church and remember the friendless. We thank You for freedom and remember the enslaved. May these remembrances stir us to serve others in loving You. That your gifts to us may be used for others. Amen.
Find more Prayers for Thanksgiving to thank the Lord!
Bible Verses about Thanksgiving
1 Thessalonians 5:16-18
Rejoice always, pray without ceasing, give thanks in all circumstances; for this is the will of God in Christ Jesus for you.
Psalm 100:1-5
Make a joyful noise to the Lord, all the earth! Serve the Lord with gladness! Come into his presence with singing! Know that the Lord, he is God! It is he who made us, and we are his; we are his people, and the sheep of his pasture. Enter his gates with thanksgiving, and his courts with praise! Give thanks to him; bless his name! For the Lord is good; his steadfast love endures forever, and his faithfulness to all generations.
James 1:17
Every good gift and every perfect gift is from above, coming down from the Father of lights with whom there is no variation or shadow due to change.
Colossians 2:6-7
Therefore, as you received Christ Jesus the Lord, so walk in Him, rooted and built up in him and established in the faith, just as you were taught, abounding in thanksgiving.
Psalm 103:2
Bless the Lord, O my soul, and forget not all his benefits,
Philippians 4:6-7
Do not be anxious about anything, but in everything by prayer and supplication with thanksgiving let your requests be made known to God. And the peace of God, which surpasses all understanding, will guard your hearts and your minds in Christ Jesus.
Romans 1:8
First, I thank my God through Jesus Christ for all of you, because your faith is proclaimed in all the world.
Read more Bible Verses for Thanksgiving
Photo credit: GettyImages/AlexRaths