Was Jesus Married? How We Can be Certain He Wasn't
Liberty University

Sponsored Article

2016

28 Jun

COMMENTS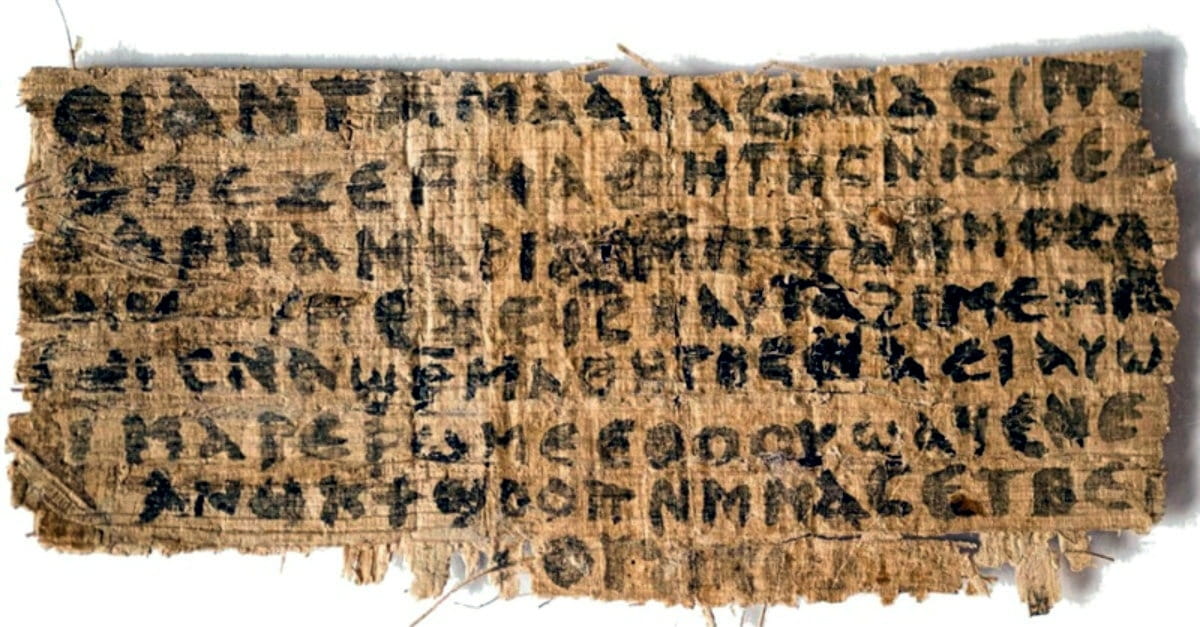 There are things about Jesus that almost all Christians agree on and believe to be true. He was born of the virgin Mary, he had 12 disciples in his earthly ministry, he was crucified, he rose again, and the list continues. These things are what we believe are true because they show up multiple times throughout Scripture and are verified by other secular sources as well.
In 2012, it was announced that a scrap of papyrus had been found by professor Karen L. King of Harvard University's Divinity School. Six words on that scrap of papyrus caused shock and skepticism: "Jesus said to them, My wife…"
This brings up something new that Christians typically don't believe to be true about the man Jesus Christ: Was Jesus married? Did he have a wife? Was he potentially a father too?
This 1,300-year-old piece of papyrus has been causing controversy ever since it was discovered near the Vatican in Rome, with King publishing a paper in 2014 about her findings. There were many doubters in the academic world, and very little evidence confirming that this text was authentic.
Dr. Gary Habermas, a biblical scholar and Christian apologetics professor at Liberty University, has long studied the facts of Christian faith and the life of Jesus, and his perspective on this discovery is helpful.
He shares these insights in response to this discovery as a guide to understanding the circumstance and reacting wisely:
1. "I have no problem with this, if it's true," says Habermas. "It's just that we don't have any evidence that it's true. It's not devastating whatsoever. I'm sure if Jesus was a husband and a father, I'm sure he was a good one." Here's a question we can ask in response to this discovery: What makes you think this would bother me, if Jesus were married, and/or he had children? Ultimately, would it matter if Jesus had a wife? Would it affect his teaching, his ministry, his ultimate work of salvation for us as believers? Probably not. It shouldn't be something that would destroy our faith in Jesus if it were found to be true.
2. "The material and the sources are extremely late and horribly evidenced," Habermas says. He would ask: "Please line up your evidence for me, and tell me when the earliest mention of this is, and did it specifically say Jesus had a wife or was it just a nuance?" It can be easy to misinterpret ancient texts or scraps of papyrus, so one professor's opinion of a text should not be taken as 100 percent accurate and legitimate without further evidence and confirmation. Since this specific discovery does not have much evidence surrounding it, it's not likely to be authentic or verifiable.
3. "Why are you treating this like it's something special, but the Gospels are not special beginning just 40 years later?" Habermas poses an interesting thought here -- many people are quick to think a discovery like this is something amazing, when in fact the Gospels we have in our Bibles today are much more incredible since they came so shortly after their events. A document found over 1,000 years later isn't nearly as noteworthy as documents from the same time as Jesus' first disciples were doing his ministry and telling of his life only a handful of years later.
There are many things that we do know about Jesus because of repeated mentions throughout the Bible and confirmations from both religious and secular scholars, Habermas shares. Jesus was baptized by John; his central teaching was the kingdom of God and how to get there; he taught not only the Word of Truth, but that he was the Truth; he was opposed by authorities; he was a miracle worker and an exorcist; he had disciples; he was crucified by the Romans after being beaten and tried; he was buried; and several days after his death, several others had what they claimed to be real appearances and experiences of the risen Jesus.
These things ultimately are significant to our faith in Jesus Christ because they tell of his ministry and his identity as the Son of God and our Savior. Whether or not he was married really doesn't (and shouldn't) affect our belief in Him. It's non-essential in our Christian faith.
The validity of this controversial papyrus King discovered is still up for debate, but King herself is no longer convinced the text is truly an ancient and accurate document. 
There have been other discoveries of potentially historic documents like this in the past, and there surely will be more in the future, so it's wise for us as Christians to keep a grounded and biblical perspective on who Jesus is and was, regardless of whatever new claims are made.
Like Habermas said, if Jesus really was a husband and a father, I'm sure he was the very best one, but we just don't have solid proof that he was.
Written by Rachel Dawson, editor for BibleStudyTools.com. Sponsored by Liberty University, training champions for Christ since 1971; and Liberty University Online, the largest Christian university in the world with over 200 online programs.
Publication date: June 28, 2016