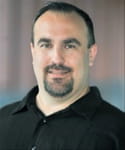 Saw a bumper sticker on the morning commute that read:
"The Church without Christ is where the blind don't see, the lame don't walk, and what's dead remains that way."
I'm generally not a big fan of bumper stickers, of advertising platitudinous tweets or angry opinions with my vehicle. But this one caught my attention because I had just spent the previous day at work mulling over the Trinity, mostly because I had just posted this video on our site:
Christianity.com: Does the Bible actually teach the doctrine of the Trinity? - Sam Allberry from christianitydotcom2 on GodTube.
And so I wondered why the creator of this bumper sticker hadn't said, "The Church without the Holy Spirit...", because after all, Christ himself didn't remain physically with us in the church, he left us with the Spirit.
Semantics. I fully understood the point. Without Christ as the focus, any church, "the" Church, is left uselessly lame, hopelessly blind, and pathetically dead.
But how would the bumper sticker have read if the word "Christ" had been substituted with either of the other members of the Godhead, or with other words?
Maybe something like...
"The Church without God is where the building improves while the hearts crumble, where behavior supercedes grace, and the right kind of members make us forget our mission."
In other words, worshipping God is what keeps us from becoming our own little gods.
What about...
"The Church without the Holy Spirit is where the fire grows cold, the air is foul, and 'living water' is just a nice story."
The Spirit is like a mighty wind. Jesus promised he would fill us with an outpouring of water. Where God is active in the Bible, you find fire. These elemental essences of the Trinity are what move our bodies of earth and clay to holy action.
These are just off the top of my head, but I'll spend most of the rest of today mulling about other fill-in-the-blanks such as...
The Church without You is where _________________
The Church without Love is where _________________
The Church without Outreach is where _______________
The Church without Money is where _________________
The Church without America is where ________________
The Church without Enmity is where ________________
Friday, November 09, 2012
On the Wednesday morning following the 2012 presidential election, I found myself musing peacefully about what's important in life. I was finding out, through realizing how little the outcome affected me, how little stock I'd had in the result personally. I was neither dancing in the streets nor cursing the fates. How was that? Apathy? Ignorance? Internal focus? Eternal security? Just a really easy morning sending the kids off to school?
Then it hit me. It was the theological virtues. I began to compose what became a Facebook status:
"...I do find Faith and Hope such interesting concepts. They're so powerful. They allow so many to get on with their lives. They inform our decisions and give us empathy for others. They point us towards purpose, toward wrongs to be righted and away from what would harm us. They seem to be in short supply sometimes, even among those who proclaim them while venting frustrations and fears they'd not utter to your face, but they shine brightest in tough times if you let them. And they're most famously tied to Love. They are still here this day, even if it doesn't sound like it, for they are the virtues that 'abide.'
"So I ask regardless of political persuasion: Do you have Faith to loan to the one today who has lost his, or placed it in something temporal and disappointing? Can you spare Hope for one who doesn't understand that Despair is the only place hope functions?
"These virtues are superior inoculations against whatever goes on around us, the very infusions that make possible a mission of bringing joy, mercy and laughter into the world every day, that elevate 'I can endure all things' above a mere platitude. They task one with a job that'll get you up in the morning, any morning. They bring to our eyes opportunity: chances for justice and charity, and the exercise of freedom. And, good news for me, Faith-Hope-Love is beautifying, for I can think of none who ever saw the application of these virtues - call it Grace - in action and said, 'Ugly.'"
It wasn't long before I was tasked with the charge I had just set before others. A forlorn friend messaged me.
"I honestly need prayer. I am sincerely requesting it. I do not feel love, I do not feel any desire to "get past it and heal and show love more now than ever." ...I am disheartened to the point of despair. ...I don't want to feel this way but I do. And it's been getting worse all day. Please pray for me. ...Considering your FB post earlier, I came to you with my request because I thought that at the least you'd understand."
After a moment of prayer I responded:
"I have already been praying for you ever since waking early and noting that you were 'heart sick.' It can start to feel like a lonely place but you are not alone. I won't try to talk you off the ledge politically because the timing's not right and there's no point in anyone else's opinion when what's killing you and eating at you so bad is how 'uninformed and wrong' all the opinions out there seem to you. I only hope you can get to the bottom of why it gets to you so bad.
"In microcosm, it reminds me of a HORRIBLE flight to Newark I shared with two of my co-workers back in April. I was convinced that nasty flight was going down. I even posted ugly things about it publicly. I was SO MAD that while I was holding on for dear life while the plane bounced (yes, bounced!) around the sky, none of the other passengers seemed to mind. At least not much. I wanted to scream, 'Come on, people! This isn't right! Why did they put us on this plane in these conditions, and why are you taking this jostling?'
"On the other hand, my friend [and christianity.com editor] Alex really couldn't understand why I would fret at all. After all, what is the worst that can happen to the believer? Death has no victory, so it's not that. And fear? What is fear except that from which we've already been delivered (death, sin, destruction, loss)? And sovereignty - what does my angry fretting reveal about what I believe about the nature of God?
"Hey, I think it's quite possible, biblically speaking, and regardless of the results of this particular vote, that things will happen in this country that are 'undesirable.' But I also know that through them and despite them I will cherish every moment with my family, try not to hold too tightly to anything eaten by moth or rust, and look for opportunities to help, and to live out my faith, purpose, and morality individually.
"I have no doubt you will be out of this slump at some point. But it may take a while. I daresay you may even want to talk to a counselor about it (I say this as someone who's done it).
"In the meantime, the simplest (yes, I know that can mean 'most naive') thing is to consider experience a good teacher. Nothing yet political, economic or electorial has befallen you or this country that killed either of you. In your 40 years, you have amassed great blessings; do not forget them, or cling too tightly out of fear of losing small portions of them. If you could erase everything in your mind and wake up today to discover the life you have, would your sky be nearly so dark right now?
"Rejoice! Get out of town. Go for a drive in the country with the top down. Go ahead, tell God he'd better know what he's doing allowing for the kings and counselors of the earth which he has ordained. And then leave it alone for a while. Go the indirect route. Study/read/pray about something else. Help someone else, even by just sending a note or letter to someone you know.
"These are the things that help me when I'm down, when I start hating my own people.
"Speaking of which, I sent friend requests to both ______ and ______ today. I figure it's time I stopped damming what would flow from my own heart. So please let me encourage you not to start. Much love!"
These words helped my friend, a little. This letter gave me a chance to be the hope to one person I'd challenged others to be. This day of lost faith for some became an opportunity for so many others to talk about theirs. And you know what? Today is no different.
Further Reading
Philippians 1:21-25
Philippians 4:13
my day at the beach that wasn't any such thing
the thrill of hope
Check out fantastic resources on faith, family, and fun at crosswalk.com!
Wednesday, October 03, 2012
For the waves of death encompassed me, the torrents of destruction assailed me… (2 Sam. 22:5).
Your wrath lies heavily upon me, and you overwhelm me with all your waves (Ps. 88:7).
I have many times stood upon the shore of a peaceful Atlantic ocean gazing East to the sunrise, pondering the vastness and the depth of God. This was not one of those times.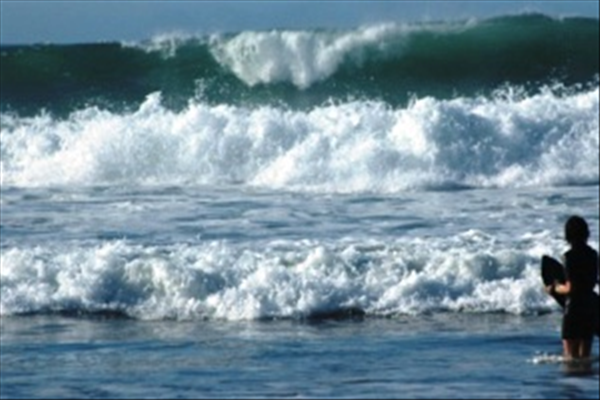 Today, I wanted to catch some fish. It was my only two hours of alone time during the whole week of family vacation to Isle of Palms. I decided to bike down to the point I'd walked to earlier that morning. This was mistake number one. I popped the chain on that old bike about half-way down the beach, and ended up having to push it the rest of the way with one hand while holding my fishing pole (and trying not to hook myself) with the other.
When I finally got there the waves had risen to a height I'd not encountered in any of my last four seasons on Atlantic beaches. I could barely cast my lure over them, and if I did succeed, I'd soon get knocked over. So, alright. You know what? I've been wanting a showdown. "Let's see whatchya got," I said, to either myself, God, or the forces of nature. I took my pole back to shore and I waded out to war.
I adopted my best linebacker stance and stood up to the 6-foot waves as best I could. I tried body surfing and nearly swallowed a gallon or two of seawater. I tried jumping over, diving under, and shouldering through. And while I was doing all of it I was telling God or whoever would listen how hard a time I'd been having of it ("Sure," you're saying, "a week of luxury beach vacation with the family, you're really struggling." But it's true).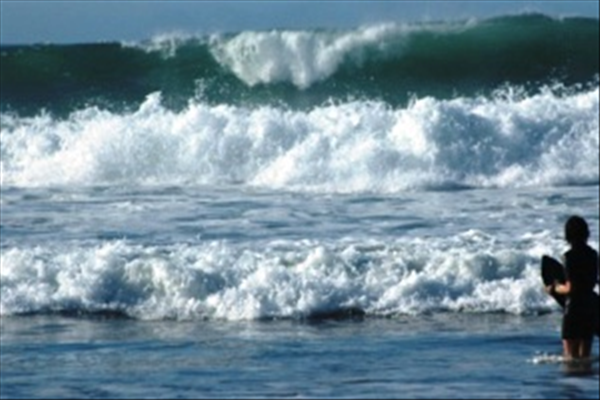 Why do I put on weight so easily? Why do you not seem to hear me anymore? Why am I not satisfied in my soul? Why do my simplest desires – like to ride a bike down a beach and catch a fish – result in such discouraging and powerful setbacks? Why is my faith bruised and how do I start to care for the people of God again? Huh?!
Nothing. Just wave after wave after pounding after pounding.
The good news is I was exhausting myself, getting this out of my system, and 'praying.' That I was again getting a sense of myself in this rough place called The World and how puny I am in relation to the created universe.
The bad news is I was becoming more dejected. When I finally gave up and told God I recognized his bigness and my smallness, I sat in the surf and tried to really connect, to really give it all to him, to really make this the milestone day from which everything was different for the rest of my life.
But it was just words. Nothing seemed to rise. I couldn't make my heart climb into my prayers. And I couldn't figure out how or when I had lost it, or what to do about it.
I paced to shore defeated and dejected. What progress had I made? At best today was a humbling, at worst a humiliation. My head drooped, and I looked down.
What I saw further discouraged me. For a length of several yards, the shallow foam washing back out was running at the same pace as my strides walking back in. The optical illusion was one of getting nowhere. Moving, but remaining in the same place.
That's when, finally, this: "You know you're making progress. You know, despite how it looks, that you're getting closer to shore with every step. Likewise, today was progress. Tomorrow will be a step. As will the next. My grace is a wave infinitely more powerful and cleansing than these, and My footprints don't wash away."
I sighed, but I smiled. "Step by step you lead me, and I will follow you all of my days…" Step-by-step is exactly how I got home that day, beaten, extremely chafed, shoeless, pushing a bike and carrying a pole. And, I'm happy to report, that's exactly how I'm getting back home in my spirit as well.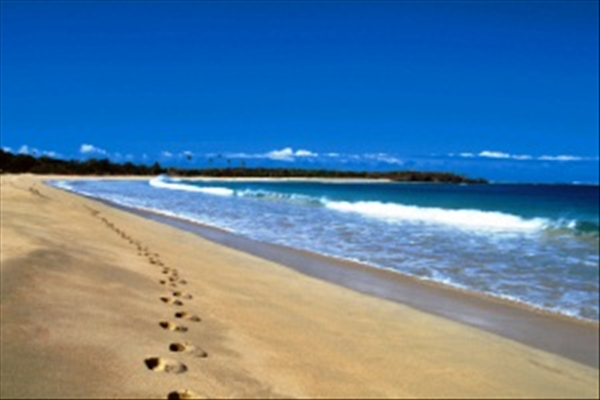 Friday, February 17, 2012
The Friday before Valentine's Day, I took my lovely wife Valerie to see the new movie The Vow, starring Rachel McAdams and Channing Tatum in a story of perfect love gone wrong through amnesia. We'd known the movie was based on real events, but, even if we hadn't, we would have learned as much upon the screen early in the film.
We thoroughly enjoyed the movie, even if the theater was packed with what seemed like a hundred teenage girls commenting and texting through most of it. At least they got a nice lesson in what committed love looks like. Valerie and I liked it on several levels. Not only was it a good date movie, the kind where a couple can ask each other over frozen yogurt afterwards, "What if that were us? What if I didn't remember loving you? What would you do?", but it also stuck with us in other ways. First, on a simple, concrete level, you don't see many movies where love conquers all and marriage vows are viewed as sacred anymore. That was pretty cool. But on another level, well, to explain how I felt about it on another level, allow me to skip ahead in my week a little bit...
On Monday, we were asked if anyone from Crosswalk Movies or our sister site TheFish had seen The Vow and would like to comment on a piece for FOXNews.com.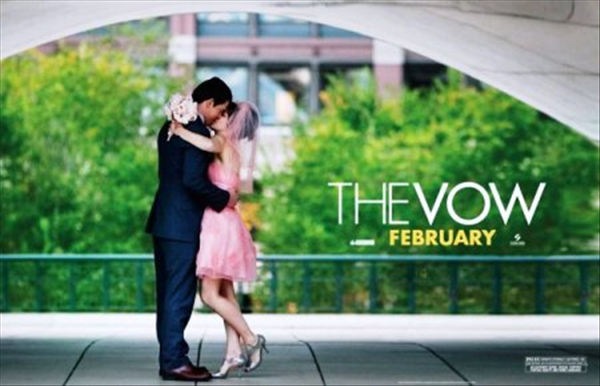 I took Jo Piazza's questions via email:
I am interested in what you think of God being completely excised from The Vow.
Are you upset that Hollywood took the Christian elements out of the story?
Do you think it remains a Christian movie?
I responded:
Not having studied the real-life story of the Carpenters before seeing the film, I wasn't aware when I viewed it that God was part of the original story and had been excised. That said, in my opinion, God is a huge part of The Vow, albeit metaphorically (which I much prefer to in-your-face, anyway). The love with which Leo pursues Paige, even after she no longer really remembers or even wants him, is the tireless love with which God pursues His people. Leo accepts Paige for who she is, meets her where she is. Loves her enough to allow her to reject him. His promises are unbreakable. These are the same phrases Christians often use to describe God to others. I'm not saying Leo is necessarily a God-figure (he's not perfect, after all), but the same picture the Bible paints about the marriage God created between Christ and His Church is the one we see playing out between Leo and Paige in this movie.
So, I don't think Hollywood did effectively take the Christian elements out of this movie (look at the numbers of Christians who are flocking to see it; something is resonating with them. On Crosswalk this week our review and feature about The Vow currently rank 3rd and 4th among our most popular articles). And I think the term "Christian movie" (or book, or song) is a relative one, anyway. I myself consider the Harry Potter series and Shel Silverstein's The Giving Tree "Christian books" because of the themes I happily find there more than because of any intent or belief on part of the authors.
The story posted on FOXNews Thursday (you can read it here). While I agree with the Carpenters that it would have been nice to have their faith remain in the story, I just can't allow myself, for reasons stated above, to get very upset that it wasn't. To my mind, it was like God refused to be excused from the proceedings of which He had initially been part. How could He be if faith in Him informed the decisions and commitments displayed in the original tale?
Incidentally, I've also heard some concern about the movie's PG-13 rating for "sexual content, partial nudity and some language." I do understand that most people - myself included - would prefer these things be left aside, but the cautions makes it sound worse than it is. I for one can completely forgive a husband who wakes up groggy and forgets he's naked (we only see his backside) in front of his wife, who views him as essentially a stranger. I'll admit - I laughed, as did Valerie. Neither did it offend us to see the married couple, in a flashback scene, wake up next to each other in bed, covered by a sheet, their backs bare. I will grant that one scene is played for harshness to show how frustrated Paige has become with her interminable situation. With loud music blaring, at her wits' end, she lets fly with a "GD" at Leo. It does take you aback. Leo's response, however, that "we don't talk to each other like that," reminds both Paige and the viewer that love is gentle and has no place for such talk. It's effective. All that to say, don't miss out on a wonderful picture of what real marriage and what Christ's marriage to the Church look like unless what I've just described in this paragraph is completely intolerable to you. As with most great stories, the point and the purpose are so much bigger than the imperfections.
See also:
About Shawn McEvoy
Shawn McEvoy is the Managing Editor of Crosswalk.com. He is a graduate of Oklahoma Baptist University and Virginia Commonwealth University. Shawn is married with two children. In addition to writing for the leading online evangelical publication, he has also written for fantasy sports and pop culture websites.
Example: "Gen 1:1" "John 3" "Moses" "trust"
Advanced Search
advertise with us