December 29
Behold, I tell you a mystery; we will not all sleep, but we will all be changed, in a moment, in the twinkling of an eye, at the last trumpet; for the trumpet will sound, and the dead will be raised imperishable, and we will be changed. - 1 Corinthians 15:51-52
Change and personal improvement are bywords of our day. Laws and rules are methods some try to produce transformation. But in Jesus Christ, change is guaranteed to occur. It's the difference between a rowboat and a sailboat. A person can row until the last trumpet sounds, and not get to Heaven. But all the sailboat has to do is ride the wind. The wind, spiritually, is the Spirit of God, given by Jesus Christ. Let His wind fill your sails, and when the last trumpet sounds it will herald not only His coming, but your homecoming.
Click here to sign up for your free Winning Walk newsletter!
OUR THANK YOU TO YOU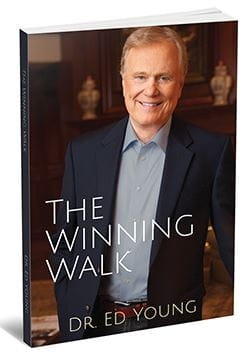 Discover God's Path for You!
Many people today live in defeat, never finding God's will for them. But God wants so much more for you!
That's why we're excited to reserve for you a special 35th Anniversary Edition of Dr. Young's book that started it all,
The Winning Walk,
scheduled for re-release later this year. In it, you'll discover what it takes to walk victoriously as you discover the path God has for you.
So be sure to reserve your copy of
The Winning Walk
when you give your gift below. And thank you for your support to share the proven truth of God's Word with more people around the world.