December 8
"The LORD your God will raise up for you a prophet like me from among you, from your countrymen, you shall listen to him." - Deuteronomy 18:15
Moses was a frontier man. He led Israel to the frontiers of the Promised Land, and established the era of Law. The Promised Prophet is, like Moses, a frontier Man. He leads God's covenant people to a new land of promise, His Kingdom. Further, like Moses, the Promised One forges a new era, one that supplants Law, the "Year" of God's favor—the era of Grace. Moses stands astride history past; the Promised Prophet, the Messiah, towers over history past, present and future. He cuts the path across the frontiers, making it possible for human beings to pass into the presence of God.
Click here to sign up for your free Winning Walk newsletter!
OUR THANK YOU TO YOU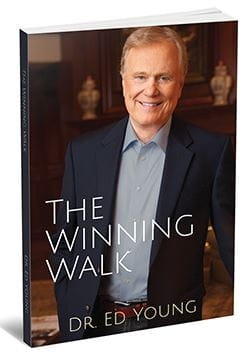 Discover God's Path for You!
Many people today live in defeat, never finding God's will for them. But God wants so much more for you!
That's why we're excited to reserve for you a special 35th Anniversary Edition of Dr. Young's book that started it all,
The Winning Walk,
scheduled for re-release later this year. In it, you'll discover what it takes to walk victoriously as you discover the path God has for you.
So be sure to reserve your copy of
The Winning Walk
when you give your gift below. And thank you for your support to share the proven truth of God's Word with more people around the world.