July 24
Praise the LORD! How blessed is the man who fears the LORD, Who greatly delights in His commandments. His descendants will be mighty on earth; the generation of the upright will be blessed.
Psalm 112:1-2
Some sociologists say there's a "five generation rule" in the raising of children. The way you bring up your child impacts not only him or her, but four generations that follow. Princeton scholar Benjamin Warfield tested the rule by comparing descendants of godly Jonathan Edwards to those of atheist Max Jukes. Edwards' progeny included 13 college presidents, 65 professors, 30 judges, 100 lawyers, 60 physicians and 100 pastors.  Jukes descendants numbered 310 paupers, 150 criminals, seven murderers and more than 100 alcoholics. Happiness is on the side of those who reverence God.
Click here to sign up for your free Winning Walk newsletter!
---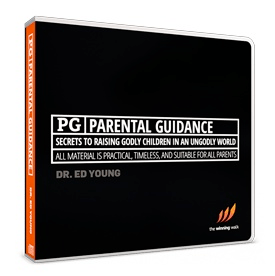 Transform how you think about parenting!
Most anyone can become a parent, but successful parenting eludes so many. Even many Christian families find themselves spiraling out of control as their children fall victim to drug and alcohol abuse, sexual promiscuity, and even suicide.
 
That's why Dr. Ed Young put together his easy-to-follow 3-message CD series, Parental Guidance. In it, Dr. Young reveals proven truth that every mother, father, and grandparent can immediately embrace in order to build and strengthen their family.
 
Parental Guidance is our gift to say thank you for your donation below to help share proven truth through The Winning Walk's broadcast ministry. We pray it transforms the way you think about parenting!