June 16
… he who listens to me shall live securely and will be at ease from the dread of evil."
Proverbs 1:33
To merely hear is to experience sound waves on the eardrum. To listen is to absorb the content of a message. A pet may hear sounds, but perks up the ears at the voice of the master. The individual who draws close to God to "listen" has two promises. First, she can live with confidence in the knowledge that God is her constant companion. Second, she is able to rest in the turbulence of the fallen world. God's promises, really heeded, become the consuming focus of the mind, not the jarring noises and voices of a world gone wild. Perk up your ears.
Click here to sign up for your free Winning Walk newsletter!
OUR THANK YOU TO YOU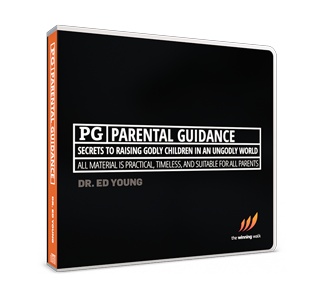 Most anyone can become a parent, but successful parenting eludes so many. Even many Christian families find themselves spiraling out of control as their children fall victim to drug and alcohol abuse, sexual promiscuity, and even suicide.
That's why Dr. Ed Young put together his easy-to-follow 3-message CD series,Parental Guidance. In it, Dr. Young reveals proven truth that every mother, father, and grandparent can immediately embrace in order to build and strengthen their family.