May 13
My little children, I am writing these things to you so that you may not sin. And if anyone sins, we have an Advocate with the Father, Jesus Christ the righteous…

1 John 2:1
You have died and are standing before God. "Let me tell you about Bill," Satan snarls. The accuser reads a long list of your sins. "Is this document of Bill's violations of My Law right?" God the Father asks. "I'd like to say a word about Bill," God the Son says. "He received Me as his Savior and Lord, repented of his sins, and every accusation Satan has brought against him is covered by My blood." With that, the Father—the Judge—yanks the list of accusations from Satan's hand, tears it up, and throws it away (Colossians 2:14). If you're in Christ, you have an advocate whose testimony is final.
Click here to sign up for your free Winning Walk newsletter!
OUR THANK YOU TO YOU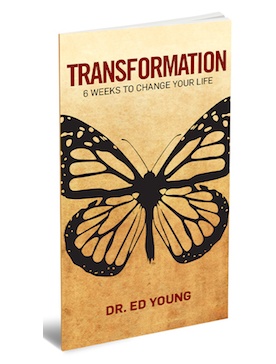 Change your life in 6 weeks!

Seeing real and lasting change in your life isn't going to happen by making a resolution, having more resolve, or reading a self-help book. The key is surrendering everything you have to God!

Dr. Young shows you how to do this in his brand new pocket-size book, Transformation: 6 Weeks to Change Your Life. And we want to send you a copy to say thank you for your donation to help The Winning Walk continue broadcasting the proven truth of God's Word around the world.

Discover the freedom you've been looking for! Request Transformation when you give your best gift below. And thank you for your generous support so more people can hear the proven truth of God's Word through The Winning Walk!