May 18
His divine power has granted to us everything pertaining to life and godliness, through the true knowledge of Him who called us by His own glory and excellence.
2 Peter 1:3
Demons thrive in chaos, but God brings a steady, secure equilibrium to the lives of people in covenant with Him through Jesus Christ. Old sailing ships often carried lead to provide ballast. God provides the ballast for our lives—moral excellence, knowledge, self-control, perseverance, godliness, brotherly kindness, and love (verses 5-7). Without such "weight" the craft of your life can be capsized by contrary waves and winds. God's promise is that as, by faith, you "add" these things to your life in Christian growth, you are strengthening the ballast that will hold you upright in a hurricane.
Click here to sign up for your free Winning Walk newsletter!
OUR THANK YOU TO YOU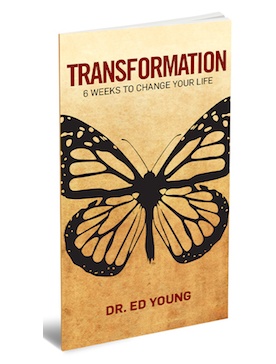 Change your life in 6 weeks!

Seeing real and lasting change in your life isn't going to happen by making a resolution, having more resolve, or reading a self-help book. The key is surrendering everything you have to God!

Dr. Young shows you how to do this in his brand new pocket-size book, Transformation: 6 Weeks to Change Your Life. And we want to send you a copy to say thank you for your donation to help The Winning Walk continue broadcasting the proven truth of God's Word around the world.

Discover the freedom you've been looking for! Request Transformation when you give your best gift below. And thank you for your generous support so more people can hear the proven truth of God's Word through The Winning Walk!