November 7
'For I will pour out water on the thirsty land And streams on the dry ground; I will pour out My Spirit on your offspring And My blessing on your descendants; And they will spring up among the grass Like poplars by streams of water.' - Isaiah 44:3
Texas Hill Country ranchers dig long, shallow trenches called "draws" leading down to their ponds, or "tanks," which nestle at the land's lowest places. When summers are dry, they delight in the "gully washers" that dump rain into the draws, and watch with glee as the water fills up the "tanks," where cattle can drink. God promises His people "gully washers." Just about the time we are thirstiest, driest and most needy, He pours His Spirit upon us. We touch our families with God's refreshing, so that they too can enjoy His rich flow, and pass it on to their families.
Click here to sign up for your free Winning Walk newsletter!
OUR THANK YOU TO YOU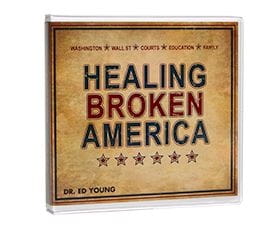 Be a Part of the Healing of Broken America!
A quick glance at the nightly news, the newspaper, or the Internet reveals that we are experiencing one crisis after another. Washington is broken, Wall Street is broken, the
courts are broken, the schools are broken. Even the
family
is broken!
In his 6-message CD series,
Healing Broken America
, Dr. Ed Young addresses head-on the major areas in our country that must change if we are to see our nation restored. He clearly defines the five areas where America is broken, and then offers common sense, biblically-based remedies for healing those wounded areas. Learn how to be part of the solution for America.