October 30
the kingdom of God is not eating and drinking, but righteousness and peace and joy in the Holy Spirit.
Romans 14:17
When tourists visit Las Vegas they are guaranteed lights, entertainment and buffet tables. For many, this is the essence of living. Yet a headline in the Las Vegas Sun reads, "Experts grappling with high suicide rate. The stark contradiction between promise and reality is too much for some. But to come into God's Kingdom is to enter a realm not dependent on glitter, glamour and glut. Rather, God's Kingdom pulsates with Spirit-fired joy, rests in His peace and has goodness as its atmosphere.
Click here to sign up for your free Winning Walk newsletter!
OUR THANK YOU TO YOU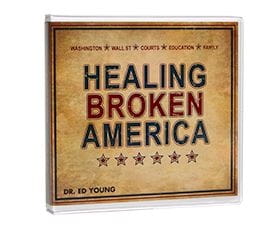 Be a Part of the Healing of Broken America!
A quick glance at the nightly news, the newspaper, or the Internet reveals that we are experiencing one crisis after another. Washington is broken, Wall Street is broken, the
courts are broken, the schools are broken. Even the
family
is broken!
In his 6-message CD series,
Healing Broken America
, Dr. Ed Young addresses head-on the major areas in our country that must change if we are to see our nation restored. He clearly defines the five areas where America is broken, and then offers common sense, biblically-based remedies for healing those wounded areas. Learn how to be part of the solution for America.