October 12
Against You, You only, I have sinned And done what is evil in Your sight, So that You are justified when You speak And blameless when You judge… Purify me with hyssop, and I shall be clean; Wash me, and I shall be whiter than snow. - Psalm 51:4, 7
For years, a certain golden eagle patrolled a point off the Hawaiian island, Maui. The big creature was a spectacular sight hovering over the junction of land and sea. One day a helicopter strayed into its territory. The eagle attacked, and all that was found was one feather. Sinful David recognized he had collided with God. But rather than reducing David to a mere feather, God's heart wanted David's heart back. David was wise enough to embrace the promise of God, and ran into the arms of hope rather than the blades of destruction.
Click here to sign up for your free Winning Walk newsletter!
---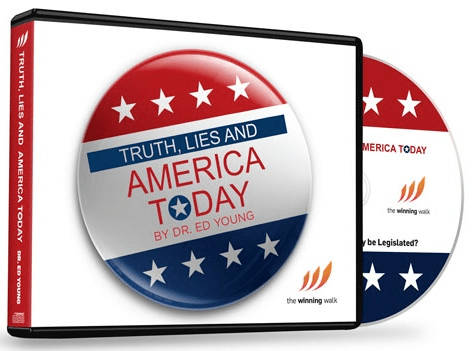 We've been told lies as a society, and many of us – even believers – have come to accept them as truth.
 
Dr. Ed Young exposes many of these lies in his 3-message CD series 'Truth, Lies, and America Today.'

You'll hear about steps you can take to:
       •Reestablish God's truth in your home and community
       •Rebuild our nation's moral foundation
       •Restore hope for future generations  

'Truth, Lies, and America Today' is our gift to thank you for your first monthly gift as a Winning Walk Pacesetter.
 
The faithful support of Pacesetters is crucial for helping proclaim proven truth on radio, television, and the internet – so please prayerfully consider becoming a Pacesetter today.
 
When you do, we'll send you 'Truth, Lies, and America Today' to help stand against the lies of our culture with the proven truth of God's Word.
 
We're so grateful for your partnership!