October 16
For as many as are the promises of God, in Him they are yes… - 2 Corinthians 1:20
Dr. Chester Swor, one of the 20th century's most inspiring speakers, said he was retiring. His body was lame and weary. "You can't do that!" I said. "You still have a message." I remembered E. Stanley Jones, who wrote in his 80s that all the promises of God are true. If God gave a message and a promise in one's youth, the promise still stands. The reason is that all the promises are deposited in Jesus Christ. As long as Christ lives—and that's forever—the promises stand. Chester Swor and E. Stanley Jones discovered afresh in their most senior years that Jesus and His promises are forever young.
Click here to sign up for your free Winning Walk newsletter!
OUR THANK YOU TO YOU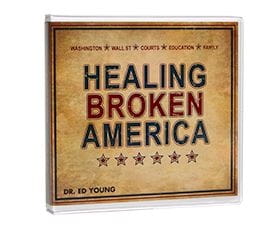 Be a Part of the Healing of Broken America!
A quick glance at the nightly news, the newspaper, or the Internet reveals that we are experiencing one crisis after another. Washington is broken, Wall Street is broken, the
courts are broken, the schools are broken. Even the
family
is broken!
In his 6-message CD series,
Healing Broken America
, Dr. Ed Young addresses head-on the major areas in our country that must change if we are to see our nation restored. He clearly defines the five areas where America is broken, and then offers common sense, biblically-based remedies for healing those wounded areas. Learn how to be part of the solution for America.