October 19
"Behold, I have given you authority to tread on serpents and scorpions, and over all the power of the enemy, and nothing will injure you." - Luke 10:19
Almost all of Jesus' followers listening to this promise that day were injured under persecution, and executed. Was Jesus lying to them? He Himself experienced the fiery baptism of the cross. Was He deluded? The promise is actually greater than we think. Authority is in relation to mission. Jesus promises the authority to war against the spiritual foe for the sake of God's Kingdom. The injury the adversary wants to bring his eternal torment, but he has no power to do so against those wielding Christ's authority as they are on their Kingdom mission.
Click here to sign up for your free Winning Walk newsletter!
OUR THANK YOU TO YOU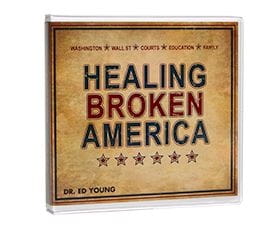 Be a Part of the Healing of Broken America!
A quick glance at the nightly news, the newspaper, or the Internet reveals that we are experiencing one crisis after another. Washington is broken, Wall Street is broken, the
courts are broken, the schools are broken. Even the
family
is broken!
In his 6-message CD series,
Healing Broken America
, Dr. Ed Young addresses head-on the major areas in our country that must change if we are to see our nation restored. He clearly defines the five areas where America is broken, and then offers common sense, biblically-based remedies for healing those wounded areas. Learn how to be part of the solution for America.