October 19
"Behold, I have given you authority to tread on serpents and scorpions, and over all the power of the enemy, and nothing will injure you." - >Luke 10:19
Almost all of Jesus' followers listening to this promise that day were injured under persecution, and executed. Was Jesus lying to them? He Himself experienced the fiery baptism of the cross. Was He deluded? The promise is actually greater than we think. Authority is in relation to mission. Jesus promises the authority to war against the spiritual foe for the sake of God's Kingdom. The injury the adversary wants to bring his eternal torment, but he has no power to do so against those wielding Christ's authority as they are on their Kingdom mission.
Click here to sign up for your free Winning Walk newsletter!
---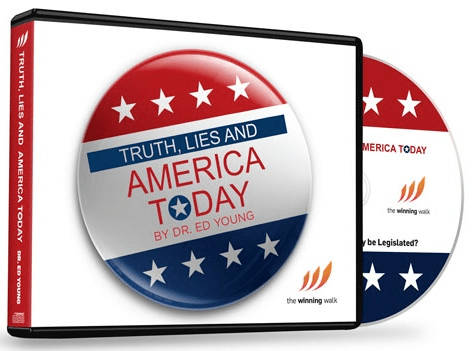 We've been told lies as a society, and many of us – even believers – have come to accept them as truth.
 
Dr. Ed Young exposes many of these lies in his 3-message CD series 'Truth, Lies, and America Today.'

You'll hear about steps you can take to:
       •Reestablish God's truth in your home and community
       •Rebuild our nation's moral foundation
       •Restore hope for future generations  

'Truth, Lies, and America Today' is our gift to thank you for your first monthly gift as a Winning Walk Pacesetter.
 
The faithful support of Pacesetters is crucial for helping proclaim proven truth on radio, television, and the internet – so please prayerfully consider becoming a Pacesetter today.
 
When you do, we'll send you 'Truth, Lies, and America Today' to help stand against the lies of our culture with the proven truth of God's Word.
 
We're so grateful for your partnership!