October 24
The LORD … will keep your soul. - Psalm 121:7
"Keeping or "preserving" is to exercise great care over an object of value. The soul is the seat of human personality, the organ of thinking, emotions and choosing. A Brinks truck bearing a load of cash stops at a bank to deposit its day's collection. Immediately guards spring out and surround the vehicle. With gun drawn, a security officer carries the wealth into the bank. Leering eyes look on, wanting to grab the money. In the fallen world, the thief desires to snatch our souls, but God surrounds our minds, feelings and volition with His great care.
Click here to sign up for your free Winning Walk newsletter!
OUR THANK YOU TO YOU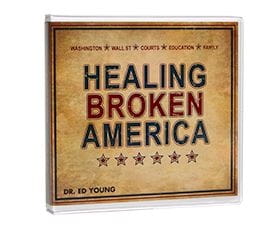 Be a Part of the Healing of Broken America!
A quick glance at the nightly news, the newspaper, or the Internet reveals that we are experiencing one crisis after another. Washington is broken, Wall Street is broken, the
courts are broken, the schools are broken. Even the
family
is broken!
In his 6-message CD series,
Healing Broken America
, Dr. Ed Young addresses head-on the major areas in our country that must change if we are to see our nation restored. He clearly defines the five areas where America is broken, and then offers common sense, biblically-based remedies for healing those wounded areas. Learn how to be part of the solution for America.