October 5
"While the earth remains, Seedtime and harvest, And cold and heat, And summer and winter, And day and night Shall not cease." - >Genesis 8:22
McGuffey's Reader told of a man who collided with one of God's moral laws. Angrily, he said, "I wish I lived in a world of chance!" The next morning he wanted to soothe a toothache with warm coffee. As he sipped, the coffee turned to ice. He yelled, "What's the meaning of this?" A voice replied, "You now live in a world of chance. Sometimes you boil water and it might be hot, and at other times it might freeze." God's promise to humanity through Noah is that we will not occupy a world where the foundational order is destroyed. He will not abandon us to raw chance.
Click here to sign up for your free Winning Walk newsletter!
---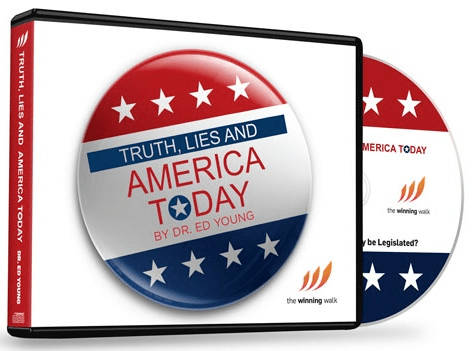 We've been told lies as a society, and many of us – even believers – have come to accept them as truth.
 
Dr. Ed Young exposes many of these lies in his 3-message CD series 'Truth, Lies, and America Today.'

You'll hear about steps you can take to:
       •Reestablish God's truth in your home and community
       •Rebuild our nation's moral foundation
       •Restore hope for future generations  

'Truth, Lies, and America Today' is our gift to thank you for your first monthly gift as a Winning Walk Pacesetter.
 
The faithful support of Pacesetters is crucial for helping proclaim proven truth on radio, television, and the internet – so please prayerfully consider becoming a Pacesetter today.
 
When you do, we'll send you 'Truth, Lies, and America Today' to help stand against the lies of our culture with the proven truth of God's Word.
 
We're so grateful for your partnership!