September 8
I am the LORD who sanctifies you.
Exodus 31:13
Sanctification is setting apart something or someone for the exclusive use of something else. The bride and groom vow that they are "forsaking all others." Being sanctified by and for God is the commitment of your whole being for Him alone. Sanctification is to be made holy, and is both an event and a process. The moment you receive Christ, you are holy in God's sight, because you have the righteousness of His spotless Son. But the process of sanctification happens in the material world, as you progressively place more and more of yourself under His complete control. This leads to practical living consistent with your heavenly character.
Click here to sign up for your free Winning Walk newsletter!
OUR THANK YOU TO YOU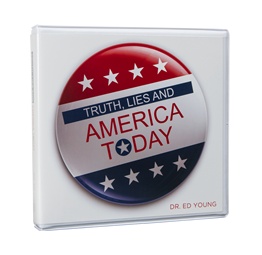 Our Gift to You - Truth, Lies, and America Today CD Series
Truth, Lies, and America Today is a bold and controversial three-message series that lays bare the lies American society has come to accept as truth: lies about morality, the role of the church, the role of government, the sanctity of life, and more. Dr. Ed Young shares the steps all believers can take to reestablish God's truth in their home and community and to rebuild a moral foundation upon which our nation can stand and flourish!