NAME OF GOD: El Rai
Verse: She gave this name to the Lord who spoke to her: "You are the God who sees me," for she said, "I have now seen the One who sees me." - Genesis 16:13
Meaning: God Seest Me.
Prayer: Adoration
El Rai this is one of your names which reveals your heart more than any other. As you saw Abraham on the mountaintop and witnessed his trust in you, you provided a ram as Jehovah Jireh. Likewise, as El Rai you see where I am, you respond. It is in your seeing that I am truly known. To be known by you – to not be forgotten – is one of my greatest needs and it is this name which comforts me greatly. I praise you because you are not a distant God who sits far off and does not commune with those you have made, but you see me. You care, you see, and you are there.
Watch Online Videos of Dr. Tony Evans and The Urban Alternative at LightSource.com
and
Listen to Dr. Tony Evans Online Broadcasts at OnePlace.com.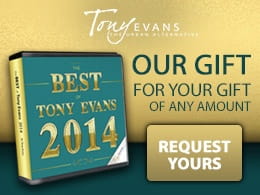 The Best of Tony Evans 2014
The Best of Tony Evans 2014 is a collection of some of Dr. Evans most powerful messages of the year.
Request your copy
of
The Best of Tony Evans 2014
CD Series for your gift of any amount.