Like Christ
In His Presence: If Christ is in you, though the body is dead because of sin, yet the spirit is alive because of righteousness (Romans 8:10).
God's goal for His people is Christlikeness, conforming them to the character of Christ. But many of us think, "I read the Bible, I pray, I go to church, but I'm not really transformed to be like Christ from the inside out. What's wrong with me?"
One Minute Please
We have a capacity problem—sin has killed our bodies, and we aren't capable of helping ourselves.
Watch Online Videos of Dr. Tony Evans and The Urban Alternative at LightSource.com
and
Listen to Dr. Tony Evans Online Broadcasts at OnePlace.com.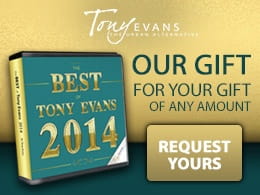 The Best of Tony Evans 2014
The Best of Tony Evans 2014 is a collection of some of Dr. Evans most powerful messages of the year.
Request your copy
of
The Best of Tony Evans 2014
CD Series for your gift of any amount.