Conexión Vertical - 14 de Julio


¡AGUA PURA QUE CALMA LA SED!
"Después me mostró un río limpio de agua de vida, resplandeciente como cristal, que salía del trono de Dios y del Cordero. En medio de la calle de la ciudad, y a uno y otro lado del río, estaba el árbol de la vida, que produce doce frutos, dando cada mes su fruto; y las hojas del árbol eran para la sanidad de las naciones". - Apocalipsis 22:1-2
El agua es un elemento esencial para toda la humanidad, ocupa tres cuartas partes de la tierra, y todos los seres vivos la necesitamos para vivir. Este elemento fue creado por Dios con un propósito especial.
Las plantas la necesitan para absorber y transportar los nutrientes del suelo hacia toda su estructura y la falta de agua de manera prolongada provoca un desarrollo anormal en los cultivos y en plantas forestales provocando efectos dañinos en el crecimiento vegetal. Los animales son más sensibles a la falta de agua que a la falta de alimento, provocan su deshidratación y la posible muerte.
Para los humanos es necesario para la vida de las células, permitiendo una correcta circulación de la sangre y la falta de agua en nuestro organismo provoca una deshidratación importante que puede producir la muerte, especialmente en personas mayores, niños pequeños y enfermos.
Ahora que pasa si el agua que bebemos está contaminada? Será de igual beneficiosa? definitivamente no lo es, al contrario, provocará daños a todos los que beban de esa clase de agua.
Dios nos ha ofrecido agua viva, abundante, cristalina y pura, "¡Todo el que crea en mí puede venir y beber! Pues las Escrituras declaran: "De su corazón, brotarán ríos de agua viva" Juan 7:38 NTV, sin embargo ¿estamos bebiendo de esa agua? ó ¿estamos bebiendo "otra"? ó lo que es peor ¿estamos a punto de morir por deshidratación?
Cada día nuestro cuerpo necesita ser hidratado, es así también que cada día nuestra alma y espíritu necesita beber de Dios para vivir, en especial cuando pasamos por dificultades.
¿Hoy tienes sed? sacia tú sed en Jesús y sé bebedor exclusivo del Agua Viva.
"Jesús contestó: Si tan sólo supieras el regalo que Dios tiene para tí y con quién estás hablando, tú me pedirías a mí, y yo te daría agua viva." - Juan 4:10 NTV
Soraida Fuentes
Haz clic aquí para visitar la página de CVC La Voz
Si necesitas oración o consejería, CVC La Voz tiene personas preparados para recibir ayuda. CVC La Voz Radio Cristiana provee contenido dinámico y relevante diariamente para impactar vidas. Tenemos un grupo dedicado de consejeros listo para recibir su petición de oración, comentarios o preguntas.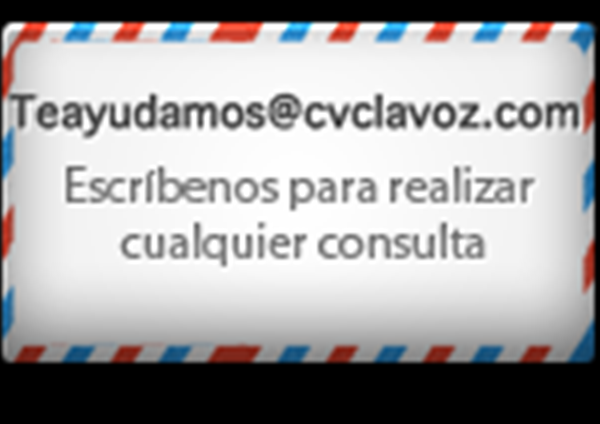 Recently on Conexión Vertical
Follow us on Facebook
Get Conexión Vertical devotionals directly to your News Feed.
Have something to say about this article? Leave your comment via Facebook below!
advertise with us
Example: "Gen 1:1" "John 3" "Moses" "trust"
Advanced Search
Listen to Your Favorite Pastors