Conexión Vertical - 15 de Agosto


¡Volverá la bendición!
"El grano volverá a amontonarse en los campos de trillar y los lagares desbordarán de vino nuevo y aceite de oliva. El Señor dice: «Les devolveré lo que perdieron a causa del pulgón, el saltamontes, la langosta y la oruga. Fui yo quien envió ese gran ejército destructor en contra de ustedes. Volverán a tener toda la comida que deseen y alabarán al Señor su Dios, que hace esos milagros para ustedes. Nunca más mi pueblo será avergonzado." - Joel 2:24-26
Considero que todos queremos que nos vaya bien: en los estudios, en el trabajo, con la familia, amigos, noviazgo, matrimonio y también en los negocios, definitivamente en todo. Es normal porque nadie espera el fracaso, somos seres que buscamos alcanzar el éxito y la felicidad.
El problema es que, a veces, tomamos decisiones equivocadas, caminos incorrectos basados en nuestras emociones, egoísmo, orgullo, ignorancia, avaricia, odio y entonces sucede que nos llenamos de frustración por lo mal que nos va.
Sin embargo, y de acuerdo a lo que dice: Joel 2:12-14 NTV"Por eso dice el Señor: «Vuélvanse a mí ahora, mientras haya tiempo; entréguenme su corazón. Acérquense con ayuno, llanto y luto. No se desgarren la ropa en su dolor sino desgarren sus corazones». Regresen al Señor su Dios, porque él es misericordioso y compasivo, lento para enojarse y lleno de amor inagotable. Está deseoso de desistir y no de castigar. ¿Quién sabe? Quizá les suspenda el castigo y les envíe una bendición en vez de esta maldición. Quizá puedan ofrendar grano y vino al Señor su Dios, como lo hacían antes.
La bendición es activada por el arrepentimiento! entendiendo por tal, el cambio de dirección o de actitud de un corazón dolido por la falta; piensa por un momento, ¿que es lo que te llevó a estar en esta situación?, pero piensa en ti, no en lo que otra persona hizo, o dejó de hacer, ¿qué paso? ¿mentiste? Fuiste grosero/a? orgulloso? Tu autoestima baja?, etc.
En el libro de Joel, hay frases que el Señor dice que quiero resaltar: "Les devolveré lo que perdieron", "volverán a tener" y "nunca más mi pueblo será avergonzado" Dios desea bendecirnos de acuerdo a su plan.
Sea lo que sea y sin dejar de lado el dolor, que a veces padecemos, como consecuencia de nuestras malas decisiones, es necesario resaltar, que ahora Dios quiere devolverte lo que has perdido: la esperanza, el amor, la casa, tu empleo, tu familia, tu esposo/a, tus hijos, y todo.
Activa tu bendición, dando hoy mismo un primer paso que depende solo de ti "el arrepentimiento", Dios como Padre amoroso, tiene sus brazos extendidos para recibirte. No te demores.
Soraida Fuentes
Haz clic aquí para visitar la página de CVC La Voz
Si necesitas oración o consejería, CVC La Voz tiene personas preparados para recibir ayuda. CVC La Voz Radio Cristiana provee contenido dinámico y relevante diariamente para impactar vidas. Tenemos un grupo dedicado de consejeros listo para recibir su petición de oración, comentarios o preguntas.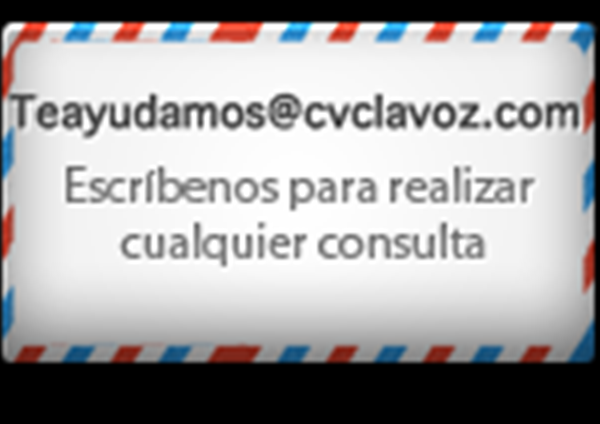 Recently on Conexión Vertical
Follow us on Facebook
Get Conexión Vertical devotionals directly to your News Feed.
Have something to say about this article? Leave your comment via Facebook below!
advertise with us
Example: "Gen 1:1" "John 3" "Moses" "trust"
Advanced Search
Listen to Your Favorite Pastors