Conexión Vertical - 16 de Enero

¿Esperanza, dónde estás?
CVC LA VOZ "Aun cuando no había motivos para tener esperanza, Abraham siguió teniendo esperanza…" Romanos 4:18 (NTV)
La esperanza es el estado de ánimo en el cual se cree que aquello que uno desea o pretende es posible.
Hay un dicho que dice: La esperanza es lo último que se pierde, pero ¿qué tal cuando tu "esperanza" esta puesta en el lugar equivocado? Ya sea en una persona, objeto, salud, finanzas, etc. ¿Será que no se pierde? Pienso y creo que sí; podemos perder el apoyo de un ser querido, amigo o familiar; también el respaldo económico, a lo mejor nuestra salud o nuestra posición laboral.
Pero la esperanza puesta en el lugar correcto no se perderá jamás, es la esperanza puesta en Dios.
Abraham la depositó en Dios a pesar de que él reconocía que, por tener casi cien años de edad, su cuerpo ya estaba muy anciano para tener hijos, igual que el vientre de Sara. Al final su fe tuvo fruto: Isaac, y se confirma a Abraham la promesa incondicional de que en su simiente (que es Cristo) serán benditas todas las naciones de la tierra. La fe acompaña a esta virtud que se va cultivando con las promesas de Dios.
Pero hoy ¿dónde o en quién esta puesta nuestra esperanza?
Tal vez Abraham podría ser el primero en responder:"Mi esperanza la puse en Dios, él me dio una promesa, pasaron varios años y ¡lo sé! mi esposa Sara ya dejó su edad fértil; pero tuve que creer en esperanza contra esperanza en el Dios que me salvo, en el Dios único y verdadero. A pesar de que todo indicaba que no se cumpliría lo que me prometió, creí, esperé y aquí me tienen, soy sin duda alguna, Padre de multitudes, mi descendencia es como la arena en el mar y como las estrellas en la noche. Seguro que si tu esperanza persiste en Dios es la mejor inversión que puedes hacer en tu vida. Él cumplió lo que me prometió no a mi modo sino a su modo y en su tiempo."
Pero de una cosa estoy seguro: he de ver la bondad del Señor en esta tierra de los vivientes. Salmos 27:13-14 (NVI)
"¡Pongamos nuestra esperanza en el lugar correcto: en Dios!" CVC LA VOZ
Soraida Fuentes
El siguiente crédito, por obligación, es requerido para su uso por otras fuentes: Este artículo fue producido por Radio Cristiana CVC La Voz
Haz clic aquí para visitar la página de CVC La Voz
Si necesitas oración o consejería, CVC La Voz tiene personas preparados para recibir ayuda. CVC La Voz Radio Cristiana provee contenido dinámico y relevante diariamente para impactar vidas. Tenemos un grupo dedicado de consejeros listo para recibir su petición de oración, comentarios o preguntas.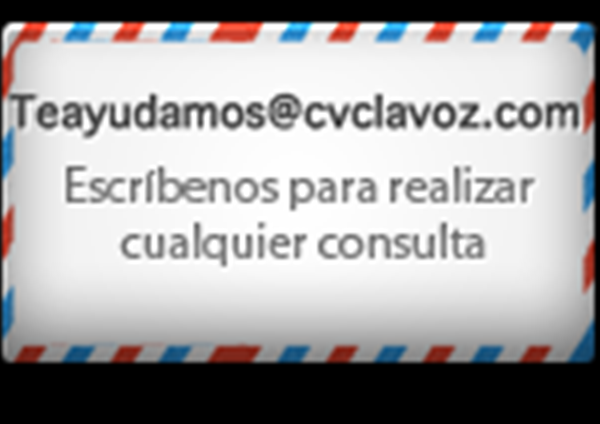 Recently on Conexión Vertical
Follow us on Facebook
Get Conexión Vertical devotionals directly to your News Feed.
Have something to say about this article? Leave your comment via Facebook below!
advertise with us
Example: "Gen 1:1" "John 3" "Moses" "trust"
Advanced Search
Listen to Your Favorite Pastors