Conexión Vertical - 19 de Mayo

¿El mundo, necesita un poco de sal?
Vosotros sois la sal de la tierra, pero si la sal se desvaneciere, con que será salada?. No sirve mas para nada sino para ser echada fuera y hollada por los hombres. Mateo 5: 13-17
Encontramos en la Biblia esta llamativa comparación entre nosotros y la sal diciéndonos que debemos ser sal de la tierra. Comencemos viendo entonces, algunas características de la sal:
a) Preserva: Evita el deterioro y resalta el sabor de los alimentos. Hace unos cuantos años, cuando los sistemas de refrigeración no eran tan avanzados como en la actualidad, se usaba la sal por ejemplo para transportar carne y evitar que la misma entrara en un lógico proceso de putrefacción. Como cristianos, nuestro deber es preservar la tierra, evitar que se siga corrompiendo, ya que preservar significa apartar de la corrupción, es decir apartar nuestras vidas del mal y vivir en santidad.
b) Detiene el avance de la putrefacción.
Somos sal frente a los que nos rodean, somos capaces de alzar la voz para que se detenga lo inmoral o pecaminoso? O por el contrario, participamos aunque sea en forma pasiva de chistes o comentarios, doble sentido, nos reímos? hacemos lo que todo el mundo hace, aunque íntimamente sabemos que no está bien?
c) Produce sed La sal produce sed al que la consume: En lo espiritual, debiéramos producir sed por las cosas de Dios en muchas personas que nos rodean
l Como podemos ser sal?
1) Nuestro testimonio es muy importante para inspirar a otros. La gente está mas interesada en lo que hacemos, que en lo que decimos.
l 2) Siendo valientes: 2 Timoteo 1:7 Porque no nos ha dado Dios espíritu de cobardía, sino de poder, de amor y de dominio propio. A veces es necesario ser valientes, para decir no estoy de acuerdo, tal vez sea mas facil quedarse callado sin llamar la atención, pero si quieres ser sal, es para los valientes.
3) Sagaces Mateo 10:16 (Reina-Valera 1960) 16 He aquí, yo os envío como a ovejas en medio de lobos;(A) sed, pues, prudentes como serpientes, y sencillos como palomas.
4) Veraces Santiago 5:12 (Reina-Valera 1960) Hablando la verdad.
Lo terrible de esto, es que si la sal no sala, ya no sirve para nada. ¿Podremos ser sal para este mundo? Seremos capaces de marcar una diferencia, sin temores al que dirán, a la crítica, burla o persecución? De tal manera podremos ser relevantes para una sociedad que tanto necesita de lo que Dios nos dio primero.
Haz clic aquí para visitar la página de CVC La Voz
Si necesitas oración o consejería, CVC La Voz tiene personas preparados para recibir ayuda. CVC La Voz Radio Cristiana provee contenido dinámico y relevante diariamente para impactar vidas. Tenemos un grupo dedicado de consejeros listo para recibir su petición de oración, comentarios o preguntas.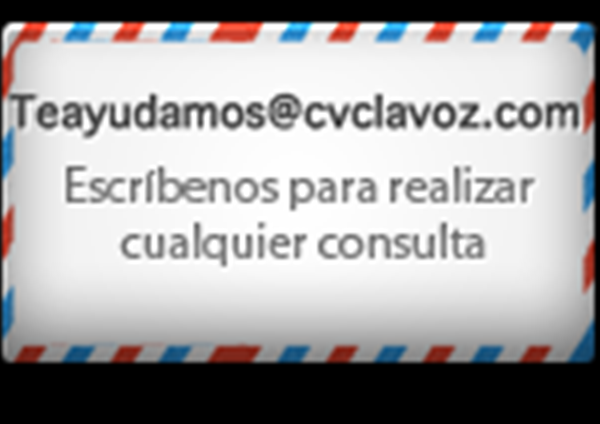 Recently on Conexión Vertical
Follow us on Facebook
Get Conexión Vertical devotionals directly to your News Feed.
Have something to say about this article? Leave your comment via Facebook below!
advertise with us
Example: "Gen 1:1" "John 3" "Moses" "trust"
Advanced Search
Listen to Your Favorite Pastors