Conexión Vertical - 23 de Junio


"MISERICORDIA"
Por la misericordia de Jehová no hemos sido consumidos, porque nunca decayeron sus misericordias. Nuevas son cada mañana; grande es tu fidelidad." - Lamentaciones 3:22-23
Una madre solicitó audiencia ante el emperador para pedir por su hijo; el cual se mostro radical en su veredicto: imponer la justicia con su ejecución, ya que era la segunda vez que se lo aprendió en el mismo delito.
Desconcertada entre lágrimas la madre se arrodillo y le dijo: ¡Mi Señor, no pido justicia sino pido misericordia! y con voz algo quebrantada respondió el emperador: Pero señora, su hijo no merece misericordia alguna, ya que nuevamente reincide en su delito.
La madre angustiada y con voz temblorosa le respondió: Su excelencia, si mi hijo se la mereciera, no sería misericordia, y misericordia es todo lo que le pido. El emperador movido por las suplicas de esta madre, dio un suspiro y finalmente dijo: Muy bien, tendré misericordia, y así se salvó la vida de su hijo de la muerte segura.
Cuántas veces hemos recibido la misericordia de Dios al igual que este hijo que merecía la muerte? cuantas veces él ha detenido lo que merecíamos al tomar nuestros propios caminos? y también creemos que Dios está enojado con nosotros y que nos castigara o que no nos perdonara? pero eso es una más de las mentiras del diablo.
El padre de la mentira pone pensamientos de culpa, remordimiento, frustración que no lleva al arrepentimiento, sino solo al remordimiento. Dios ama y hay muchos pasajes bíblicos que respaldan, porque su misericordia se manifiesta amor, perdón y reconciliación.
Además a quienes hemos dado lo que hemos recibido de Dios? Tenemos misericordia por otros? Es más que un sentido de simpatía, es una práctica, demos y aprovechemos las nuevas oportunidades, y digamos cada nuevo día: "Dios, gracias por una nueva oportunidad"
"Y pasando Jehová por delante de él, proclamó: !Jehová! !Jehová! fuerte, misericordioso y piadoso; tardo para la ira, y grande en misericordia y verdad" - Éxodo 34:6
Soraida Fuentes.
¿Que piensas de este devocional, fue de bendición para tu vida?
Envía tus comentarios a teayudamos@cvclavoz.com
Haz clic aquí para visitar la página de CVC La Voz
Si necesitas oración o consejería, CVC La Voz tiene personas preparados para recibir ayuda. CVC La Voz Radio Cristiana provee contenido dinámico y relevante diariamente para impactar vidas. Tenemos un grupo dedicado de consejeros listo para recibir su petición de oración, comentarios o preguntas.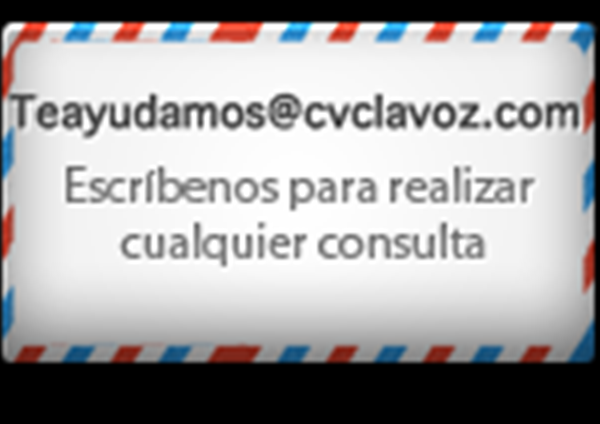 Recently on Conexión Vertical
Follow us on Facebook
Get Conexión Vertical devotionals directly to your News Feed.
Have something to say about this article? Leave your comment via Facebook below!
advertise with us
Example: "Gen 1:1" "John 3" "Moses" "trust"
Advanced Search
Listen to Your Favorite Pastors